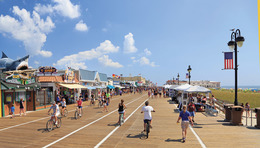 We're Number One?
A national survey says New Jersey is the best state to live in. Sure, we have good schools, great hospitals and an incredible diversity of both culture and natural wonders—but do the positives outweigh the negatives?
Does any other state have defenders who will just as soon and as ardently spout off its best qualities as they will bitterly itemize their biggest gripes like New Jersey does?
We take pride in being the butt of everyone's jokes. We own it whenever a new national poll names us among the least-liked states and proudly post "Welcome to New Jersey—now go home" memes at the slightest prompting. Those of us in South Jersey are especially used to rolling our eyes at distinctly North Jersey or Jersey Shore stereotypes that eclipse our unique local identities. And we can barely agree among ourselves: Is it even worth risking the vehement in-fighting that any mention of Central Jersey inevitably inspires?
Despite its imperfections, New Jersey remains the most densely populated state in the U.S., as it has been for decades. Whether we can readily rattle off our five biggest issues at a moment's notice or balance our complaints with an equal number of upsides, we know living near a wealth of conveniences also means daily traffic headaches. Or we've wondered if we're getting enough from our tax dollars. Or we keep weighing the cost of a prime location against the lower property taxes of living a little farther from a trio of metropolitan hubs.
Whether we call The Garden State home because it's where our roots are, we're waiting for our children to graduate, its prime location or because we truly love it, a recent study conducted by WalletHub suggests that its appeal isn't that hard to understand: After considering 52 varied factors, the personal finance website ranked New Jersey No. 1 overall in 2021's Best States to Live In list.
"The state has a good quality public school system and the fourth largest high school graduation rate in the country, 90.6%. It got high scores for health due to its high life expectancy and low share of obese adults, just 25%," notes "proud Mount Laurel resident" and WalletHub analyst Jill Gonzalez.
Gonzalez continues: "Other factors that account for New Jersey's overall ranking are linked to its quality of life. The state is very bicycle-friendly, with miles of trails for bicycling and walking, and also has good access to public transportation, plenty of restaurants, fitness centers and accessible beaches. Plus, it has a low crime rate and tops the other states in terms of safety."
Perhaps counterintuitively, though, our state ranked pretty abysmally in some important areas. While landing first in safety, fifth in education and health, and seventh in quality of life is an impressive trifecta, ranking 32nd in economy and a woeful 49th in affordability indicates there are some glaring downsides to calling New Jersey home.
But those issues don't, objectively speaking, detract enough from the other elements working to the state's benefit that nudge it toward a favorable overall rating.
"Even though New Jersey lacks affordability, there are several other factors that contributed to the state ranking first," Gonzalez notes. "For example, it has the second highest median annual household income, over $80,000. Looking at its economy, New Jersey has a very small share of the population living in poverty—10%—and the third smallest median debt-to-income ratio, about 33%. It also ranked high in terms of building permit growth and food insecurity."
But how does that play out in daily life? And how do other residents feel?
The Pros
To Anita Hertzog, there is no place like The Garden State.
"Why New Jersey? Well, it's home!" says the Edgewater Park resident, who was born in Mount Holly and lived in Burlington County until she was 15, when her family moved to South Florida. "It was complete culture shock! Then when I was 38, my husband and I moved to his hometown of Allentown, Pennsylvania … After he died, I realized I didn't like the Lehigh Valley that much and I still had some childhood connections, so I came 'home' to New Jersey."
She loves what so many others do about the state: a great location, incredible amenities and a flare all its own.
"The people are real, the food is outstanding and the beaches are spectacular. We're also a stone's throw away from so many great cities and towns," says Matthew Podolnick, a Moorestown resident who works as an attorney at Sherman & Silverstein in Cherry Hill.
Looking past the fact that some of the state's biggest locational assets lie outside its borders—most of the state comprises Philadelphia and New York suburbs but Washington, D.C., is just a quick train ride away—the Shore's seasonal draw and Atlantic City's continual efforts to broaden its appeal as a destination town underscore what a prime piece of real estate New Jersey really is.
"I have always said New Jersey is the best," says Peggy Bowers of Burlington Township. "The location is perfect, we have everything close: two amazing cities, the Shore, lakes, the Poconos, farms, woods and fields."
She adds that the state's geographic diversity, where cityscapes and farmers' markets are just as accessible as mountain retreats and oceanside escapes, is matched by a confluence of cultural influences, too—how many of our towns have Italian restaurants, sushi bars and taquerias all on the same block?
"[We have] great restaurants, fantastic art and music venues, and sports teams from the two major cities," continues Bowers, who appreciates the proximity to Philadelphia's world-class entertainment venues, like The Mann Center for the Performing Arts, where she and her husband have volunteered for nearly 20 years. "What more do you need?"
Bob Johns is a longtime New Jersey resident and has been in real estate since 1988. The Century21 agent is in a prime position to see exactly what an advantageous location is worth—which is about $50,000 to $80,000 more than it was before the pandemic led refugees from more expensive, congested urban centers to South Jersey's previously untapped and comparatively more accommodating market.
"People are coming from different parts of New York who never really looked at Gloucester County, New Jersey, before and are seeing how much land they can buy," he says.
Janet Garraty has lived all over New Jersey—she was even raised in the hotly contested Central Jersey region—and has spent much of that time with the Gloucester County Chamber of Commerce, where she's been a member for decades and director for 18 months. Settling down in the "eds and meds" corridor of the state has given her firsthand insight into how much is available here.
"There's a convenience to this state that nobody else gets," she says. "I have relatives in other parts of the country: My sister in California has to travel 20 minutes just to get a gallon of milk. Meanwhile, I live a mile from my grocery store, my gas station and my dry cleaner."
Garraty and her husband had once considered moving south but were quickly dissuaded when they realized what it would take to give their children the same education they were receiving through New Jersey's public schools.
"Years ago, we went to South Carolina, and the realtor asked us, 'Are you thinking of moving with your family here? Wait until the kids are grown because, whatever education they're getting, they're not going to get it in the public school system here. You're going to have to go send your kids to private school to get what you're getting in New Jersey.' That was an eye-opener," she recalls.
WalletHub isn't the only study that gives us high marks in education. In April, the state-by-state breakdown of the U.S. News & World Report Best High Schools rankings put New Jersey in fifth place; in March, the same news magazine said New Jersey earned the No. 1 spot in its Best States for Education rankings in terms of its K-12 offerings, noting an impressive 90.9% high school graduation rate.
Pair that with impressive safety ratings—No. 1 in WalletHub's most recent annual survey, No. 4 in U.S. News & World Report's overall safety ranking—and it's obvious why New Jersey is a great place to raise a family, too.
The Cons
"The purpose of our studies is to make finding the pros and cons easier; however, personal preference has an important role in determining whether a state is right or wrong for someone," Gonzalez notes. "Each person has their own priorities and will decide based on them. For example, retirees may want to live somewhere affordable with access to quality healthcare, while those with families or who are just starting their careers would look for job opportunities and quality of life."
Indeed, Gonzalez says she and the other WalletHub experts knew they'd be facing some passionate reactions: "We create these reports by analyzing hard data and publishing our results with the purpose of informing our audience. We are aware that it's nearly impossible for all readers to agree with the results, and we will likely receive all types of feedback. But of course, everyone is entitled to their own opinion."
Governor Phil Murphy was quick to respond to the rankings when they were shared mid-June. "You know it. I know it. All nine million of us who call this state home know it. New Jersey is #1," he tweeted. "With our historic investments in education, health care, and our communities, we're going to keep building a stronger and fairer state—together."
Both the governor and the state he represents have their share of detractors, many of whom point out all those investments come at taxpayers' expenses—and living in New Jersey doesn't come cheap. What good are world-renowned, life-saving services when you can't even afford them? What's the point of having great public schools in increasingly prohibitively priced communities?
"I think Americans in general understand that you have to pay taxes," says Stephen Steglik, who's both mayor and a resident of Mount Laurel. "It's when there's that lack of bang for the buck that really frustrates taxpayers, like when their taxes are high but their health care is inadequate. I'm not blind to the fact that people are struggling in this state and taxes are one of the reasons."
The expenses of living in New Jersey are a consequence of prime location, a bevy of local services and resources, easily taken-for-granted conveniences like nearby stores and walkable school districts. Which is fine, if people feel like they're getting what they pay for.
But not everyone does.
Johns, who used to represent clients as both the sellers of their previous home and buyers of their new one, has increasingly found himself only handling one side of the transaction. And it's not just because out-of-staters are settling in Jersey: It's because South Jersey has seen its own migration of residents seeking warmer temperatures and lower taxes.
Taxes are one of the few sticking points Garraty has with the state.
"I think there can be a lot more done in terms of improving the efficiency of our dollar, I think that's the nut," she says. "There needs to be a better understanding of what people are getting for their dollars so people don't think their money's being wasted—because some of it is."
She does finds some of the local transportation options decidedly wanting, too.
"The only way I'd say I'm maybe not getting what I'm paying for is in regard to some of our infrastructure, some of our roads," Garraty adds. "I don't even know how much in gas tax I pay now, and then my tolls went up. I think our roads are in good shape compared to other states', but I wonder if they could be better for what we pay."
The Verdict
So is New Jersey really No. 1?
"Of course it's the best state in the country," insists Podolnick.
"People in South Jersey might agree that we're No. 1 and people in North Jersey might not, and vice versa," Garraty observes. "It could change from county to county and town to town. Where I live, my property taxes aren't that high—but the next town over, they're insane. New Jersey is this little tiny state, but we are diverse in every sense of the word."
Naturally, it's a matter of perspective. But that's the beauty of living in a diverse community, right? Homogeny is boring, and a region reflecting a rich tapestry of perfectly valid yet infinitely varied opinions is how we learn.
"There's that quote about how everything wrong with America can be fixed with what's right with America, and I see that in New Jersey," says Steglik. "Jersey has a bad rap for being tough—we'll tell you right to your face what we think of you—but when our neighbors are struggling, we'll still look out for them. How can you not love people like that?"
And while New Jersey isn't for everybody, it's hard to call anywhere else home once its charm gets under your skin and into your heart.
"I do think we probably will leave for a little while just to appease my husband, but we'll be back," says Garraty. "My children are settling here, my mother is from here, my roots are here. This is who I am: You can take the girl out of New Jersey but you can't take New Jersey out of the girl."
As one of those people who left but ultimately found the way back to where she felt most at home, Hertzog agrees.
"Having lived in larger metropolitan areas, I can easily say that this area is just city enough to not be overwhelming," she says. "The taxes are high, but I have services here that I never had in Pennsylvania. The food is better. I enjoy more fresh, locally grown produce here than I ever did in Pennsylvania or Florida, even when I had my own garden. So, yeah, I love New Jersey!"
Hertzog adds that maybe the stereotypes have been wrong all along and, despite our famously salty demeanor and legendary sass, maybe Jersey folk are all just big softies after all.
"Most of all, corny as it might sound, the people here are nicer than they were in South Florida and especially the Lehigh Valley," she says. "People here smile and say hello … I just find them nicer."
Click here to subscribe to the free digital editions of South Jersey Magazine
To read the digital edition of South Jersey Magazine, click here.
Published and copyrighted in South Jersey Magazine, Volume 18, Issue 7 (July 2021)
For more info on South Jersey Magazine, click here.
To subscribe to South Jersey Magazine, click here.
To advertise in South Jersey Magazine, click here.