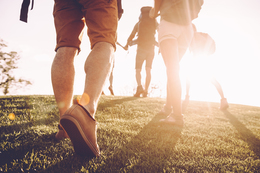 Keep it Moving
Local orthopedists apply the latest advancements to treat and prevent injuries and chronic pain, getting people back to the activities they love.
People of all ages and activity levels may have reason to seek orthopedic intervention. From arthritis and osteoporosis to fractures, tears, or overuse injuries, these issues can hold you back from enjoying life. Ignoring symptoms will only intensify the pain and further limit mobility, and making an appointment with an orthopedic physician is the first step in finding relief.
According to those in the field, some issues are more common than you'd expect. For instance, those who sit at a computer all day for work may suffer from injuries and ailments related to posture, such as back pain, or carpal tunnel, which occurs when a nerve in the wrist is compressed and can create numbness and tingling in the hand and arm.
Some of these issues have been compounded in the work-from-home environment, as people worked on laptops sitting on their couch or other makeshift workstations. Dr. Patrick Kane, an orthopedic surgery specialist whose practice focuses on the hand, wrist, arm and elbow at the Philadelphia Hand to Shoulder Center, of which he is also CEO, says a new program within the center has been instituted to address ergonomic and postural therapy.
"Carpal tunnel is associated with repetitive work activities and we continue to see a high prevalence of this among patients," he says. "The Philadelphia Hand to Shoulder Center has instituted advanced minimally invasive surgical techniques for the treatment of this condition. We always try therapy and non-operative care first, but if that fails, there is cutting-edge technology allowing surgeries to be done on an outpatient basis, under local anesthesia only and with non-narcotic postoperative pain control protocols involving only Tylenol and ibuprofen."
Of course, accurate treatment begins with high-quality imaging. "X-rays are always the first imaging test ordered, but MRI is really the backbone of outpatient orthopedic imaging," says Dr. Adam Zoga, medical director of Jefferson Outpatient Imaging and director of musculoskeletal MIR at Thomas Jefferson University Hospitals. Once a patient is recommended for MRI, there is a range of imaging specific to what an orthopedist wants to see.
Sports medicine physicians may request an MR arthrogram, he says, which evaluates joints. "We put a contrast agent into the joint so we can maximize the contrast between the injured cartilage and the joint space. Ten years ago this technology wasn't available outside of university centers, but we worked to make this available to patients at all of our outpatient centers," Zoga says.
Jefferson also uses arthrography and ultrasound imaging to determine pain at a certain point in a patient's range of motion, with imaging done in real time through the axis, Zoga says, and it is ideal for someone suffering from overuse injuries such as tendonitis. "There are several minimally invasive therapies we can conduct with an ultrasound probe or CT guidance and maybe avoid more aggressive interventions."
Technological advancements are continuing to raise the bar on patient care. "I'm excited to see further utilization of technology in the treatment of patients and improving care. For example, physicians use hand-held ultrasound devices in offices for real-time diagnostic imaging, which leads to improved diagnosis and treatment. We have the information in our hands to make decisions and allow the patients to be involved in their plan of care. They don't have to go elsewhere for imaging and take time out of their day or come back for the results. We take care of it all, from diagnosis through treatment."
Athletes are a big piece of the population that works with orthopedists to stay at the top of their game. At the Philadelphia Hand to Shoulder Center, Zane says this time of year, baseball players commonly present with injuries in the elbow and shoulder due to throwing. "The stress the sport puts on the body is different from what we saw five to 10 years ago. We see more children with overuse injuries. It's our general recommendation that people play multiple sports and are mindful of overtraining, but especially in the pediatric population," he says.
Dr. John Salvo, director of the hip arthroscopy program at Rothman Orthopaedics, specializes in sports injuries and is a team physician for the Philadelphia Eagles and Flyers. "When people think of hip problems, they think of grandparents who need hip replacement, but what we're dealing with is hip preservation—preserving the natural structure before it develops arthritis," he says.
"Symptoms of pain in the groin and hips are a result of explosive flexion and rotation, most commonly in those who play ice hockey, soccer, football and lacrosse, especially in high school, college and professional athletes," Salvo says. "The most common injury is a torn labrum, the pad of cartilage inside the hip, and we find that they usually have an underlying femoroacetabular impingement (FAI), so the shape of the hip is causing stress."
In the event that surgical intervention is needed, arthroscopic surgery is an advantage over traditional, invasive surgery. "We can do three small incisions to reshape the bone and fix the labrum, taking care of the root cause," Salvo says. "Twenty to 30 years ago this would have been done with a bigger incision. This is less invasive on surrounding tissue and recovery is quicker."
Top of mind for all who work in the field of orthopedic is injury prevention. For instance, one of the most high-profile injuries involves the ACL. Salvo says this can be devastating and in order to prevent, one must recognize the root cause.
"Studies show ACL injury risk is higher for females than males. Their ACLs are smaller, the reaction time of their hamstrings tend to be a nanosecond longer and their landing mechanics are different—they tend to land with their knees more bent in and rotated, which is a position of risk," he says.
Several years ago Rothman opened a women's sports medicine program to address the unique factors of female athletes, including aspects of ACL prevention. "There are some things that can't be changed, but you can address landing mechanics, the power and quickness of muscles, mobility and core strength—all of which are helpful preventative measures. These are also critical for those who had surgery and want to return to their previous level and decrease the risk of reinjury," Salvo says.
Quality Care
South Jersey's trusted orthopedic specialists
Jefferson Outpatient Imaging
Serving South Jersey
(215) 503-4900
JeffersonHealth.org/JOI
--
Premier Orthopaedic Associates of Southern New Jersey
(856) 690-1616
POASNJ.com
Experience the Premier Difference in orthopaedic care. Patients across Southern New Jersey put their trust in us when it comes to spine and neck care, pain management, sports medicine, arthroscopic surgery, joint pain, arthritis care and hand and wrist care. Learn more at POASNJ.com or call/text us at (856) 690-1616 to schedule a consultation.
--
Philadelphia Hand to Shoulder Center
Serving South Jersey
1 (800) 385-7472
Hand2ShoulderCenter.com
--
Rothman Orthopaedic Institute
Serving South Jersey
(800) 321-9999
RothmanOrtho.com