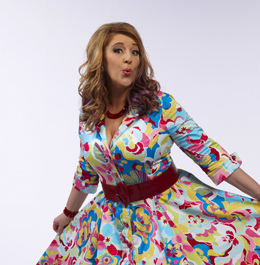 Mean Girl
Insult comic Lisa Lampanelli pulls no punches.
Insult comic Lisa Lampanelli pulls no punches.
Known for her sharp tongue, Lisa Lampanelli is no stranger to taking things a step further than most other comedians would. In an industry known for trash-talk, no one outduels Lampanelli. Just ask anyone who has been the subject of one of her Friars Club Roasts. A onetime music journalist, Lampanelli now revels in her role as an insult comic, following in the footsteps of comic heroes like Don Rickles, while connecting with fans onstage, on screen and now in print, via a recently published memoir. In real life, Lampanelli is nowhere near as brash—though she still has plenty to say that's entirely unprintable. We sat down with the Queen of Mean to talk about her upcoming show at the Borgata on Feb. 20 and to find out if she's ever gone too far.
SOUTH JERSEY MAGAZINE: The New York Times called you an equal opportunity offender. Do you feel that label suits you?
LISA LAMPANELLI: I like it, but I make fun of [the audience], I don't offend them. They don't storm out angry. I like being an insult comic. There are so few people that can pull this off. You can't make fun of somebody you don't like. Audiences aren't stupid.
SJM: Does anything offend you?
LL: [When the audience] is really laughing for the wrong reasons. It can be where you don't want people to misunderstand you. In real life, I don't go around insulting people.
SJM: So you'll be performing at the Borgata this month. What's the worst thing about a casino crowd?
LL: I'm really lucky because my fans come out to see me [everywhere]. A lot of people don't come to the show unless they know who you are; they are predestined to enjoy the show.
SJM: You certainly are not one for pulling punches, but has your bluntness ever gotten you into any real hot water?
LL: I don't remember feeling super guilty for a joke.... When someone is uncomfortable, I back off. I am there to entertain them, not make them miserable. I don't regret anything I ever did. It's funny what people are sensitive about. I got a letter from a lawyer of a man who was married to a celebrity to stop saying that he was gay [because it was offensive]. Being gay is not offensive. Besides, everyone knows that the guy is flaming!
SJM: When did you decide to pursue this niche in comedy?
LL: When I started out I just did normal comedy. If you are in law school, you don't do a murder trial your first day. I was in no hurry to make it; I was feeling out what comedy I liked to do.
SJM: How fine is the line between saying something shocking and something shockingly funny?
LL: I don't think it's any one concrete thing. The jokes are written as blunt but not overly simple; it's an intangible quality. The minute you try to shock someone, it doesn't work. Just because you try to be [Andrew] Dice Clay in his heyday doesn't mean it will work.
SJM: You just got married not too long ago. How have you adjusted to your new life?
LL: It's really hard when you are 49 and getting married! I lived on my own for so long, I am not really a team player, because comics are notoriously selfish. But he is a guy who's no stress, very go with the flow. He has opinions on bigger things, but the little stuff slides off. That's the kind of person you need.
SJM: Often people recognize you from the Comedy Central Roasts. Do you gear up for those in a different way than for your regular stand-up routines?
LL: The roasts are just hell because they take about a month to prepare. You are writing jokes, you are going to hope they are more unique than the [jokes written by the] other people that are there. It's the most preparation I have ever done for anything.
SJM: Are you friends with other female comics? I feel like they may be intimidated by you.
LL: I'm not friends with a lot of comics at all. I am cordial with Sarah Silverman; she has been so freaking nice every time we've talked, I can't believe that level of sweetness exists in comedy. Kathy Griffin was nice when I met her. I was like, "Why haven't we have been friends for years?" But, I came up in the New York system [of comedy]. In New York, everyone is convinced they are going to make it. In L.A., it's nicer. They are convinced you are going to make it.
Published (and copyrighted) in South Jersey Magazine, Volume 7, Issue 11 (February, 2011).
For more info on South Jersey Magazine, click here.
To subscribe to South Jersey Magazine, click here.
To advertise in South Jersey Magazine, click here.