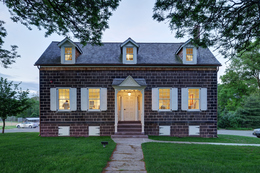 Where The Arts Come Alive
The pandemic temporarily shuttered in-person arts venues less than a year after the Passaic County Arts Center opened up its new, historic home, but it has plenty of exhibits on the horizon—which will also be showcased virtually so the arts stay accessible to everyone.
In South Jersey, going two hours in any direction takes you almost a world away, from the Atlantic Ocean to the Delaware River, from Pennsylvania's Pocono Mountains to the New York City suburbs of North Jersey.
Head north to Passaic County and you'll be greeted by natural wonders like the Great Falls of the Passaic River and the Watchung Mountains. You'll also find points of interest like George Washington's American Revolution headquarters at Dey Mansion and the Eastside Park Historic District.
Similarly steeped in history is Hawthorne's John W. Rea House, built in 1810, purchased by Rea and his wife Margaret in 1859, and added to the National Register of Historic Places in 1999. Today, the county-owned, two-story farmhouse is operated by the Department of Cultural & Historic Affairs and has been home to the Passaic County Arts Center since its renovation and reopening in 2019.
Passaic County owned the property since purchasing it for the newly formed parks commission in 1927, though it has fallen out of use and into disrepair over the decades. Kelly Ruffel, director of the Department of Cultural and Historic Affairs for the County of Passaic, says the department was faced with either knocking it down or breathing new life into it.
"It was sort of the one missing piece to our department, so it became the perfect site for us," Ruffel says.
Rea himself was a performer, though Ruffel adds that Rea's performance in minstrel shows were not appropriate, and do not reflect modern society or the County's values. Rea was devoted to the arts, and Jessica Bush, curator for Passaic County's cultural and historic sites, believes turning the 19th century singer's home into an arts space is an apt new chapter in the property's story.
"Since John Rea was as an artist himself and a performer, it's like coming full circle," Bush adds. "We're a place for the visual and performing arts, as well as the written arts like poetry, so it's fitting."
Even before the pandemic forced theaters, museums, concert halls and other artistic venues to go virtual less than a year after the Passaic County Arts Center opened to the public, being located in a culturally and economically diverse region made it clear that one of the center's priorities must be eliminating barriers to art.
"Our mission is to provide free or very minimal cost art programs to people in our community," says Ruffel. Nearby Paterson, the state's third-most populous city and the country's fourth-most densely populated metropolis with more than 100,000 residents, is a constant reminder that art enthusiasts come in all ages and ethnicities and from all economic backgrounds.
Shifting to online exhibits and performances had the unexpected benefit of discovering new ways to experience the fine and performing arts while sidestepping previous hurdles. "We have created a sort of roadmap for what we can do to stay hybrid in the future," Ruffel explains.
"We were able to exhibit through the pandemic because we made our exhibits virtual so you could visit them through our website, and we started making our programs virtual experiences," she continues. "The one positive out of having to figure out virtual programming is that it has made the exhibits and programs more accessible."
Both Ruffel and Bush are excited about the center's nature-themed upcoming exhibits. From June through September, "Goffle Brook Park: A Wellspring of Creativity" will offer a showing of various artists' pieces inspired by the 103-acre space upon which the John W. Rea House is situated.
The center will also showcase two solo artists simultaneously. Michael Gabriel's "Journeys" uses both landscape and still life to capture moments while Christine Calandra's watercolors celebrate New Jersey's unique beauty.
Programs for the public are also on the center's summer schedule. They include one-day workshops, drop-in sessions inspired by art from around the world, adaptive lessons for those with disabilities and yoga-and-art classes.
Social media has helped the center attract in-person and virtual audiences with both arts-centric posts and tapping into the broader countywide tourism campaign, which is rooted in the Works Progress Administration (WPA) and the 1935 work-relief bill that funded it.
"Our 'come and see everything we have to offer' campaign is kind of a spin-off of the WPA movement of the '30s, because all of our parks and sites were developed in the '30s with the help of the WPA," Bush says.
And there are plenty of reasons to come to the arts center, where there's also plenty to see.
"We are promoting the arts very vocally and reminding people that this is right in their backyard so they can just walk in," Bush says. "We are right in the park, so when a lot of people stop in for the first time, they just go, 'Oh my gosh, there is so much here!'"
Passaic County Arts Center
675 Goffle Road, Hawthorne
(973) 706-6640