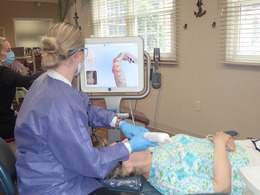 Setting Smiles Straight
The evolution of orthodontics helps to make getting a great smile even easier at Morrone, Kaye & Yucha Orthodontics.
Let's be honest: The idea of going to the dentist is not exactly everyone's idea of fun. The same goes for an orthodontist visit, especially when it involves taking impressions of your teeth and numerous days in the office for uncomfortable adjustments. Fortunately, doctors like the ones at Morrone, Kaye & Yucha Orthodontics take these concerns to heart, and work to make the experience as easy, and comfortable, as possible these days.
"Today's orthodontics is not the orthodontics of your parents," says Dr. Richard Kaye. "There's digital scanning. No more goopy molds."
Dr. Kaye and his wife, Dr. Mary Beth Morrone, began the practice in 1995, and Dr. Benjamin Yucha became a partner in 2018. Together the trio provides comprehensive orthodontic care for patients as young as 7 and as advanced as 80.
"We basically do it all," says Dr. Yucha. "For the younger kids we offer interceptive treatment and treat those dealing with growth issues, and for the adults, treatment has taken off with Invisalign."
In fact, Invisalign has created what Dr. Kaye calls a paradigm shift in the way teeth are straightened, and has offered adult patients an option they are comfortable with.
"Most adults are not interested in going back to braces," adds Dr. Yucha. "But teeth are naturally unstable, and if people don't wear their retainers, they're going to move back. We have parents of patients in our office all the time taking a look at their teeth and saying, 'If I'm putting this effort in for my kids, I should do this, too.'"
If this is the second go-around for a patient, or even the first, it's likely the experience will be a totally different one than expected, says Dr. Yucha. Most of the processes are digitally supported today, so the amount of time spent in the office and treatment outcome are improved.
"With Invisalign, the process is computer-aided, so we can use 3D images to move teeth on the computer, and these moves are reflected in trays the patient wears," Dr. Kaye explains. "As long as you wear the trays the way you're supposed to, which is for about 22 hours a day, you can eat, clean them and take them out when needed."
The Invisalign experience is different from typical braces in that braces obviously cannot be removed for eating or cleaning. While braces are still a viable option, Dr. Kaye says Morrone, Kaye & Yucha offers Invisalign to patients to see how they do with the process, and after six months will switch to traditional braces—free of charge—if the Invisalign isn't working.
"Many parents say, 'My kid's not responsible enough to do Invisalign,' but we have a belief that kids are more responsible than their parents give them credit for," says Dr. Kaye. "So, we offer them the option to try it, and if it doesn't work out—if they're not wearing the trays or they're losing them—within six months we'll go ahead and switch them out."
Technology has certainly helped this process, along with the way the doctors at Morrone, Kaye & Yucha interact with patients.
"We were doing things virtually even before virtual became routine this past year," says Dr. Yucha. "College students and adults in the military were able to progress through their treatment even if they weren't close by.
"We're able to do this through direct texting, and receiving photos for current and new patients," he continues. "For prospective patients who are interested in treatment it's a good way for them to discuss their options and see if it's right for them. For people in active treatment who can't make it into the office, we can keep them on track. From a communication standpoint, it really has made things a lot easier."
There's a saying that goes, "a smile is happiness you'll find right under your nose." Smiling is an easy way to bring lightness to yourself and those around you, but if you're not happy with the way your smile looks, this isn't always the case. The doctors at Morrone, Kaye & Yucha Orthodontics understand the importance of a beautiful smile, and they work with their patients to bring that happiness to their lives.
"I've been practicing orthodontics for almost 30 years, so it's been a while, but I still get up every day and look forward to coming in," says Dr. Kaye. "It's just fun.
"The staff is wonderful, the people we get to work with are very appreciative," he continues. "I love helping patients achieve the smile they've always wanted."
Morrone, Kaye & Yucha Orthodontics
99 West Main St.
Moorestown
(856) 234-4044
120 Madison Ave., Suite F
Mount Holly
(609) 267-1221