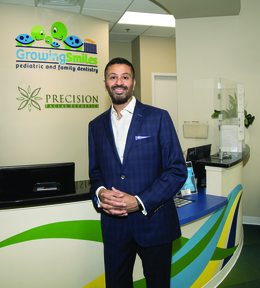 All in the Family
Growing Smiles Pediatric and Family Dentistry has the experience to help every member of the family.
Adental cleaning and well-visit can be a simple and easy way to stay healthy, but when it evolves beyond the standard cleaning it can be hard to keep up with. Jumping from specialist to specialist, or dealing with practices that work for only adults or only children can turn something like dental health into a hassle.
Growing Smiles Pediatric and Family Dentistry set out to solve that struggle for South Jersey families of all shapes and sizes.
What began as a pediatric-centered practice has evolved into a community-centered office for all ages. "When we opened our first office in 2014 the vision was to be an all-inclusive practice so that we could treat the whole family," says Dr. Sonny Sekhon, director of Growing Smiles and a pediatric specialist within the practice. "We've been very fortunate to experience tremendous growth, and that has allowed us to add doctors and specialists to our organization that allow us to provide comprehensive care for all members of the family."
With locations in Voorhees and Mount Laurel, Growing Smiles offers pediatric and general dentistry services, as well as an endodontist and oral surgeon on-site at their offices.
Little mouths, big care
Growing Smiles evolved from a pediatric dental facility, so they understand the importance of this particular specialty.
"Truthfully, many people don't know there are dentists for children, but there's such a need for it," Dr. Sekhon says. "There are psychological aspects to pediatric dentistry that are important to help put children at ease, as well as different approaches and treatments that go beyond what a general dentist can offer."
As COVID-19 protocols continue to lift, Dr. Sekhon says that now is a good time to consider how quarantining might have impacted your kids' teeth.
"If you've been home for the last year your kids might have been snacking or grazing more," he says. "That could mean an increase in cavities that have gone unnoticed in all else that has been going on."
Dr. Sekhon says that it's good to begin pediatric dental visits at age 1, so that your dentist can monitor for any early onset dental issues and correct them quickly. Growing Smiles also works with infants and newborns, including babies born lip- or tongue-tied.
"We've invested in the most modern laser technology to help treat newborns who are lip-tied or tongue-tied," says Dr. Sekhon. "It gives us the opportunity to work with pediatricians in the area who diagnose this and need the most modern treatment options."
Something for everyone
No matter the age, Dr. Sekhon says his team understands that a dental visit can be an anxiety-inducing experience. That's why they've invested in upgrades to their office to help reduce stressors.
"We offer an environment that is less fearful; from the minute you walk in the door the whole focus is to reduce anxieties," he says. "From the colors we put on the walls to the comfort elements and music we added into the waiting room, every detail has thought put into it. We have a scent machine that helps cut down on the scents associated with the dentist's office."
Having a variety of specialists in-office also helps to put patients at ease, as it gives patients a one-stop spot for their needs.
"We employ a variety of specialties so we are able to provide care beyond general dentistry," says Dr. Sekhon. "By introducing these specialties, we are able to treat patients under one roof, without inconveniencing our patients who would normally have to deal with referrals and trips all over the area. We've even found that having the same face welcome you in the waiting room at every visit makes the experience less stressful."
In addition to their specialty care, Growing Smiles has invested in technology to fabricate crowns in-office in one day, cutting the traditional crown process down by days or even weeks. They also offer Invisalign and clear braces, which Dr. Sekhon says has been a growing trend as people return to work and school.
These are all part of a South Jersey practice that hopes to serve a growing community well into the future. "We've been given the opportunity to offer a level of care to a wider community than ever before," says Dr. Sekhon. "I'm looking forward to expanding that even more to other patients in South Jersey."
Growing Smiles Pediatric and Family Dentistry
2140 Voorhees Town Center | Voorhees
(856) 770-1770
3107 Route 38, Suite 2 | Mount Laurel
(856) 778-0800
Click here to subscribe to the free digital editions of South Jersey Magazine.
To read the digital edition of South Jersey Magazine, click here.
Published and copyrighted in South Jersey Magazine, Volume 18, Issue 6 (June 2021)
For more info on South Jersey Magazine, click here.
To subscribe to South Jersey Magazine, click here.
To advertise in South Jersey Magazine, click here.