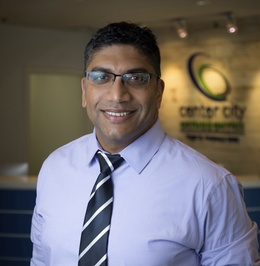 Right at Home
Thanks to a warm welcome from the South Jersey community, Center City Orthodontics has built a new facility in Cherry Hill and continues to thrive.
It'sno secret that every community across this part of the Garden State—from Medford to Ocean City and everywhere in between—has residents and business owners with strong Philadelphia roots who have come to embrace everything our area has to offer. Count Dr. Tejjy Thomas and his burgeoning practice as the latest South Jersey success story.
Just a few years ago, Dr. Thomas decided to expand Center City Orthodontics from its original location in the City of Brotherly Love and add a second office in Cherry Hill based on the many requests he was getting from patients on this side of the bridge. While he was optimistic about the move, even he could not foresee the warm welcome that was in store.
"We took over a retiring orthodontic practice and since then things have grown. We just moved into a brand-new facility up the street from the old one and we're excited to be here," he says.
"We were expecting growth when we came to Cherry Hill but we actually outgrew our previous facility even quicker than we anticipated. A pleasant surprise to me was the surge we had with adult patients. When you're talking orthodontics traditionally, you are thinking teenagers, but we have had a surge in adults coming to us in Cherry Hill for treatment, and I attribute that mainly to more dental awareness and us being one of the top providers for aligner treatment (Invisalign) in the Northeast."
Dr. Thomas graduated with honors from the University of Pennsylvania, where he received his doctorate in dental medicine. After several years working as a restorative dentist, he returned to UPenn for post-doctoral training in orthodontics and dentofacial orthopedics, and has been transforming smiles ever since.
His practice focuses on combining compassionate care with the latest technological advancements in the field. That is certainly the case at the new state-of-the art office in Cherry Hill.
"I wish I could talk about it and do it justice but I'm sure I can't," he says. "We have about eight patient operatories with digital X-rays, 3D printing and digital scans. We don't take impressions or molds. Also, what I'm hoping to start once everything is settled, is a local study club for all of the dentists in the area where we get to meet at least once every couple of months. That's going to encourage professional development for the dentists and specialists in the Cherry Hill area."
Another significant piece of the relocation is that Center City Orthodontics' new facility is also home to the second office for Cobblestone Kids, the pediatric dental practice of Dr. George Lynch from Philadelphia, who a lot of patients in South Jersey are familiar with. Patients of Cobblestone Kids who are in need of orthodontic attention can seamlessly transition to Center City Orthodontics, with information being shared by both teams.
Dr. Thomas and the American Association of Orthodontists recommend parents have their children see the pediatric dentist by age 2 and have their first orthodontic evaluation by age 7.
"I think that's going to be a perfect marriage between the orthodontic practice and the pediatric dentist in the same facility, thus enabling us to increase the scope of services we provide and the access to care in Cherry Hill and the surrounding areas," Dr. Thomas says.
Philanthropy has always been and continues to be a key component of Center City Orthodontics, as the practice works with such national nonprofits as Smiles Change Lives, which provides access to orthodontic treatment for children from low-income families. "Making a positive impact in our patients' lives is a feeling that never gets old and that has been a big part of our practice," Dr. Thomas says.
"Our plan is hopefully in the next year or two to start a cleft clinic for patients with cleft lip and palate deformities," he continues. "I think there's a need for that in this part of the country. Now having the pediatric team with us as well, it seems like we can work toward our goal and hopefully have our cleft clinic in the near future."
He adds that cleft lips are the No. 1 birth deformity in the United States, and it is best to treat every child born with one by the age of 2.
It may not be as dramatic as the cleft surgeries, but Dr. Thomas and his team get to have a positive influence on people's lives every day, whether it's helping fix TMJ or airway issues or even just giving a boost to someone's self-confidence. Many of his adult patients have shared with him their insecurities about their teeth while conducting Zoom meetings for work during the pandemic, and because of his team's experience with aligner treatment, he's able to restore their confidence.
"Every adult who consults with us asks: 'How long do I have to wear this?' So we've gotten quite creative as far as being able to accelerate treatment in a safe manner," Dr. Thomas says. "The years of being in braces for two, three or four years are long gone. Our patients nowadays average anywhere from six to 18 months of treatment time.
"About 80% of our Invisalign patients are adults. There's a lot of aligner treatment being done today for adults which is more convenient, and they prefer it to wearing braces from a lifestyle standpoint."
Dr. Thomas is looking forward to continuing his relationship with patients of all ages in the area. Like many before him, he now considers both Philadelphia and South Jersey to be home, and he appreciates some of the perks that he can't find on South Street in Philadelphia.
"I guess the big difference for us is we don't have to look for parking meters here," he says with a laugh. "But we really are enjoying being in South Jersey. I can tell you that our patients ask me when I'm personally moving to Cherry Hill. Two years ago I would have said I don't know, but now I could be getting closer to doing that."
Center City Orthodontics
17 W. Ormond Ave., Suite 100 | Cherry Hill
(856) 429-9419
Click here to subscribe to the free digital editions of South Jersey Magazine.
To read the digital edition of South Jersey Magazine, click here.
Published and copyrighted in South Jersey Magazine, Volume 18, Issue 6 (June 2021).
For more info on South Jersey Magazine, click here.
To subscribe to South Jersey Magazine, click here.
To advertise in South Jersey Magazine, click here.