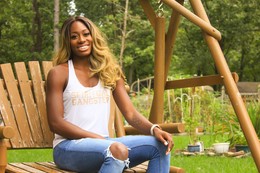 A Golden Opportunity
South Jersey native Priscilla Frederick-Loomis is aiming for a medal in Tokyo, but the effort she has put into becoming an Olympian proves she is already a winner.
Just a few weeks from now, on the other side of the globe, Priscilla Frederick-Loomis will likely participate in her final Olympics, five years removed from her first experience on the world stage. She hopes to be a medal contender in the high jump when the Summer Games finally come to Tokyo, one year later than originally planned due to the pandemic. But whether or not she's able to bring the gold home to South Jersey, it's hard to imagine another competitor having a story quite as unique as hers.
Born in New York and raised in Sicklerville, Frederick-Loomis wears the colors of the island nation of Antigua and Barbuda, which is the home country of her father. But that's just where her tale starts to get intriguing.
Like most Olympic athletes not named Michael Phelps or Usain Bolt, Frederick-Loomis has not found fame or fortune through her sport. She gets paid a paltry $12,000 a year from Antigua and Barbuda, which covers just a tiny fraction of her training and travel requirements, not to mention normal everyday expenses. To make a living while still pursuing her dreams, she has done just about every job imaginable.
That includes scrubbing toilets and mopping floors in South Jersey homes through the house-cleaning business she started, Flawless Home Cleaning. She also founded an eye lash company, Lash Out Loud, has bartended down the Shore and even coached track and field for a few seasons at her alma mater, Paul VI High School.
But that's not all. Frederick-Loomis is currently a morning radio host and runs a podcast with her husband, Ken Loomis, in which they discuss their relationship, current events and interview well-known figures from the sports and entertainment world. She hopes those endeavors serve as a springboard to her ultimate goal, which is to become an actress and work with Disney and Pixar.
Clearly, this is a woman who sets lofty goals, puts in the work to achieve them and pursues a wide range of passions. Remember "the most interesting man in the world" from those beer commercials a few years back? He had nothing on Frederick-Loomis.
"I am a hustler," she admits. "I make it work and do what needs to be done. I don't want to complain and I don't want to ever ask for certain things; I want to work for it and earn it. It's been a difficult journey but it's been very rewarding because I've learned how resilient and what a go-getter I am."
On top of everything else, Frederick-Loomis battled COVID-19 earlier this year and had lingering effects from the virus into the spring, which put her behind in her training for the Olympics. She recently worked her way back to 26th in the world rankings, and as of press time was optimistic of earning her way onto the Antigua and Barbuda national team and heading back to the Olympics after competing in Rio in 2016.
She spoke to us about the obstacles she's overcome, her love for South Jersey and her grand plans for the future.
How is your health? Are you getting back to normal?
I am back to normal in a sense. I'm just trying to catch up from what's been happening. I'm training and I'm in full swing. I have very minimal chest pains; I have a little bit of body aches and fatigue that I'm getting worked on and seeing a trainer about, but for the most part I'm doing well and moving forward. I'm happy about that.
There was talk of the Olympics getting canceled, but do you expect them to go on?
COVID is no joke. The thing about it is, it affects everyone differently. Japan doesn't want us, and if the media outlets are to be believed, they are not ready for us. Structurally they are; they have the hotels and they have the Olympic Village. But COVID is on the rise over there and they're in a state of emergency. This is a big thing that's going to be taking place and they're not requiring athletes to get vaccinated. So this is a really big risk that they're taking by hosting these Games. The worst thing to do is get to the Games and get COVID, and you don't know how it's going to affect each athlete. It's a bigger undertaking than I think people are realizing.
Have you had any hesitancy about going to Tokyo?
One of the things I've been working on with my sports psychologist … is to control what I can control. I can't control anything that they do, so it's only a distraction. If they continue the Games, then we're still going. If they cancel the Games, then we stop and I cross that bridge when we get there. For right now, I'm trying to make the team and go to my second Olympics. I need to focus on the things I can control, which is getting myself 100% healthy, making the qualifying mark, becoming a national champion and making my second Olympic team.
Did your first Olympic experience live up to your expectations?
For the most part, it was the most incredible experience ever. After training for the 2012 Olympics and not making it, I remember sitting on my couch crying to a friend of mine and saying, "I'll never be in this position again." He literally told me, "It's time to go to work. You'll be at the next one." Working so hard to make sure I made the next team, and then actually making it, it solidified all of my hard work, all of my effort, all of my sacrifice, all of the things I went through. Making the Games was really incredible, but this time around I don't want to just be part of the field—I want to compete. I want people to give me a chance and to believe that I can bring home a medal. The Olympics was great, but now it's time to do better.
How did it come about to compete for Antigua and Barbuda?
I get asked a lot about that. I was born in the U.S. and I represent a smaller island country. I never wanted either country to think I was betraying them. I'm not close with my father, so this was my opportunity to get close to a part of me. My mother was born in the Dominican Republic and my father was born in Antigua. I have 100% Caribbean blood. I needed, and I wanted, to get to know that part of me. Because of he and I not being close, this was my connection through the culture and through representing the island. I got to know about the lifestyle, the music, the culture—everything. Because of COVID I haven't been able to get back there, but even after the Olympics I still plan on going there, getting some property and being able to spend more time there. It is like my second home.
At the same time you are a South Jersey girl, right?
Yes! I've been here for forever. I was born in New York but my mom was a single parent and she moved us to South Jersey and I went to school here and met my husband here. My husband and I now live in Wildwood and it's been amazing. I went to college in New York and then I came back and it's always going to be a part of me. I rep New Jersey and South Jersey very, very hard.
Do you have fond memories of competing at the Meet of Champions when you were a student at Paul VI?
Yes. It's a love-hate relationship because it took so much to get to all of these meets, like states and Meet of Champs. … [There were times] when I wanted to be like everyone else and go down the Shore after prom but my mom wouldn't let me because I had a meet. … But becoming a state champ and a Meet of Champs champion and then going off to nationals and becoming the fourth-best in the country, these are memories I will never forget. I still have the medals from my New Jersey meets and my mom is still so proud of them. I definitely cherish the memories, I cherish the team and the coach I had in New Jersey.
Is there a misconception about what goes into becoming an Olympic athlete?
There's definitely a misconception about Olympic athletes, and I was one of those people who believed, "Once I make the Olympics, I'll be set for life." Wrong. So wrong, couldn't be more wrong. Olympians are the top 1%, and of that 1% there's a 1% that has their life taken care of, like the Sydney McLaughlins. But then you have the rest of the field, like me. I have had to work since 2012 on top of training in order to survive. On paper, I make $12,000 a year from Antigua. … That's below the poverty line, so instead of complaining about it, I've had to figure out a way to make money.
I opened up my own cleaning business in 2016 … and it took off. I was cleaning houses anywhere between three and five days a week, however many I could handle, and I was the sole cleaner. I did everything from changing sheets and cleaning toilets to doing dishes, mopping and vacuuming. It was all me. I still have that business to this day. I would take little odd jobs helping people with projects, I would bartend. I was doing anything and everything possible to make a way for myself. On top of that, I have to train and training takes anywhere from three to five hours. So it's a lot of commitment and I was exhausted a lot, but I had to do it.
Morning radio host is another one of your jobs, right?
Yes, I am a radio morning show host at 98.7 The Coast, which covers the Cape May County area. I am on the air every weekday from 6 a.m. to 10 a.m. … My dream is to be on television and in the movies, so this is a stepping stone and I absolutely love it and I'm having so much fun. To finally get my foot in the door in entertainment in some aspect has been incredible. I also have a podcast with my husband and we're trying to build that up.
Before Olympic track star, was being in entertainment your original goal?
I love entertainment, that has always been my life. I love entertaining people and I want to make people feel good and feel happy no matter where they're at in life. I love being on camera, I love talking to people, and that's what I want to do. So the podcast and the radio show are a great way to do that. It's still a dream; that's the end goal, to be an actress and to do a lot of stunt work and work with Marvel and Disney and Pixar. That's always been my goal. I can't believe that I've been so successful in track that now my second goal is to be an actress. I think it's harder to be an Olympian than an actress so I think I got the hardest one out of the way, but for me it will be scary to venture out into acting once I retire. But I am excited about it and it's something I will be ramping up. I worked very diligently to be an Olympian, so switching gears will be a shock but I always say that I have no room for fear or doubt in myself. I'll put my foot on the pedal and we'll get to it.
Click here to subscribe to the free digital editions of South Jersey Magazine.
To read the digital edition of South Jersey Magazine, click here.
Published and copyrighted in South Jersey Magazine, Volume 18, Issue 6 (June 2021).
For more info on South Jersey Magazine, click here.
To subscribe to South Jersey Magazine, click here.
To advertise in South Jersey Magazine, click here.