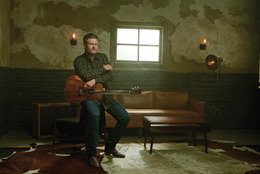 The Man of the Hour
Blake Shelton talks new music, The Voice, getting engaged during the pandemic and why he can't wait to reconnect with his fans.
The Man of the Hour
Blake Shelton talks new music, The Voice, getting engaged during the pandemic and why he can't wait
to reconnect with his fans.
The pandemic may have brought the world around Blake Shelton to a screeching halt, but the country superstar and television personality has still found plenty of ways to occupy his time over the course of the past year. In the spring, he returned to his oversized red chair as a host and coach to up-and-coming talent on the 20th season of NBC's hit musical competition show The Voice. He was also hard at work recording new songs for his 12th studio album, Body Language, which was released at the end of May and featured the debut single "Minimum Wage." Oh yeah, last October he happened to make a few headlines after getting engaged to girlfriend and fellow music star Gwen Stefani.
Adding to all that excitement is the fact that Shelton will be hitting the road once again, embarking on a tour that will bring him to Philadelphia's Wells Fargo Center on Sept. 2.
"I've missed touring and performing a lot," Shelton says. "I was sitting on the bus in Omaha waiting to do a show the night when we had to cancel the tour because of COVID. And that was March of last year, so I can't wait to get back out there."
For now, Shelton and Stefani have been splitting time between their home in Los Angeles and his sprawling ranch in Oklahoma where he's been toiling in his private recording studio. The couple, who first met on a previous season of The Voice (Shelton is the only host to appear in every season of the show), may have seemed like an unlikely pair to the outside world looking in—he being a little bit country, her being a little rock 'n' roll—but they have not only found success in their personal relationship, but professionally as well. The duo has collaborated frequently in recent years, including on "Nobody But You," their No. 1 song which they memorably performed at the 2020 Grammy Awards. During the pandemic, the two shared the studio once again to release another eventual No. 1 hit, "Happy Anywhere." All told, it was Shelton's 28th time reaching the top of the charts, proving that while TV may have made him a mainstream success, he's long been a household name.
In this special interview, we had the fortune of speaking with Shelton about what it's like making music with his fiancée, how he got involved in the restaurant business and what he misses most about being on the road. While he's hardly been sitting on the sidelines during the pandemic, he's certainly ready to reconnect with his fans.
Are you a big foodie? What made you decide to enter into the restaurant business?
I love to eat and go to restaurants but never thought about opening one. Colin Reed, head of Ryman Hospitality Properties, which includes the [Grande Ole] Opry, is a good friend of mine. He had approached me several years in a row about opening a restaurant. I always just laughed at him. And finally, one day we were talking, and he said, "I'm serious about this, let's do this together."
Whether you are in Music City or Orlando, every Ole Red location has the same goal: Give guests the best made-from-scratch food around and deliver great live music. It can be a party sometimes or a place after work to turn your brain off and relax. And with the food, there is no way you cannot love it.
Live music is obviously a big part of the restaurant. Was that important for you to bring your two worlds together and create a memorable experience for diners?
The live music aspect is what got me most excited when Colin first started talking to me about opening Ole Red. He said, "You are all about music so let's have live music be part of the dining experience." And it just clicked with me … I thought about all the bars I played starting out. They all had great food. I had one of the best steaks I've ever had at the Grizzly Rose [in Denver] after playing a show there. And that was the memory that I really attached to the idea of Ole Red.
As an artist, what's been the toughest part for you during this pandemic and what has been the best part?
I've been touring and on the road for over 20 years now so spending a few months at home on my ranch in Oklahoma with Gwen, [her] boys and family … we were all in the bubble together and we just hung out, cooked a lot of food, played and home schooled. It was really special.
But the best part was definitely getting engaged to Gwen. We're looking forward to being past this pandemic and the rest of our lives together.
Did being cooped up help to refuel your creative approach at all?
I'm always excited about music. It's all I've ever wanted to do and I get a lot of inspiration from all of these amazingly talented people that come onto The Voice stage on a regular basis.
How has the music business changed since you first started and has it been for the good of the industry?
Oh my gosh, there aren't enough pages in the magazine to list all of the changes in the music industry in these years. From cassettes to albums to downloads and now streaming. The way we listen to music is so different. There weren't TV shows like The Voice 20 years ago, but what a great opportunity it is for people to showcase their talent.
You've been part of The Voice since its inception. What has that experience been like and what's the most rewarding part of getting to work with raw talent and be able to help them grow along the way?
One of the great things with Ole Red as we began to develop the concept, the more the idea of bringing in Voice contestants became a bigger part of this thing. Giving those contestants a home at all our locations, and a place they can always set up and play and build their fan base is a big part of Ole Red. And now with Facebook Live and Battle of the Bands we are able to provide a national platform beyond a local stage which has been really cool. The Voice has changed my life.
And you've not only gotten the chance to work alongside Gwen on the show, but you two have collaborated on a few songs, including the one you dropped this past summer. What's it like to partner on music and do you two push each other?
To just have my 28th No. 1 with Gwen on "Happy Anywhere" is a dream come true. It is actually two No. 1s in a row for Gwen and I following "Nobody But You" and it was so great to end 2020 on a high together.
Click here to subscribe to the free digital editions of South Jersey Magazine.
To read the digital edition of South Jersey Magazine, click here.
Published and copyrighted in South Jersey Magazine, Volume 18, Issue 6 (June 2021).
For more info on South Jersey Magazine, click here.
To subscribe to South Jersey Magazine, click here.
To advertise in South Jersey Magazine, click here.