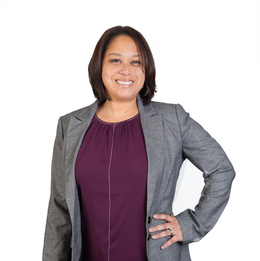 In Perfect Harmony
Whether singing professionally or working in real estate, Jennifer Wait of Weichert Realtors brings the same kind of energy and passion to all of her endeavors.
In all of her years as a professional singer, one thing Jennifer Wait could always count on was her ability to handle the pressure of the moment. Time and time again, the curtain would pull back, a hush would fall over the crowd and all eyes would turn toward her, but never would she buckle under the weight of expectations. After all, music had been her dream since she was a little girl, and there is no need to panic when you're doing something you love.
Nowadays, Wait continues to use that same skill, albeit in a completely different field. Just a little over two years ago, looking for a career that fit better into her life as the busy mother of two daughters, she made the bold move to pursue another passion of hers: real estate. It has not taken long for her star to rise again as a highly successful agent for Weichert Realtors in Moorestown.
"It was a smooth transition because there are a lot of similarities between the two industries," Wait says. "Going on auditions is just like going out for listing appointments—it's all based on other people's opinions of you. It has really been a nice combination of both worlds."
The biggest change is that Wait's ears have become her main tool rather than her voice. She makes it a point to listen intently to her clients' needs and concerns and customizes her approach to each individual with whom she works. The process of buying or selling a home comes with a certain amount of stress but she wants to alleviate that and make it an enjoyable journey.
"I always tell my clients to think of me as the quarterback," she says. "It's my job to make their life easy. Education is the key and I make sure they know what to expect from both the seller's side and the buyer's side.
"I have a great team as well, from lenders to attorneys to inspectors. I trust the people I work with and our whole endgame is to not have the client worry about anything."
Wait chose an exciting time to shift gears and her career has taken off over the past year. When the pandemic first hit in March 2020, nobody was quite sure how the market was going to react, but it turned out to be a historic period for the industry, and she does not anticipate that changing in the near future.
"With the shortage of inventory and the mortgage rates going lower and lower, there became a great demand," she says. "So I ended up having my best year and it really hasn't stopped. They're saying for every house on the market right now there are 50 buyers. Even if mortgage rates creep up a little bit, it's not going to kill the demand anytime soon."
While having a dedicated realtor who is skilled at negotiation is always a plus, it has become even more crucial in such a competitive market. Wait has completed the required coursework and extensive training to receive the coveted Advanced Buyer's Representative (ABR) designation from the National Association of Realtors, which is the standard of excellence in the field. Being an ABR helps her stay up to date on all of the latest trends and gives her a leg up on other agents.
"I'm able to work with buyers and figure out how to best suit their needs," she says. "I also know how to craft educated offers to be competitive and win the bid without overbidding and causing problems related to the appraisal. So far, all of my clients have been winning their bids and getting their homes."
A proud resident of Cinnaminson, Wait is a lifelong South Jerseyan with vast knowledge of all the different communities and school districts, which is another plus for buyers.
On the other side of the coin, Wait encourages those who have been considering selling their homes to strike while the iron is hot. "The house will never be worth more than it is right now. Nationwide, the inventory is less than half of what it was at this time last year. The way the market is, your house will sell quickly and you'll probably be very surprised at the price you will get."
Wait is grateful for the support she receives from Weichert and in particular Aileen Konzelmann, the managing broker of the Moorestown office. She raves about the family atmosphere the company has implemented across the board.
Clearly, Wait has a new home at Weichert and hopes to continue the relationship for years to come. But that doesn't mean she has lost the performance "bug," either, especially as restrictions are starting to get lifted and live music slowly returns.
"Once it's safe to do so, I'm hoping to get back to singing for different churches and other groups," she says. "I love being able to share my gift. It's just not going to be my prime focus, as real estate has come to the forefront in an unexpected but good way."
Jennifer Wait
Weichert Realtors
202 W. Main St. | Moorestown
(856) 235-1950 (office)
(267) 689-5388 (cell)
JWaitHomes.com
Click here to subscribe to the free digital editions of South Jersey Magazine.
To read the digital edition of South Jersey Magazine, click here.
Published and copyrighted in South Jersey Magazine, Volume 18, Issue 2 (May 2021).
For more info on South Jersey Magazine, click here.
To subscribe to South Jersey Magazine, click here.
To advertise in South Jersey Magazine, click here.