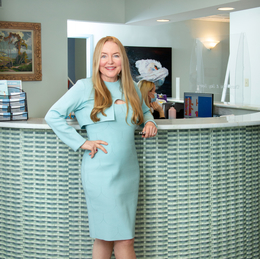 Beauty and Confidence at Any Age
With the help of skilled physicians at The Hughes Center for Aesthetic Medicine, women can explore the latest cosmetic surgery and med spa treatments to enhance their well-being.
Some people are born with a particular eye, able to see the beauty of something beyond the surface. However, it's rare to witness this skill combined with an inherent desire to care for patients. That is, until one meets Susan Hughes, MD, FACS.
Health care is in Dr. Hughes' blood. Born to physician parents, she and her six siblings all became doctors in their own right, a career path she had determined by age 4. Dr. Hughes always had an affinity for the aesthetic. Growing up, she would attend antique auctions with her parents on weekends, developing a keen eye and eventually an antique collection of her own, including art, furniture and approximately 220 hats.
"Art and beauty are important. I'm not much for makeup; I like the natural look. I learned how to make my own clothes and would make my own dresses for parties," she says. "I love to find weird, unusual fabrics and designs that speak to me like antiques. This is how I look at patients. The goal is to magnify their fine points and get them to their best, real natural self."
With a career that spans four decades, Dr. Hughes is considered a pioneer in ocular facial plastic surgery. Harvard trained, she is board-certified in facial cosmetic surgery and ophthalmology; a Fellow of the American College of Surgeons and of the American Society of Ophthalmic Plastic & Reconstructive Surgery, among others. She has taught in the oculoplastic department at Wills Eye Hospital for 24 years and has been a volunteer with Project Orbis, and has operated and lectured in third-world countries.
Although her resume is admirable, it's not all that has drawn patients to her care for this long. "I listen to my patients. It's a collaboration between us to get them where they want, when they want and I educate them about the options available," she says, adding more people have been leaning toward noninvasive services. "This has been driving the demand for med spa services. There are a lot out there, but not all have a doctor on staff. We have three, and not only that, but our staff is always attending the latest continuing education courses to stay up to date on the latest equipment and treatments."
Services range from skin care and facials to injectables, laser treatments, hair restoration and body services, each aimed at giving patients a boost in self-confidence. "In this time of COVID craziness people are more stressed and depressed than usual. Everyone needs a pick-me-up," Dr. Hughes says.
As they spend more time on Zoom and wearing masks, patients are looking for treatments that target their eyes, neck and jawline. The Hughes Center for Aesthetic Medicine offers a host of cosmetic surgery services for eyelid rejuvenation, lifts for brows, cheeks, neck and face, facial laser resurfacing, facial fat transplants and recently added rhinoplasty, performed by Dr. Catherine Weng, who is double board-certified in both facial plastic and reconstructive surgery and otolaryngology/head and neck surgery.
Anyone who knows Dr. Hughes knows her commitment to technology. She is one of only two providers in the area with the newest ELITE CoolSculpting machines, which are ideal for fat deposits in the abdomen, love handles, flanks and "bra bulges," requiring no incisions or downtime and helping patients see results permanently, losing fat without any pain. Lasers are another investment she believes in both for their myriad applications and proven results.
Maturing women can especially benefit from laser treatments depending on their concerns, Dr. Hughes says. "For women with thinning hair, we have Keralase, which I think is better than platelet-rich-plasma therapy for hair growth. This treatment is a combination of a bioengineered serum and a non-ablative laser that creates tiny holes in the scalp for the concentrated growth factor serum to penetrate deeper into the scalp for more successful results."
Lasers are also providing a much-needed improvement to women's quality of life and intimacy. Once taboo, feminine rejuvenation is taking off in the world of women's health care. Whether experiencing lack of sex drive or incontinence, patients can speak to Dr. Beverly Mikes, a board-certified OB/GYN who launched this set of services at The Hughes Center and has since helped countless women restore their vaginal health. Dr. Hughes says women are immediately at ease with Dr. Mikes because of her background in gynecology.
A free consultation can determine the best course of treatment, she says, but options include the BTL Emsella chair, which uses electromagnetic stimulation to strengthen the pelvic floor muscles; the FemTouch, a painless vaginal laser to stimulate collagen growth and moisture; and the PRP O-Shot, an injection that helps with sex enhancement and stress incontinence.
The Hughes Center is always evolving, Dr. Hughes adds. She encourages women of all ages to seek out a free consultation, whether it's young people interested in quality skin care without chemicals, or sophisticated women seeking a more youthful appearance. "Patients are often surprised at how many services we offer, and I promise you, there is nobody in this office who isn't caring, kind, educated and well-trained," says Dr. Hughes. "And the fact that we're all women—it rocks."
The Hughes Center for Aesthetic Medicine
1765 Springdale Road, Suite B2
Cherry Hill
(856) 751-4554
HughesCenter.net

Click here to subscribe to the free digital editions of South Jersey Magazine.
To read the digital edition of South Jersey Magazine, click here.
Published and copyrighted in South Jersey Magazine, Volume 18, Issue 2 (May 2021).
For more info on South Jersey Magazine, click here.
To subscribe to South Jersey Magazine, click here.
To advertise in South Jersey Magazine, click here.