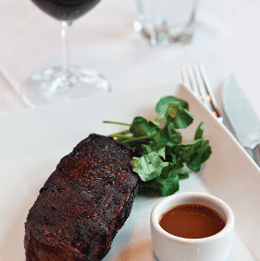 A Cut Above: The ChopHouse
The ChopHouse
4 S. Lakeview Drive, Gibbsboro
(856) 566-7300
TheChopHouse.us
4.5 forks
Midway through appetizers, Tara—possibly the best waitress in South Jersey—approached our table. She wanted to know: Did we want her to have the kitchen start cooking our steaks? Would we prefer to take it slower and relax a bit longer between courses? Whatever we preferred, she said, was fine with her.
This is not how guests are usually made to feel at steakhouses. And, that's one reason I tend to shy away from them—or, at least, from their corporate incarnations. Too often, the service standards are so rigid, and so geared toward up-selling and table-turning, that the overall impression is of being treated like some sort of cattle: herded, fed and then whisked back outside. (One hopes the cows served at such establishments re­ceive better care.)
By contrast, The ChopHouse, for all the accouterments that mark it as a big, masculine steakhouse—large-bowled wine glasses, Wine Spectator award-winning list, certain steaks dry-aged in- house—is a gentler creature, and all the better for it.
As for the food, it delivers on the promise implicit in the restaurant's aesthetics: bold flavors with a sense of elegance.
A recent soup du jour, an excellent lobster bisque, was built on a base of sweet, deeply concentrated lobster stock crafted in-house. Unlike the more familiar version, this one wasn't packed with large chunks of lobster but, rather, just the occasional sweet morsel. My dining companion felt short-changed by this, but I saw it differently: Each spoonful was so densely flavorful, so redolent of lobster, that thicker knobs of the meat itself would have been redundant. Regardless, this was a stunning soup, and a steal at $7.
Buffalo-style calamari salad, however, was a flat-out disappointment, (the only one I experienced during my meal). It was essentially a shredded wedge salad drizzled with house-made blue cheese dress­ing and scattered with calamari. But the squid's tangy spice coating overwhelmed everything else on the plate, cowing the dressing and rendering the squid itself little more than a conduit for the overly zesty seasoning.
Thankfully, there were enough highlights to relegate that one low point to a mere memory. The menu offers plenty of op­tions beyond red meat—the usual assortment of crab cakes, salmon, lobster and crab mac and cheese—but, as you'd ex­pect, the steak is the star here.
Dry-aged New York strip sur­prised with its delicacy, unusual for this hearty cut. It was served simp­ly, seasoned with salt, pepper, gran­ulated garlic and paprika, and it followed the steak­house tendency to err on the side of cooking meats a bit less than you might be used to. You'll be told, however, what to expect, and the kitchen is spot-on. My rare strip arrived just as Tara said it would: cool at the center, fairly raw and utterly wonderful.
At $40, the Delmonico special we sampled may be one of the best bargains of this still-young year. The mammoth 18-ounce cut of Angus arrived tucked be­neath a blanket of particularly herby mushrooms and accompanied by tender steamed crab claws.
Equally rewarding are the sides: wildly savory Parmesan truffle fries, or vidalia onion straws, thin, deliriously crisp and the perfect combination of salty and sweet. Even the creamed spinach was hearty enough to find its own sense of meatiness.
Desserts were oversize, but showed admirable restraint in the sugar department. The cheesecake actually nodded in the direction of savory; the substantial slice of chocolate layer cake boasted a subtle and altogether addictive edge of bitterness. They were both sweet, of course, but not cloyingly so.
The ChopHouse has long earned a reputation for its distinctive food and service, and our recent visits served as a wonderful reminder. When you go, send our regards to Tara.
E-mail us at edit@southjersey.com.
Published (and copyrighted) in South Jersey Magazine, Volume 7, Issue 11 (February, 2011).
For more info on South Jersey Magazine, click here.
To subscribe to South Jersey Magazine, click here.
To advertise in South Jersey Magazine, click here.