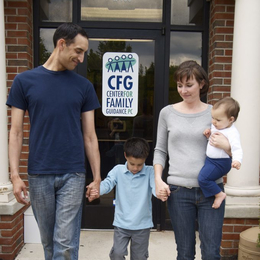 A Mission of Compassion
CFG Health Network provides medical and mental health services as it strives to improve health care options for everyone.
CEO Les Paschall could itemize all the ways CFG Health Network delivers innovative health care services and support. He could explain how the company embodies its mission statement, "dedicated to improving the quality of mental health and wellness for all." And he could talk about how it's upheld that guiding principle since 1997.
Before describing what CFG does, though, Paschall wants to talk about the "why."
"Our real driving force is why we're doing what we're doing. My 'why' is that I had a severely mentally ill mom who, as a woman, didn't get the services she needed and had a very bad outcome. I made it my mission to develop services that provide mental health and behavioral health care services," he explains.
CFG is a comprehensive healthcare provider offering a range of innovative healthcare services. It comprises three divisions, each with unique mission statements developed by volunteer committees' client experiences. The Center for Family Guidance, P.C. provides inpatient and outpatient hospital service and operates their own mental health clinics in Marlton, Westampton and West Deptford; CFG Health Systems provides health care to correctional facilities in New Jersey and New York; and CFG Residentials is a residential-treatment division for adolescents with behavioral and emotional issues.
The three founders/owners themselves are "very much invested" in delivering mental health and health care services to those typically without access to cost-effective but quality options.
"The two physician owners, their 'why' is they are child and adolescent psychiatrists dedicated to mental health services for children," Paschall says.
CFG's staff all bring a personal passion to their work—and they have to, given its challenging nature.
"We work in what I call the war zones, where the highest need is," says Paschall. "Jails are a good example: It's a very difficult environment but that's where there is a tremendous amount of need for health care and behavioral health services."
It takes a mission-focused, organically driven person to thrive in CFG's positions, which include mental health clinicians, therapists, health care, dental, administration and volunteer roles. And when CFG finds those people, it encourages them to personalize their efforts accordingly.
"The folks who succeed, they come with something already embedded in their hearts as to what they want to do. We give them an opportunity to play that out," Paschall says.
CFG hires according to each of its facilities' needs. The residential programs, for example, rely on licensed clinical social workers, psychologists, psychiatrists, behavioral health care specialists and advanced-practice nurses, as well as management to oversee everything.
It also employs on-site reintegration specialists. They help individuals with mental health issues secure a life for themselves after release, which is difficult "because there aren't many mental health programs specializing in working with detainees."
CFG's biggest reintegration effort has been medically assisted treatment (MAT), an in-house use of drugs and therapy for incoming patients with addictions. Through professionally administered medications that both reduce cravings and negate substances' effects, it reduces deaths in released detainees who detox but then go back to using in fatal doses.
"It gives them a little breathing room to get into therapy and continue their MAT program, and that's been a very important part of reintegration," Paschall says. He adds that while the reintegration program's success rate between 30 and 40% "might not seem that impressive from the outside looking in," it improves on previous programs' "0% success rate."
CFG also works with children removed from programs, schools and homes who, historically, have had little hope for or access to support and health care services. Their goal is to stabilize and treat that child, then safely reintegrate them into either their own family or a foster environment "so that they can have a productive, positive life."
Youth services also include two in-school programs in Salem and Burlington counties. With ambassadors' assistance in identifying at-risk children, they deliver behavioral health care needs through activities and discussions. Paschall cites a recent extreme case that reminded the CFG team just how life-saving their work can be.
"Our interventions are pretty profound," he notes. "Those positive outcomes are what we're looking for when we work to reintegrate a person."
Before the pandemic, CFG held workshops facilitating a better understanding of and increased empathy for adults navigating reintegrations' hurdles, like getting their licenses back and complying with parole boards. It quickly adapted its outreach and services to COVID guidelines, thanks to a program from 1998 that, despite eventually becoming a separate telemedicine company, gave the CFG team an IT familiarity allowing them to smoothly convert to virtual and over-the-phone services benefiting their clients and the broader community alike.
There's more than technical know-know when it comes to working undeterred through a pandemic, though. Staff members are fueled by their own personal "why," motivating them to take their responsibility to clients and the overall CFG mission seriously.
It is proof that, according to Paschall, "if you don't have the 'why,' the rest of it doesn't mean a whole lot."
CFG Health Network
765 Route 70 E., Building A-101, Marlton
(856) 797-4800
CFGHealthNetwork.com

Click here to subscribe to the free digital editions of South Jersey Magazine.
To read the digital edition of South Jersey Magazine, click here.
Published and copyrighted in South Jersey Magazine, Volume 18, Issue 2 (May 2021).
For more info on South Jersey Magazine, click here.
To subscribe to South Jersey Magazine, click here.
To advertise in South Jersey Magazine, click here.