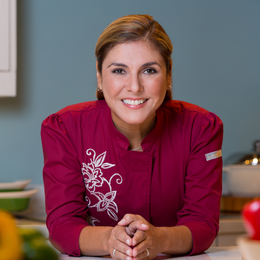 The Queen of Latin Cuisine
Celebrity chef Lorena Garcia's signature dishes have long been sought after by foodies around the globe. She is now bringing two of her most flavorful desserts to the masses through her new frozen dessert line.
Over the years, world-renowned chef Lorena Garcia has worn many hats. Born in Venezuela, she first started her career in law. It was not long, though, before her true passion for cooking took over and propelled her into becoming one of today's most recognized and celebrated chefs. After graduating with a bachelor's degree in culinary arts from Johnson & Wales University, Garcia began a chef's apprenticeship with the Ritz Carlton in Paris. Her culinary career has since taken her all around the world.

She currently owns over 40 restaurants and Garcia became the first Latina executive chef to open a restaurant on the Las Vegas Strip, and is one of only a handful of women who own restaurants on the legendary tourist destination.

Garcia has also written several cookbooks and even has her own line of kitchenware. She has been featured on Bravo's Top Chef Masters as well as NBC's America's Next Great Restaurant. Furthermore, she is credited with creating Taco Bell's highly successful Cantina Bowl menu, using healthier and fresher ingredients.

Even with such a full plate, Garcia always makes time for helping others. In 2005, she started a nonprofit organization called Big Chef, Little Chef to help combat childhood obesity. Her most recent venture is a new line of frozen desserts, inspired by her grandmother Rosario, called Dona Rosario Latin Delights.

Initially you planned to be a lawyer. What caused you to change course and become a chef?
I finished high school when I was just 16 years old. At that young age, I was unsure of what career path I wanted to follow. My mother, who is an attorney, encouraged me to attend law school. At age 21, I earned my law degree and moved to the United States shortly thereafter. On my very first day of work, I was given an assignment to read a lot of big legal books in preparation of a case. I started to have a mini panic attack because I realized that this was not the career for me. I knew in that moment that I wouldn't be happy reading books in an office all day. I am energetic and like to be active and use my hands. I began thinking about enrolling in culinary school and becoming a chef because I have always loved cooking and the way food brings people together. I truly felt I was at a crossroads. I remember thinking, Do I follow my parents' wishes and become the attorney I went to school to become or do I take a chance and follow my heart? Initially, my parents weren't thrilled with my decision. Eventually, I was able to explain to them that for me, cooking is so much more than just culinary skills. For me, cooking is very personal. It is a way for me to transfer my energy and to nurture my customer. I don't just want to feed the customer; I want to nourish their soul. That's the vision that I've always had—to bring people together, to entertain, and do it in a way where I can also lift up my culture through my cooking.

What inspired you to start your non-profit organization against childhood obesity, Big Chef, Little Chef?
Years ago, I had an endorsement with Nestle products targeting the U.S. Hispanic market. Through that endorsement, I would attend the biggest Hispanic festivals in the country, giving cooking demonstrations and speaking to the large crowds. One day, I was doing a demo and saw three young overweight kids standing together, each one bullying the other about their weight in a way that caused all of them to end up crying. It made me think that this is probably something those kids deal with each day at school. I realized in that moment that we need to help these kids because they are our future and they need to understand the importance of healthy eating and cooking the right way. When I say healthy, I don't mean dieting. Instead, I'm talking about understanding ingredients and having control over what you put into the food you make and portion control. Through the organization, I go to schools and teach the kids all about ingredients, proper food storage and all the basics of cooking. I explain to them, and their parents, that everybody can eat healthy on any budget. When we first started back in 2005 there were about 40 kids in the program. Now, there are over 3,000 kids participating.

You've said you were inspired to create Dona Rosario Latin Delights in honor or your grandmother, Rosario. What was she like?
I have such wonderful memories of my grandmother. I always enjoyed being in the kitchen while she was cooking. She was an incredible cook. My grandmother never measured anything, instead she would use the shell of an egg as her measuring cup. I've always believed her hands were like magic. There was something about those hands, no matter what she made you knew it was going to be delicious. Everything she made was done with love and it's from her that I believe so much in the power of energy and making a personal connection with others through food.

Tell us a little bit about Dona Rosario Latin Delights.
Dona Rosario Latin Delights is an opportunity for me to take some of my grandmother's best dishes to a new level while always keeping the integrity of her recipes. My grandmother was aware of this venture but unfortunately did not live to see its completion. However, I feel that she is watching with love from the heavens. My mother, Blanca, is an amazing artist and she actually drew the picture of my grandmother that is on the packaging. I wanted to have my grandmother's picture on the packaging as a seal of her love and approval. Dona Rosario Latin Delights currently features two amazing desserts—flan and tres leches. I am very fortunate to have partnered with Walmart to bring this new line of sweet and savory frozen desserts into people's homes.

What made you decide to go with the flan and tres leches dishes?
It was a collaboration with my partners at Walmart. We were discussing what Latin dishes would be most desired by consumers. I thought of flan and tres leches because those are the two desserts that I saw the most in my home, growing up. I brought both desserts to my team at Walmart and they loved them. The hard part was figuring out how to bring these amazing Latin dishes to the public in a way that they would maintain the taste and integrity they were made with. We needed to ensure that when the consumer opens the box and prepares the dessert that the taste and presentation are exactly as if it were freshly homemade. The process took several years of trial after trial. Finally, we perfected it through a process of flash freezing, which consists of freezing the desserts at a very low temperatures for a very short period of time. The response has been incredible. People are amazed at how good it tastes. Each dessert feeds about 6-8 people and costs less than $9. It feels so good to be able to create a product with the best quality and integrity and make it affordable and accessible to the consumer.

How would you describe both of these desserts?
Our flan is made up of a super velvety and soft custard base with dark caramel. Other versions of flan typically use a lighter caramel, which is not as strong. I prefer to go with a darker caramel because the bitterness of the caramel is a perfect contrast to the sweet vanilla custard. The flan is topped with toasted caramel and its absolutely delicious. Our tres leches consists of a beautiful vanilla sponge cake that took almost a year to perfect. The sponge cake masterfully absorbs the tres leches (three milks)—condensed milk, evaporated milk [and] regular milk. We soak it in intervals to evenly saturate it. This incredibly moist cake is topped with cream which adds to its delectable texture.

Where can the Dona Rosario Latin Delights be found?
Currently, the desserts are found in the frozen dessert section of Walmart. Right now, the product is in 30 Walmart locations throughout Tampa, Orlando and Kissimmee, with plans to expand either later this year or early next year. The feedback we have received so far has been phenomenal. I encourage everyone to try the products and let us know what you think. I just know anyone who tastes it is going to love it. I am so proud to be a part of such a high-quality product that is both accessible and affordable.

Click here to subscribe to the free digital editions of South Jersey Magazine.
To read the digital edition of South Jersey Magazine, click here.
Published and copyrighted in South Jersey Magazine, Volume 18, Issue 2 (May 2021).
For more info on South Jersey Magazine, click here.
To subscribe to South Jersey Magazine, click here.
To advertise in South Jersey Magazine, click here.