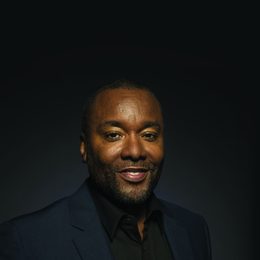 Action & Reaction
Philly-born filmmaker Lee Daniels tells powerful and provocative stories that plumb the depths of human emotion.
When Lee Daniels arrived in Hollywood to work on Prince's 1984 film Purple Rain, he had $7 in his pocket. What he lacked in funds, though, he made up for with a "no-nonsense attitude," a deep desire to pursue his filmmaking dreams and the grit of his native Philadelphia.

He says the mental fortitude he gained in Philly gave him the confidence to write, direct and produce thought-provoking films, some of which have earned Oscars. He attributes his success to following his desire to "live my life the way I want to live it."

Some of his most notable (and controversial) works include the films Monster's Ball, The Woodsman and Precious, as well as the FOX TV series Empire and Star. He is causing a stir once again with The United States vs. Billie Holiday, a new film about the famed jazz legend and her many battles with addiction, fame and heartbreak.

Where others see controversy in his work, Daniels sees something else: "I wanted to be able to make people feel an array of emotions that show them the complexity of the human condition."

Daniels recently received the Lumière Award from the Philadelphia Film Society, given to locally tied industry professionals who have furthered filmmaking as a vital art form. Previous winners include Adam McKay, M. Night Shyamalan and Bruce Willis.

We spoke with Daniels about the role Philadelphia played in his life, the importance of truth in filmmaking and why he insists on following his own path.
What do your Philadelphia roots mean to you?
It's the sort of place you love because it gives you the grit to work through things that are hard and difficult. We can get through them. Look at the people who have come out of Philadelphia; my acting peers and other artists—I tell you, it's in the water. There is something in the water here.
You said you want to live your life the way you want to live it. Is that what gives you the guts to make bold decisions in your TV shows and movies?

It's interesting, there's always these deep conversations about my work, and I can't quite figure that out. I'm just sort of living in the moment and I'm telling truth at the moment the way that I see it. I don't know why that sometimes offends people.

I saw the John Waters movie Pink Flamingos down on South Street when I was in my early 20s. I'd never seen anything like it before in my life. The following weekend I took my Aunt Maddie and my mom back to the same theater to see the movie. At the end of it, my aunt literally slapped the hell out of me and asked, "Why would you take me to some crap like this?"

I think that the reaction I got from her was something that I enjoyed. Not necessarily the slapping, but just the reaction, that she could react so viscerally to something.

Why is this important to you?
I think that oftentimes through my films, too, I'm healing personally from things that I've gone through in my life. So, I'm actually licking my wounds in front of everyone, and that's therapeutic for me. Everything I do soothes me and makes me a better person. I'm not the same person now than when I first got into this business. Oftentimes, as offensive as [some of my films] sometimes are, they have been helpful to me in becoming a better man.
What do you mean by "offensive"?
I did one movie for my church members at St. Thomas Episcopal Church in West Philly. After my movie The Paperboy, my mother said I had done a movie about a pedophile with The Woodsman and Precious is about incest, and she said the people at the church were concerned. She asked, "Can't you just make movies like Tyler Perry?" … I go, "Ma, I'm just telling a story about life experience." The closest I came to that was [Lee Daniels'] The Butler, and that really quieted Miss Jones up from the church good for a good while. I don't know how she feels about [The United States vs.] Billie Holiday, my latest movie.

Why did you want to make your Billie Holiday film at the present time?
My grandfather was the manager of the Locust [Street] Theatre in West Philly, and I went there to see Lady Sings the Blues. It changed my life. I know it's the reason why I'm directing right now. I understood Lady Sings the Blues, but I did not know what the song "Strange Fruit" meant. I was appalled that I didn't know "Strange Fruit," and I was angry when I thought about how many other stories there are about Black leaders that we know nothing about. It's ironic that this story about this civil rights leader that didn't know she was a civil rights leader is the story that is full circle for me with Lady Sings the Blues.

What does it mean for you to receive the Lumière Award?
It is an honor. I get a little emotional when I think about getting this. You wonder whether you really deserved it, or did I trick them in all of these movies to make them think that I'm worthy of something like this? I'm not doing it for the awards; I am doing it because it is in my heart and it's in my soul. I think as artists that's what we're all trying to do.
Photograph by Ron Eschel/AP
Click here to subscribe to the free digital editions of South Jersey Magazine.
To read the digital edition of South Jersey Magazine, click here.
Published and copyrighted in South Jersey Magazine, Volume 18, Issue 2 (May 2021).
For more info on South Jersey Magazine, click here.
To subscribe to South Jersey Magazine, click here.
To advertise in South Jersey Magazine, click here.