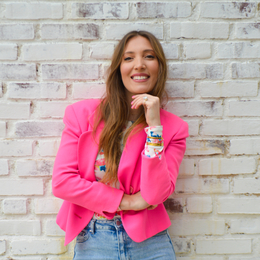 Getting Personal
CBS3 feature reporter Vittoria Woodill on her love for coffee, the best career advice she ever receive and how she someday hopes to inspire children to reach for the stars.
Before becoming parents, my husband and I would always joke saying we hope if and when we have kids that they're funny and love to joke around and laugh. She may only be a few months old, but we call our daughter Louisa "Lou the Kid" for a reason. She already has a sweet sense of humor, and her laugh just absolutely melts us to mush.
This might not be surprising, but I drink coffee in pots, not cups. Cappuccinos, espressos, lattes—I love it all, and I specifically love drinking it out of a cup and saucer. I also have cups and mugs for all my different moods. Fancy, cozy, "in a rush" cups. It's really something I look forward to every day. My Aunt Philomena told me once that she loves drinking her coffee out of porcelain, and ever since she told me that, I think I can taste a difference.
I've gotten to meet a lot of cool people in my career, not only as a reporter, but formerly as an Eagles cheerleader. One time, I met John Madden and will never forget how wide his neck was. Very impressive. Another time in New York, I got to meet Tom Brady and Reggie Bush! But honestly, I was more excited to meet Tom's wife, Gisele! It turns out I missed her by seconds. I'm still upset about that.
[Philadelphia Eagles radio announcer] Merrill Reese gave me some of the most important career advice, while eating a bag of pretzel nuggets in the hallway of WBCB Radio Station in Levittown. He said, "Vittoria, it's just as important to know what you don't want to do than what you do want to do."
The one question I get all the time is, "Do you like everything you eat on Taste with Tori?" The answer is yes, with the exception of duck hearts, tripe and gigantic oysters. It's a texture thing for me.
Your trash is my treasure. I can proudly say I love to trash pick furniture. My husband isn't always thrilled to wait on corners or constantly pull over every time I see something, but I've gotten some pretty cool stuff including an antique couch that I chalk painted purple. It ended up being featured on HGTV's Handmade Instragram account!
As a kid, I still remember watching the Al Alberts Showcase broadcast live from the Shore. I remember thinking how glamorous and cool it was for the kids performing. While TV was always a dream of mine, so was performing on that show. To this day, I will never forget his voice and still feel a little bummed that I never auditioned.
I've gotten to do some pretty wild stuff for CBS3. Rappel down buildings, drive a monster truck, fly with the Air Force Thunderbirds. But once I was taught how to fly a hot air balloon solo by a man who had done multiple trans-Atlantic flights. He was around 75 years young, and his fearlessness was enviable. I did take flight that day, while he held onto a rope below. I felt almost as cool as he was.
My husband is my best friend. We knew each other in high school, but we parted ways for years and even lived on different coasts. We eventually found our way back to each other. I truly believe love never fails.
One day, I hope to be a children's book author or create some sort of children's programming that encourages kids to be confident in themselves at a young age. I was a weird little kid; you could say not much has changed. I want to cheer children on to be the awesome little people they are, and celebrate the gifts they were born with. That's been a lifelong dream of mine, and I really hope to see it through.
Photograph courtesy of CBS3 Philadelphia.

Click here to subscribe to the free digital editions of South Jersey Magazine.
To read the digital edition of South Jersey Magazine, click here.
Published and copyrighted in South Jersey Magazine, Volume 18, Issue 2 (May 2021).
For more info on South Jersey Magazine, click here.
To subscribe to South Jersey Magazine, click here.
To advertise in South Jersey Magazine, click here.