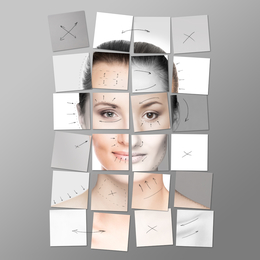 Natural Appeal
Quicker recoveries and noninvasive procedures dominate plastic surgery advancements as patients look for rejuvenation rather than reconstruction.
Pandemic life has taken its toll, even affecting what some people see in the mirror. The advent of virtual meetings and get-togethers allowed people to stay connected but it's also made some confront sagging skin and deepening wrinkles.
Along with technological advances in less-invasive procedures and non-surgical options, the pandemic has contributed to a perfect storm encouraging people to pursue cosmetic treatment.

Societal Influences
Regardless of changing trends and technological advancements, Dr. Joanna Partridge, newly installed New Jersey Society of Plastic Surgeons president, says her profession still demands an exemplary bedside manner because part of the job is tactfully managing patients' expectations.
"Some people come in and they've seen these images of the Kardashians with exaggerated features and they think that's what they're going to look like," she explains.
Partridge says "the Zoom effect" has been a significant catalyst for plastic surgery. It amplifies the inherent distortion of our virtual likenesses, turning a distracting line or shadow into something to hyperfocus on.
Plus, social media filters and Photoshop put DIY airbrushing capabilities at people's fingertips, helping many identify exactly what they want to tweak.
"With these filters, you can accentuate your eyelashes, you can erase your wrinkles, so people are seeing the versions of themselves on the screen they want to see in the mirror, too," says Partridge.
Many also have a lot more downtime and aren't spending money on things like travel, so recuperation time and disposal income aren't the hurdles they once were. Working from home means someone can recover without missing a beat or pushing their healing body too hard.

Technological Advances in Nonsurgical Procedures
Developments in everything from equipment to procedures deliver noticeable,natural results with quicker recoveries. Liposuction, for example, benefited from ultrasound-assisted machines and updated suction tubes that help sculpt the body. Abdominal definition is even possible with the increased detail surgeons are afforded.
That means less reliance on drains, which Partridge describes as a necessary evil: "It's a piece of IV tube sticking out of your skin, which no one really likes." Moving away from those drains has ultimately improved patients' quality of life during recovery.
Technology has even improved anesthetic options, including a numbing agent that lasts up to three days. Partridge says mitigating pain in the days after surgery is a game-changer for those reluctant to take oral painkillers.
At Sewell's Ageless Skin & Laser Center, Dr. Danielle Brenza delivers nonsurgical aesthetic options like exfoliating HydraFacials and collagen-generating microneedling via injectables and lasers. She likens regular, preventative self-maintenance to working out.
"You go to the gym to stay fit," she says. "Using a light Botox to prevent wrinkles around your eyes and forehand, using fillers when you start to lose volume in your face, all these things work together to keep you looking fresh and young."
Utilizing platelet-rich plasma (PRP) from the patient's body helps deliver those youthful results faster.
"Your own healing components in your own blood heal your skin," Brenza adds.
Body sculpting—work done to the mid-section—remains popular. That can be liposuction or a tummy tuck, or a treatment like cryolipolysis. Also called cold-sculpting or fat-freezing, pinchable fat is frozen with a device delivering a fat-killing, subzero controlled cold. The body's "clean-up cells" recognize the dead fat and safely excrete it.
Dr. Susan Hughes of Cherry Hill's The Hughes Center for Aesthetic Medicine considers herself a lifelong student of plastic surgery and has traveled the world "searching for new technology and working with experts." She says her practice was the first in the tristate area to invest in CoolSculpting technology, which, until recently, hadn't changed much in 20 years.
"It's quicker, it's faster and it's actually cheaper," she says. "If you do two treatments a month apart, you lose up to 40% of your fat permanently. You're not hurting your body, you're just eliminating unnecessary fat."
Dr. Steven Davis reports similar "fine-tuning" is an increasingly common procedure at his Cherry Hill practice, Davis Cosmetic Plastic Surgery, which he also attributes to everyone scrutinizing their virtual visage.
"A lot of the things people are seeing are things that can be tweaked without any major type of overhaul," he says.
Radiofrequency devices aid in performing minor work with big results, particularly when tightening the face and neck. When COVID restrictions began to loosen, Davis' patients were clamoring for those types of "energy-based procedures" to achieve more youthful results.
The "hybrid breast augmentation" combines smaller implants with fat relocated from the midsection or thighs. It not only yields more natural results but also means a shorter recovery time and decreased risk of the body rejecting a foreign object.
"Using our own bodies' products like fat, there's a lot of stem cells and growth factors already in our system," he says. "We're using that PRP on facials, too, or to help stimulate hair growth."
Restoring the hairline can also be done in a minimally invasive way. Hughes is particularly excited about KeraLase thulium lasers, which create tiny holes in the scalp and work with a PRP serum to encourage the hair to grow.
"You get 40% absorption, instead of the 6% on a bare-naked scalp," she says. "You do this six times every two weeks and we've seen really nice hair results."

Keeping It Natural
Despite beauty standards that are exaggerated beyond realistic expectations on social media and in pop culture, natural results are in.
"I'll ask my patients to bring a picture when they were in their 20s or 30s because I don't want to make someone look like they never did, unless they've always hated their super-low eyebrows or the bags under their eyes," says Hughes.
Injectables like Botox and fillers remain in-demand but many are using them in smaller doses in targeted areas—which also means something like nonsurgical rhinoplasty is an option for some, with tiny amounts of filler being applied to the nose.
"[When] everyone used a cookie-cutter approach where the top third of your face would be completely frozen, nothing worked and there would be no expression. We've realized that just doesn't look good because it doesn't look harmonious with the bottom half of your face," Partridge said. "Now we do what I call 'Goldilocks Botox.' It's not too strong and not too weak. It's really improved patient satisfaction and facial harmony."
"There's much more of a focus on doing things in a natural, subtle way," Davis agrees. "I think the pandemic has modified some people's understanding that they can look and feel good without going overboard."
Incremental treatments with more subtle results are also less expensive, especially if an individual is proactive about caring for their skin.
"Our motto here is 'Never look injected.' It can be very, very affordable—look at it like putting a few dollars aside every day instead of going to Starbucks," Brenza says. "It's something you can do monthly to put off getting surgery for longer."
SPECIAL ADVERTISING SECTION: Look Your Best
Trusted experts in the field of cosmetic care
Dr. Danielle Brenza
Ageless Skin & Laser Center
Sewell
(856) 218-4848
AgelessSkinCenter.com
Dr. Steven Davis
Davis Cosmetic Plastic Surgery
Cherry Hill/Northfield
(856) 424-1700
DavisCPS.com
Dr. Susan Hughes
The Hughes Center for Aesthetic Medicine
Cherry Hill
(856) 751-4554
HughesCenter.net
Click here to subscribe to the free digital editions of South Jersey Magazine.
To read the digital edition of South Jersey Magazine, click here.
Published and copyrighted in South Jersey Magazine, Volume 18, Issue 2 (May 2021).
For more info on South Jersey Magazine, click here.
To subscribe to South Jersey Magazine, click here.
To advertise in South Jersey Magazine, click here.