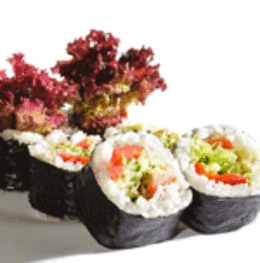 Culture and Cuisine Come Alive: Mikado
Mikado
2320 Route 70 W., Cherry Hill
(856) 665-4411
Mikado-US.com
4 forks
There's often a buzz around the newest restaurant in town, with a bold, modern interior or a noted chef, fresh off a gig in Philly or New York, in the kitchen. But, once a restaurant has been around awhile, we tend to view it as tired, a throwback—even if we've never actually eaten there.
But fine dining, when done well and with an absence of pretense, is not about newness or buzz.
Take, for example, Mikado. It has been around seemingly forever. (It opened in 2000.) And yes, its landmark status on Route 70 might imply that it's a throwback, just another Japanese spot in a region with no shortage of them.
The truth, however, is quite the opposite, as a recent visit to Mikado deliciously showed. The service is as effusive as ever, the interior—thanks to a remodeling last year—brought up to date with dim, flattering light and black wood-block walls marked by linear white divisions.
As for the menu, it's huge. But, miraculously, this doesn't seem to have affected the kitchen or sushi bar's ability to send out dishes of stunning cleverness and focus. So while the appetizer section is studded with standards—edamame, gyoza, yakitori—it also features some unusual preparations that few other Jap­an­ese restaurants in the area are doing either at all or particularly well.
Nasu miso sounded simple enough on the menu—baked eggplant with miso paste—but its execution transcended the simplicity of its ingredients. Char-sided eggplant boats arrived bearing meaty, tender insides, their tops scored and sporadically blackened from the heat. The sweet miso paste itself was caramelized, and formed a sticky, still-liquid top layer that filled the spaces between the hash marks. This also proved to be a brilliant companion to the miso soup, a completely different expression of the fermented soy paste, there far earthier and broken up with generous petals of seaweed.
The kitchen's mastery was also on display in the kaki fry, or deep-fried oyster. Here, a sturdy tempura batter encased a creamy oyster whose briny whiff of the sea was cut nicely by the Worcestershire-like tang of the side bowl of katsu sauce.
Also well executed—and clev­er—was the beef negimaki, a carnivore's version of a sushi roll in reverse, the center of piquantly sweet scallions wrapped in a thin layer of sliced beef, all of it glazed with a sticky teriyaki sauce.
As for the real sushi rolls here, they run the typical gamut from the familiar (spicy tuna, spider roll, California) to the more outlandish. What surprised me most was the deft sense of balance in their design. For example, the J and J roll, studded with spicy shrimp and jalapeños, utilized spicy heat to offset the roll's inherent richness. That restraint prevented the roll from devolving into a muddy-flavored fish mess.
Even simple sushi justified Mikado's status: The fish was fresh enough that it could be served at less than refrigerator-cold, allowing each individual piece's aroma to come to the fore. The rice was texturally perfect: starchy enough to hold together until it fell apart into discernible grains when it hit the heat of the tongue.
Desserts were the only shortcoming I experienced, the selection of brought-in sweets from the popular pastry purveyor Bindi a bit anachronistic. The house-made banana tempura, pleasant if a bit soggy, was at least made on the premises.
Still, you don't go to a place like Mikado for its desserts. And as far as Japanese restaurants go, Mikado is still one of the best in the region.
E-mail us at edit@southjersey.com.
Published (and copyrighted) in South Jersey Magazine, Volume 7, Issue 11 (February, 2011).
For more info on South Jersey Magazine, click here.
To subscribe to South Jersey Magazine, click here.
To advertise in South Jersey Magazine, click here.