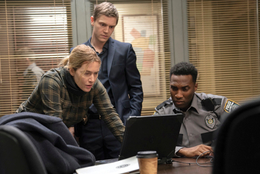 True to Life
Kate Winslet, star of Mare of Easttown, has built her career on hard work, integrity and authenticity.
When Kate Winslet first considered playing a detective in Delaware County, Pennsylvania, she knew the role would pose more than a few potential stumbling blocks. To start, she would need to learn how to speak "Delco," a peculiar accent native to the suburban Philadelphia county. She would also have to go makeup free, walk with a limp and convince the audience she had the skills of an experienced police investigator.
But there's a good reason why Winslet's trophy case includes Oscar, Emmy and Grammy awards, in addition to four Golden Globes and three British Academy Film Awards. Simply put, she always delivers.
Mare of Easttown, the seven-episode HBO Max series in which Winslet currently stars, is filled with small-town intrigue, family secrets and riveting drama. The show delves into a murder that upends a community and forces Detective Mare Sheehan (Winslet) to confront her past as the world crumbles around her. The dark and emotional role required Winslet to segue from her portrayal as a 19th century fossil hunter in the period film Ammonite and assume the life of a small-town investigator.
"Initially, wrapping my head around how I would make this jump from the character I was playing at the time [in Ammonite]," she explains, "to being Mare Sheehan was one of the biggest challenges that I've ever been slapped with."
Having premiered in April, this intense series—part murder mystery and part family drama—also stars Guy Pearce, who plays a local creative writing professor; Jean Smart, who plays Mare's mother, Helen; and Julianne Nicholson as Lori, Mare's best friend since childhood.
Compounding the challenge was the fact that Mare "is nothing like me, so that's pretty scary in a great way if you're an actor like me who likes to feel terrified and exposed." Her character is complicated—big-hearted, trusted and somewhat fearless, but also rough around the edges and plagued by demons of her own.
"I had never done anything like this, and I was excited to read something that just gripped me right away," she says. "For a lot of reasons to do with her backstory, this really intrigued me."
Winslet, 45, is best known for her work in independent films, especially period dramas. Her first screen appearance, at age 15, came in 1991 on the British TV drama Dark Season, but it was her role in the epic romance Titanic, at 22, that catapulted her to global stardom. At the time, she was "still learning who I was and still learning my craft," she says. Subsequent movies roles have included The Reader, Hideous Kinky and Steve Jobs.
When asked if Winslet would be a good detective in real life, she quickly responds, "No, I'd be a lousy detective." Although she adds, "I'd definitely be very good at the coffee and after-beers, but Mare felt a million miles away from me, in terms of the job that she does. I could never be a detective because I don't think I have the mental stamina that is required. The one thing I did feel I had in common with Mare that I quite honestly was able to lean on a lot was that real sense of family and how much it means to her to hold onto that at all costs."
To help with her research, Winslet spent several months working with small-town Pennsylvania police departments. In addition, Winslet says she watched real-crime dramas and YouTube footage. She also spent time with police in blacked-out vehicles driving around some of the area's rougher neighborhoods. Those experiences, she believes, played vital roles in her ability to deliver an authentic performance.
"We wanted to capture the essence of what it's like to really be a detective from that town because Easttown really exists," she says. "If anything we did ever felt fake or phony, we would say, 'Tell us, please tell us right away.'"
The miniseries was shot at SunCenter Studios in Aston, Pennsylvania as well as other destinations nearby. One of the locations that left a big impression on Winslet: Wawa.
"Wawa was a big part of my life for well over a year," she says. "Evan Peters (who plays Detective Colin Zabel in the series) would go on and on about the Gobbler, a sandwich that would put me in a food coma. He kept saying, 'I've got to have it.'"
'Mistakes Are Great'
Winslet comes from a family of actors. Her many successes aside, she continues to take her own forebears' advice to heart.
"My dad has said to me my entire life, 'You're only as good as your last gig, babe,'" she says. "I really believe that to this day. It means that we all have to contribute, work hard and stay in the game. You've got to deliver on integrity every time. … Integrity is really important to me because I think audiences can tell."
In turn, Winslet hopes to pass her wisdom on to her three children—Mia, 20, Joe 17, and Bear, 7. Chief among the essential life lessons: Treat everyone with respect.
"As the years go by, I realize that people are just people," she says. "At the end of the day, there is always a person in there, whether they are royalty, a film star or anyone else. I like trying to draw that out of people. I'm not quite sure how; I just always try to be myself, which also makes a major difference regardless of where I am."
Her overall philosophy: "It pays to be true to yourself."
She has helped tell the stories of unsung female heroes throughout her career, and she intends to continue that trend. An upside of fame Winslet embraces is being able to give back. She is well known for her philanthropy, including efforts to spread awareness of autism. In 2012, Winslet wrote a book about autism, The Golden Hat: Talking Back to Autism, published by Simon & Schuster.
The book is about Margret Ericsdottir, whose child Keli Thorsteinsson has non-verbal autism. Inspired by their story, she teamed with Ericsdottir in 2010 to form the Golden Hat Foundation, which has earned her great respect and international awards for best humanitarian work. Ericsdottir and others who work closely with the foundation, including Hallmark's Paul Greene, say Winslet's dedication inspires everyone around her.
"To know Kate," Greene says, "is to love her."
Ever humble, Winslet attributes much of her good fortune in her decades-long career as a working actor to sheer luck and determination. Her advice: "Don't expect that the world owes you anything, and remember that mistakes are great. Keep making them and forge ahead."
Click here to subscribe to the free digital editions of South Jersey Magazine.
To read the digital edition of South Jersey Magazine, click here.
Published and copyrighted in South Jersey Magazine, Volume 18, Issue 2 (May 2021).
For more info on South Jersey Magazine, click here.
To subscribe to South Jersey Magazine, click here.
To advertise in South Jersey Magazine, click here.