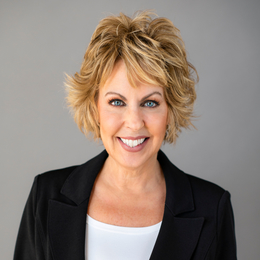 Sponsored: A Personal Touch
Whether dealing with homeowners or a team of agents, Gina Romano believes a successful realtor is one who knows how to build meaningful relationships.
Family is everything to Gina Romano, so it's no surprise that back in late 2004 when she transitioned from a stay-at-home mom to the real estate businesses, she did so with the mindset that by being industrious, creative and personable she could build meaningful relationships with her clients as they go through the major process of buying or selling a home.
For the first few years, things were going great as the housing market was buzzing and she was excelling in her new career. Then the 2008 collapse arrived and everything changed. While the crash caused some to leave the business behind, Romano took a different route and decided to fully immerse herself in the industry to gain a deeper understanding of what it really takes to be successful in real estate.
"I decided that I really did love real estate. I loved my clients and I was very passionate about it. So I said, I'm really going to learn the craft. I'm going to learn how to negotiate, how to market property; I'm really just going to dive in and take this opportunity to really sharpen my skills," says Romamo.
That meant attending seminars, picking the brains of successful agents and brokers and whatever else she could to absorb as much knowledge and information as possible. Fast forward to today and she's become one of South Jersey's top brokers leading a team of talented agents that feel as passionate about helping homeowners as she does. Despite the rocky road to get here, Romano wouldn't change a thing and calls the whole ordeal a blessing in disguise.
"It helped me build really good relationships because at the end of the day that's what real estate is," she says. "In those couple of years when I barely had any business, it really made me realize that you need to have those strong relationships with people and they need to trust you."
Building those bonds with clients has long been the core of Romano's approach to real estate, and one she thinks should also carry over to agents. During her career, she has worked for various larger firms and done well for herself, but over time she started to feel less like a valued team member and more like a hired hand.
That disconnect led her to what she calls the progression of her career and in 2019 she ventured out on her own to start Romano Realty. The company was built on the philosophy that the same familial treatment that clients have come to expect would also be extended to her team of agents.
"I feel like those big organizations got away from that aspect," Romano says. "I came into the industry and the company I started with had great systems and structures, and did a lot of business, but they also treated us fairly. I felt that was lacking in the industry and because of my background, I felt I could bring that to the table."
Unfortunately, just a handful of months after starting the company, the COVID-19 pandemic took over and Romano was forced to once again manage her real estate career during a crisis. This time, she was able to lean on the lessons learned back in 2008 to help push through.
"I think because I survived '08, that really prepared me. It helped me coach my agents, it helped me coach my clients better. I was able to pivot very quickly because of that and get back into the groove again," say Romano.
And the results have been undeniable. With record-low interest rates, limited inventory and many interested buyers, the residential housing market has been booming during the pandemic and Romano Realty has grown as a result, doubling their number of agents in the past year.
Another reason for the company's success has been Romano's youngest son Luke, who started the business with his mother and handles marketing while also having recently obtained his real estate license. According to Romano, her son has been effectively shadowing her since he was 8 years old and decided very early in his teenage years that he would follow in her footsteps. Now they form a dynamic duo that each brings a unique perspective to assisting clients.
"When I came into the business, I was very old school and [Luke] is very today," Romano says. "When we mesh together our philosophies, our core is the same but the way we go about things is different. But as a partnership, I think it's a really cool thing."
With the next generation firmly in place, it would seem the sky is the limit as Romano Realty looks toward its future. And having experienced both some real highs and some real lows along the way, Romano is able to appreciate her success that much more.
"I don't consider myself a real estate agent, but rather a real estate advisor. I advise clients and get to be part of their journey and make a difference. It is a beautiful thing for me," she says. "I was a stay-at-home mom with no college education and the fulfillment when that offer comes in or you are selling someone's house and are able to get them to the next chapter in their life, that's so rewarding."
53 N. Main St. | Mullica Hill
Click here to subscribe to the free digital editions of South Jersey Magazine.
To read the digital edition of South Jersey Magazine, click here.

Published and copyrighted in South Jersey Magazine, Volume 17, Issue 12 (March 2021).

For more info on South Jersey Magazine, click here.
To subscribe to South Jersey Magazine, click here.
To advertise in South Jersey Magazine, click here.