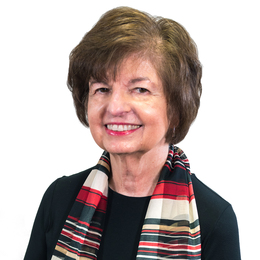 Getting Personal
Margaret Marsh, Rutgers University-Camden's interim chancellor, on growing up in a close-knit family and her long, winding journey through the world of education.
I grew up in Vineland in a large Italian-American family
. My grandparents, aunts, uncles, cousins and cousins of cousins all lived within walking or bike-riding distance from our family. It was a close-knit family, and I was especially close to my grandmother. Born in a tiny village in Italy, she came to the U.S. as a young girl of 16. She had little formal schooling, but she was one of the smartest people I knew, and she taught me the value of perseverance and of seeing things from the other person's point of view. I adored her, and I still miss her.
I think women's history chose me.
When I was working on my Ph.D., women's history was not yet a formal field of study, but like other women in graduate school at the time, I was developing a strong interest in the field. In fact, my first book was on women anarchists; I had become fascinated by their particular version of feminism when, as a graduate student, I taught a course on the history of radical social movements. And then, when I came to Stockton, students could request a course from a faculty member, as long as there were a certain number of students willing to sign up. A group of students came to me and asked if I would teach a women's history course. I did. Pretty soon I said to myself: "I'm teaching women's history. I'm writing women's history. It sure seems like this is my field now."
My sister is Wanda Ronner
. She's a gynecologist and an amazing person. After she came back to the Philadelphia area to start her career, she suggested we do a "little project" in the history of obstetrics and gynecology, something fun, for a talk or a paper. Well, that little project became our first book, a history of infertility entitled The Empty Cradle. That book led to another, then another. We just had our third book, The Pursuit of Parenthood, published in 2019. We always say we work so well together because, as the older sister, I get to be the boss, and as the younger one, she always gets her way. It's worked for us for 30 years now.
I feel really lucky to have been able to have a career in this region
. I was still in my 20s when I started at Stockton [University], which itself was a really young school. I got the opportunity there to teach a broad range of courses and to serve for the first time as a dean. I spent 15 years at Stockton and then I went to Temple [University] to do something completely different: develop a Ph.D. program in women's and gender history. Those two experiences—at a (then) relatively small liberal arts college and at a large research university—made me a good fit for Rutgers University–Camden, which had the best of both worlds. South Jersey really does offer an amazingly wide range of educational opportunities. It's a great place to go to college and then to live and work.
I like to say that my greatest strength as a leader is that I can see what is in front of my face
. What I mean by that is that I can look at an institution and see not just what it is, but what it could be. When I got to Rutgers University–Camden, it had an outstanding faculty who did excellent research and who also really loved teaching undergraduates. It was also a faculty who worked across departments and programs.
Creating innovative Ph.D. programs that crossed departmental boundaries and sought to solve important issues for the 21st century was truly transformative for Rutgers–Camden. We were able to hire more outstanding faculty, make major strides in research, and become a doctoral research university.
In fact, as we built our doctoral programs, we made undergraduate research the hallmark of undergraduate education and created a strong experiential learning program. Overall, these programs attract students from around the world to our region and attract research funding to South Jersey, which is critical to our economic growth as an innovation hub.
One of the reasons I was excited to come to Rutgers University–Camden as dean
was that it was my own undergraduate alma mater. Rutgers–Camden changed my life. I had professors who mentored me, who nurtured my intellectual curiosity and who made me believe in myself. I went to school with strong, resilient fellow students who did not let the fact that we were pretty much all working our way through college keep us from participating in college activities, developing friendships and building lifetime bonds. When I was being recruited for the job, one of the search committee members said to me, "Wouldn't you like to do something important for a place that did so much for you?" I owe my wonderful professional life to my education at Rutgers–Camden, especially to my teachers, who believed in me.
Click here to subscribe to the free digital editions of South Jersey Magazine.

To read the digital edition of South Jersey Magazine, click here.
Published and copyrighted in South Jersey Magazine, Volume 17, Issue 12 (March 2021).

For more info on South Jersey Magazine, click here.
To subscribe to South Jersey Magazine, click here.
To advertise in South Jersey Magazine, click here.