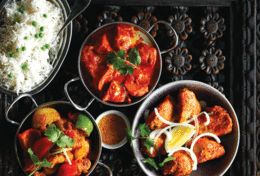 2011 Golden Forks
25 of the best restaurants in South Jersey
+10 Must-Have Meals & Desserts to Die For
When it comes to food, specifically fine dining, it seems that everyone has their own opinion. That includes our staff of food critics, self-described foodies and just plain picky eaters. Which leads us to this year's crop of Golden Forks, our annual awards recognizing culinary achievement at the finest restaurants across South Jersey. Each of the 25 restaurants spotlighted has received no fewer than four (out of a possible five) forks from our reviewers, which means they are truly spectacular. From tiny French BYOBs to beloved Italian mainstays and extraordinary sushi bars, here are the dining rooms that stood out from all the rest.
monsoon fine indian cuisine
Mount Laurel
The first thing you notice when you walk into Monsoon is the stunning 52-seat dining room. It's clean, crisp and inviting—seemingly more Manhattan than Mount Laurel. It provides the perfect setting as you nosh on the homemade naan (we like the garlic-flavored version), lamb biryani, butter chicken and other upscale takes on traditional Indian classics. One whiff of the fragrant dishes here and all that's left to wonder is, 'Does it taste as good as it smells?' The answer is a resounding "Yes."
4180 Dearborn Circle, Mount Laurel, (856) 234-0080
toscana
Cherry Hill
A meal at Toscana is transporting—offering all the atmosphere of a picturesque village in the Tuscan countryside. The lush outdoor garden dining area is idyllic, but we'll take any seat in the house for the chance to enjoy favorites like the warm crab cheesecake. The blend of lump crab meat, shrimp and creamy cheese is one of the most sinfully savory dishes in town. The hefty menu also features plenty of pasta, chicken, veal, beef and seafood dishes. The gourmet pizzas are torched to blistered perfection in the rotating wood-fired oven and come complete with gourmet toppings like fire-roasted zucchini and pancetta.
1990 Route 70 E., Cherry Hill, (856) 489-7373
yokohama
maple shade
We've made it a personal goal to sample every single one of the specialty rolls at Yokohama, but we find it increasingly hard to get past the bonsai tree roll—cucumber, tuna, salmon, yellowtail, avocado and tobiko. Rice isn't part of the equation, but the citrusy accompaniment of ponzu sauce is a must. Another favorite is the spicy girl roll, for which the spicy salmon, onion and avocado are deep fried before being finished with a blend of sauces and peanut powder. If sushi's not your thing, don't worry: Yokohama excels with its sea­food udon hot pot—a harmonious blend of noodles, shrimp, scallops, crab and vegetables.
300 S. Lenola Road, Maple Shade, (856) 608-8812
bacio italian cuisine
Cinnaminson
In Italian, Bacio loosely translates to "kiss." Well, ever since we were first kissed at this Cinnaminson restaurant, we fell in love, and now we're going steady. Start with the prosciutto and fontina cigars before working your way up to the cassoulet, which boasts a slow-roasted pork shoulder baked with sausage and cannellini beans, accompanied by roasted peppers and broccoli rabe. There's also plenty to love in the Chilean sea bass crusted with pine nuts and sautéed with tomatoes in a lemon-butter sauce, all served atop risotto.
2806 Route 130 N., Cinnaminson, (856) 303-9100
blackbird
Collingswood
Chef Alex Capasso has earned a loyal following in South Jersey and beyond. Dishes like his spot-on coriander-and-rice-crusted tilapia, or his succulent crispy duck confit with a silky smooth serving of pomme puree, have also helped him gain the attention of the James Beard Foundation. The Trenton native cut his teeth in kitchens from Cherry Hill to Cinnaminson before opening up his first Collingswood establishment. (He also owns nearby West Side Gravy.) Amid the heavily populated dining scene in town, Capasso's cuisine stands on its own.
714 Haddon Ave., Collingswood, (856) 854-3444
sapori
Collingswood
The first time we dined at Sapori, we were blown away. Translating to "flavors" in Italian, Sapori certainly lives up to its name. Grass-fed veal is sautéed with mushrooms, figs and shallots, then topped with a dollop of goat cheese and a red wine sauce. All of the pasta is made in-house (and cooked to a perfect al dente consistency), including the pillowy gnocchi tossed in a ragu of onion, celery, carrots, red wine, shallots and shiitake mushrooms. The depth of the starters and entrees, not to mention admirable homemade desserts like the mascarpone cheesecake (with a complimentary shot of chococello) make Sapori a mandatory foodie destination.
601 Haddon Ave., Collingswood, (856) 858-2288
oh! yoko
Cherry Hill
You'd be hard-pressed to find a local sushi restaurant with more lighthearted appeal than Oh! Yoko. Options include Eagles- and Phillies-themed rolls, and even a bagel roll, stuffed with cream cheese, masago, scallion and smoked salmon. The restaurant takes its name from chef/owner Jin Sung's affinity for The Beatles, but the menu here is more clever than kitschy. Creative plating (the aforementioned Phillies roll comes in the shape of a "P") only adds to the jovial atmosphere.
1428 Route 70 E., Cherry Hill, (856) 857-9050
catelli ristorante
Voorhees
Whether you are looking for a little romance, a place for that special occasion or just an unbelievably memorable meal, you'll want to head to Catelli's. With so many standout items on the menu, it's hard to choose. Do you go with the raw bar to start, or the crab-crusted diver scallops? For an entrée, should you sample the seafood-stuffed homemade ravioli or the herb-crusted rack of lamb? For dessert, do you go with the Oreo deep-fried in funnel cake batter or the seasonal selection of sorbet? If you want our advice, try them all on repeat visits—and make sure to save us a seat.
Plaza 1000 Main St., Voorhees, (856) 751-6069
joe palombo's mirabella café
Cherry Hill
Italian food is South Jersey's version of comfort food, and few serve it up with more style than Mirabella Café. Drive by on Route 70 and you'll likely notice a parking lot jammed with cars—and that's just on the weekdays. The attraction is simple, well-done Italian cooking—like rigatoni Bolognese and veal medallions sautéed in marinara sauce with garlic and wine, topped with mozzarella and grilled eggplant—that would make nonna proud.
210 Route 70 E., Cherry Hill, (856) 354-1888
annata wine bar
Hammonton
We're impressed by Annata's re­spectable wine list, but even more so, we love the worthy pairing partners on the food menu. The customary cheeses and meats are available for light bites, but it's Annata's tapas that we find most satisfying. The duet of housemade gnocchi—potato dump­lings served alongside spinach-and-ricotta ones—is formidable. So is the Annata egg roll, a crispy wrapper stuffed with sausage, arugula, eggplant and fontina cheese floating in a pool of tomato bisque. Don't be fooled by the tapas labeling; the plates here are big, but manageable enough that you can sample more than a few pairings.
216 Bellevue Ave., Hammonton, (609) 704-9797
nunzio ristorante rustico
Collingswood
Nunzio's is not your everyday South Jersey red gravy joint. Don't get us wrong, Chef Nunzio Patruno's homemade spaghetti and meatballs are spectacular, but we flock for dishes like the pappardelle al coniglio, a serving of broad, flat noodles topped with shredded rabbit in a hearty ragu. It's the perfect example of the rustic yet refined, simple yet sophisticated style of cooking that has become Patruno's signature. Having grown up in the center of Italy's agricultural hub, Patruno has mastered the ingredients in his arsenal to create outstanding plates like sautéed veal scaloppini with sage and prosciutto in a white wine sauce.
706 Haddon Ave., Collingswood, (856) 858-9840
fuji
Haddonfield
Tucked away in a tiny shopping mall along Haddonfield's main drag, Fuji is a not-so-well-kept secret. That's because the food is too good for the word not to get out. After nearly three decades in Cinnaminson, Fuji moved to its current home in 2007 and continued its tradition of stellar Japanese cuisine. The sleek sushi bar offers devotees a list of nigiri, maki and sashimi and hard-to-find offerings like surf clam and herring. The niyu-men soup is enhanced with shrimp dumplings, shiitake mushrooms and somen noodles, and the shabu-shabu for two is as fun to prepare tableside as it is delicious.
116 Kings Highway E., Haddonfield, (856) 354-8200
arugula
Sewell
One of the newest restaurants on this year's list, Arugula occupies an unassuming space next to a Philly Pretzel Factory in Washington Township. But it's quickly making a serious push for one of the best Italian restaurants in the region. Brothers Nicholas Tomasetto and Stefano Gervasi's ambitious menu starts off strong with items like the butternut squash and braised rabbit-filled tortelloni in browned butter and sage sauce. It's a terrific appetizer taken to new heights by the simple addition of crushed amaretti cookies. All the pasta, with the exception of the whole-wheat penne, is made in-house and available in half or full portions. Which is convenient, because you'll want to save room for the veal Giovanni: tender cuts of calf, jumbo lump crabmeat and grilled asparagus in a tomato-basil-blush wine sauce, served with a roasted shallot risotto.
373 Egg Harbor Road, Sewell, (856) 589-0475
andreotti's viennese café
Cherry Hill
For three decades, Andreotti's has been a mainstay on the South Jersey dining scene, serving up a stellar menu inspired by the Old World charm of Northern Italian cuisine, and the revered techniques developed in the French countryside. Executive Chef Richard Marsh has worked in some of this country's finest five-star restaurants, but he literally grew up at Andreotti's, working the pastry counter as a teen. Today, Marsh flexes his skill on everything from roasted beet gnocchi to pan-seared arctic char. The dessert case—stocked with pastries made on site—and the wine bottle shop are an added bonus.
1442 Route 70 E., Cherry Hill, (856) 795-2233
el sitio grill & café
Collingswood
This restaurant took home our Best New Restaurant award last year and, frankly, it was a no-brainer. Husband-and-wife team Francisco Ca­bre­ra and Cecilia Jaramillo brought the flavors of their native Ecuador to South Jersey, and, in turn, enlivened the dining scene along Haddon Avenue. At El Sitio, South Ame­r­ican cuisine comes in the form of citrus-spiked ceviches and authentic empanadas. The breadcrumb-kissed tomatoes covered in jumbo lump crab meat and provolone cheese is one of the best opening acts on any area menu. Grilled beef and fish selections are also stars of the show, especially the man­chego-draped sirloin.
729 Haddon Ave., Collings­wood, (856) 240-1217
the capital grille
Cherry Hill
Chain restaurants don't often get much love from gourmands, but then, The Capital Grille can hardly be placed in the same category as Outback Steakhouse. The law library dé­cor and suit-and-tie atmosphere bring an elevated elegance to this local favorite. The menu is upscale to match, with an array of steaks and seafood, including the signature kona-crusted, dry-aged sirloin. Forget that standard baked potato. Here, the roasted seasonal mush­room medley of shiitake, portobello, oyster and cremini mushrooms are a carnivore's perfect companion.
2000 Route 38, Cherry Hill, (856) 665-5252
nonna's tuscan restaurant
Cherry Hill
Inspired by his childhood in Cannes and his love of Tuscan cuisine, Chef Jean-Sauver Fiorentino combines the best of both worlds in a menu full of delectable pan-Mediterranean creations. Serious chow­­hounds will be delighted by heavy-hitting specialties like the pan-seared foie gras over leek tartare with sherry, or the succulent roasted pork tenderloin. A form­er Georges Perrier disciple, Fiorentino allows nothing to leave the kitchen with­out his personal stamp of approval. That includes everything from the daily-baked bread to the homemade desserts and pastries.
211 Berlin Road, Cherry Hill, (856) 795-1778
chez elena wu
Voorhees
When Elena Wu sold her namesake restaurant, regulars worried that their go-to spot would suffer as a result. The good news is that neither the kitchen nor the service skipped a beat. With a menu full of flashy Asian cuisine bolstered by French technique, this is fine fusion dining. Think steamed black bass with ginger and scallions or grilled duck breast with raspberry sauce. You'll also find Chinese specialties, like the savory Mongolian pork, and sushi, including the hometown favorite Voorhees roll with shrimp tempura, spicy tuna and avocado. High-quality ingredients, skilled preparation and beautiful presentation make every meal here one to cherish.
910 Haddonfield Berlin Road, Voorhees, (856) 566-3222
megu sushi
Cherry Hill
Situated in the rear of a strip mall off Route 70, Megu Sushi is a hidden jewel in the very crowded local sushi scene. Chef Steve Lin is a master at artfully crafted specialty rolls like the Godzilla roll (spicy salmon, spicy tuna, avocado and caviar) and the Megu roll (shrimp tempura and crab stick, with lobster on top), but his skills extend beyond sushi and sashimi. A range of teriyaki dishes and a full hibachi menu help make Megu a must-visit for Japanese food lovers with discriminating tastes. With a second location now open in Moores­town, this taste of Tokyo now stretches across two counties.
1990 Route 70 E., Cherry Hill, (856) 489-6228
dream cuisine café
Cherry Hill
From his open kitchen, chef/owner Vincent Fanari brings Provençal fare to Cherry Hill with enough finesse to please even the most opinionated French­man. A staple of French cuisine, Fanari's ratatouille is a simple blend of sautéed eggplant, zucchini, bell peppers and tomatoes finished with basil and thyme—humble, yet complexly delicious. Fanari's hometown crowd in Nice would be proud. His attention to detail in cooking and his flair for plating give this casual BYOB many of the characteristics that make the French dining experience so revered. Besides, any Frenchman who can make pasta this good is well deserving of a tip of the beret.
1990 Route 70 E., Cherry Hill, (856) 751-2800
luna rossa biagio lamberti
Turnersville
Much like his brother Aldo, Biagio Lamberti is quite selective when it comes to the seafood he serves. Which is why, when visiting this Turnersville eatery, it's always wise to check the pesce del giorno. The food's modest beginnings make it approachable without sacrificing quality. The spinach and ricotta cannelloni covered in blush sauce is just one rich example. Or, witness the fettuccini luna: flat noodles mingle on a plate with roasted garlic, olive oil, cherry tomatoes, broccoli rabe and andouille sausage.
3210 Route 42, Turnersville, (856) 728-4505
high street grill
Mount Holly
Ostrich burgers and Moroccan-spiced duck breast in Mount Holly? Unlikely as it sounds, the High Street Grill has brought the world of haute pub food into the heart of Burlington County. It also has one of the best craft beer taps in South Jersey, but don't dismiss this as just a place to grab a pint and some wings, (although the wings, cooked with an IPA-infused barbecue sauce, are tremendous). Working with area farmers like Princeton's Griggstown Quail Farm, Chef John McDevitt creates dishes that are both seasonal and sustainable. The exposed brick and dark wood décor help keep the restaurant casual yet classy.
64 High St., Mount Holly, (609) 265-9199
the chophouse
Gibbsboro
The ChopHouse has it all: a woodsy, contemporary steakhouse décor, great waterfront views, attentive servers and, most importantly, one hell of a chef. Here, you're likely to rub elbows with everyone from your next-door neighbor to a Flyers star—and it's easy to see why. Chef Markese Beverly elevates meat-and-potatoes fare to new heights with dry-aged (in-house) cuts of beef, all expertly prepared. He's just as skilled when it comes to seafood like blackened ahi tuna with sweet pepper rémolaude. Even Beverly's burgers (did someone say bison?) and sandwiches offer proof that a steakhouse can be sensational without the stuffy pretense.
4 Lakeview Drive S., Gibbsboro, (856) 566-7300
filomena lakeview
Deptford
This restaurant's historic location in­side the Lakeview Inn makes for one of the more unique dining experiences in the area. Of course, ambience will only take you so far: the real draw is the mix of Italian and pan-Continental cuisine. Sautéed chicken breast and lobster tail mingle with capers, asparagus and sundried tomatoes in a garlic-Sauvignon Blanc sauce, while hearty twin pork chops come stuffed with prosciutto, spinach and cheese. Just thinking of those dishes—and that elegant Colonial setting—has us feeling plenty nostalgic.
1738 County Road 706, Deptford, (856) 228-4235
caffe aldo lamberti
Cherry Hill
Seafood right off the boat, topnotch service and a wine list that boasts more than 16,000 bottles, all help keep restaurateur Aldo Lamberti's flagship eatery at the top of every local foodie's list. Lamberti wows well-heeled diners with authentic Italian flavors inspired by his upbringing along the Amalfi Coast. The wide selection of fish is brought in daily, but don't overlook the steaks and chops. Of course, no Italian restaurant is worth its salt without good pasta. Thankfully, the homemade renditions of pappardelle and ravioli fit the bill.
2011 Route 70 W., Cherry Hill, (856) 663-1747
what's good?
If you've ever been overwhelmed by a restaurant menu stocked with enticing choices, this is the list you've been waiting for. Here, we spotlight, (in no particular order), 10 entrees that are guaranteed to please.
1 Monterey seafood cioppino
Where: Terra Nova Restaurant/Crudo/Wine Bar, Sewell.
Key ingredients: Bay scallops, lump crab, jumbo shrimp, calamari, clams and mussels.
Taste test: The seafood is excellent, but the spicy saffron broth makes the dish sing.
2 Australian lamb shank
Where: Café Madison, Riverside.
Key ingredients: Lamb with cannellini bean ragout, roasted peppers and spinach.
Taste test: The flavors here are distinctive yet blend together in perfect harmony.
3 Crepas de pollo
Where: Mexican Food Factory, Marlton.
Key ingredients: Grilled chicken, tomatoes, onions, raisins, almonds, cheese, sour cream, pumpkin seeds and avocado.
Taste test: Forget what you think you know about crepes: these should be the new measuring stick.
4 Cordero la parrilla
Where: Barcelona Bistro, Pitman.
Key ingredients: Rack of lamb.
Taste test: Encrusted in pine nuts, this entree is one you won't soon forget.
5 Blackened diver scallops
Where: Braddock's, Medford.
Key ingredients: Maytag blue cheese, creamed spinach.
Taste test: This dish would be great even without the white truffle oil drizzle. Of course, it doesn't hurt.
6 Grilled apple cinnamon pork chop
Where: Lillian's Café, Audubon.
Key ingredients: Bone-in pork chop and apple cinnamon chutney.
Taste test: Warm, comforting, a true taste of the season.
7 Churrasco steak
Where: Casona, Collingswood.
Key ingredients: Skirt steak with fried yucca, mushroom ragout, chimichurri and guacamole.
Taste test: One taste of this dish transports you from Haddon Avenue to Havana.
8 Pan-roasted Hawaiian butterfish
Where: Ritz Seafood, Voorhees.
Key ingredients: Miso marinade, wild mushroom risotto.
Taste test: Butterfish is often ignored on menus. After eating this, we can't imagine why.
9 Stuffed rigatoni
Where: Anthony's, Haddon Heights.
Key ingredients: Pasta filled with ricotta cheese, mushrooms, fresh spinach, basil butter sauce and shaved asiago cheese.
Taste test: We're glad more people don't stuff rigatoni. They would just fall short next to this.
10 Pesce gruglia
Where: Tre Famiglia, Haddonfield.
Key ingredients: Scallops, jumbo shrimp, baby arugula.
Taste test: The seafood is grilled perfectly and plated atop a salad tossed with lemon, extra virgin olive oil and a knockout sweet aged balsamic drizzle.
room for dessert
Every good meal deserves an even better encore.
Chocolate Cheesecake at Adelphia in Deptford.
The devious minds behind this dessert take New York-style cheesecake and dip it into chocolate. Worried about nutrition? Don't. It comes with fruit, in the form of a chocolate-covered strawberry on top.
Banana sticky rice at Thai Basil in Collingswood.
This unique dessert features a steamed banana dipped in coconut milk and sugar and covered in sticky rice.
Mochi at Kabuki in Cherry Hill.
The ultimate palate pleaser, these pulverized rice balls filled with ice cream come in strawberry, mango, red bean or green tea.
Spice malted waffle at LoBianco in Collingswood.
This made-to-order Belgian waffle is finished with malted milk powder, fresh nutmeg, clove and cinnamon, and served with vanilla ice cream and blackberries.
Kulfi at Palace of Asia in Cherry Hill.
Think of this dessert as Indian ice cream. It's creamier and denser than Breyer's though, which means it doesn't melt as fast in your bowl.
Sticky toffee pudding at British Chip Shop in Haddonfield.
Popular across the pond, and thanks to this Haddonfield eatery it's attracting fans here, too.
Limoncello cake at Iron Hill in Maple Shade.
You've probably had rum cake. This lemon-infused alternative takes the liqueur-laced confection to the next level.
Bread pudding at Little Tuna in Haddonfield.
A Le Bus brioche serves as the base for this delight complete with pureed bananas and a bourbon-brandy butter sauce.
"I like to eat at La Posata [in Marlton]; my nephew owns the place. Another favorite close to home is La Campagnola in Shamong."
—Joey Vento, owner of Geno's Steaks
"I really enjoy Nunzio's in Collingswood and Thomas' Ristorante in Moorestown—their eggplant rollatini is delicious!"
—Kathy Orr, CBS3 meteorologist
"I absolutely love South Jersey dining, and I have literally dozens of favorite dishes. My two ultimate choices—one in Shamong and the other in Stone Harbor—are the single most amazing things I've ever eaten, anywhere, any time. At La Campagnola in Shamong, you absolutely must try the Spiedini alla Romana, a garlic bread that is neither garlicky nor breadish. It is sublime. And in Stone Harbor, the absolute best meatballs ever served in a restaurant—or in your own home, for that matter—are at Ristorante Luciano. They're so good, you'll order a second helping to take home."
—Angelo Cataldi, morning host, 610-WIP Sportsradio
"My good buddy Joe Brown of Melange Café in Haddonfield does a nice job. For simple, good creole food, that's the place to go."
—Kevin Sbraga, Bravo's latest Top Chef winner
"If I could have one meal in South Jersey, it would be a kaiseki tasting from Matt Ito at Fuji in Haddonfield, one of the best chefs in the entire Philadelphia region and a true master of cooked Japanese fare highlighted in these stunningly elegant multi-course tastings, so inventive he's never repeated a dish for me in half a dozen meals. Some of them were so good, though—real Kobe beef shabu-shabu served with broth over flames in an origami paper bowl; sublime soft-shell crabs … —I'd love to taste them again."
—Craig LaBan, Philadelphia Inquirer food critic
"Dream Cuisine Café's ratatouille is one of the most soulful things to eat in South Jersey. Its rusticity belies a long and laborious cooking process that really pays off."
—James Verde, South Jersey Magazine food critic
"The only place I eat out in South Jersey is Giumarello's in Westmont. First, a brief stop to see Gerry at the G Bar. The beer is fresh and glasses always frosty. My wife likes a Starblast martini—or two. Then, I pretty much order the same thing every time out from Sammy, the incomparable chef: lobster ravioli appetizer, followed by chicken marsala, covered in jumbo lump crabmeat and an exquisite, smooth sauce that I make disappear with several pieces of garlic bread."
—Sal Paolantonio, ESPN National Correspondent
Published (and copyrighted) in South Jersey Magazine, Volume 7, Issue 11 (February, 2011).
For more info on South Jersey Magazine, click here.
To subscribe to South Jersey Magazine, click here.
To advertise in South Jersey Magazine, click here.