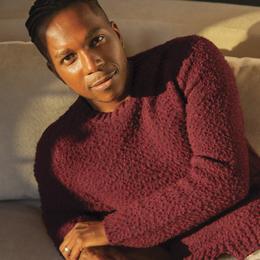 Whole Hearted
Leslie Odom Jr. followed the lessons he learned in Philadelphia to Hamilton, One Night in Miami, and other heights he could never have imagined.
Leslie Odom Jr. talks about his hometown with reverence and love, and even a hint of unpaid debt. It was in Philadelphia after all, that he got in touch with "my literal voice."
Odom was born in Queens, New York, but his family moved to Philadelphia when he was seven. He credits the city and its people—he Frances Turner, his fifth-grade teacher at Masterman School, by name, along with Philadanco and Freedom Theatre, where he fed his growing appetite for the arts—for building the foundation that would later lead his so far from home.
In the years since, Odom's "voice" has earned him a staggering number of accomplishments, across multiple artistic genres: several jazz albums, including two that hit No. 1 positions on the Billboard jazzchart; a 2016 Tony Award for "Best Actor in a Musical" for his long-running role as Aaron Burr in Lin-Manuel Miranda's Broadway smash, Hamilton; the opportunity to sing "America the Beautiful" before Super Bowl LII, in which his hometown Philadelphia Eagles defeated the New England Patriots; and an increasing presence in film and television, including roles in the 2020 Amazon Studios film One Night in Miami and the forthcoming Sopranos prequel, The Many Saints of Newark.
Of course, getting to this point in his life required a fair amount of struggle, failure, and rejection—"wounds" and "calluses," as he refers to them in his 2018 book, Failing Up: How to Take Risks, Aim Higher, and Never Stop Learning. He starts the book with a story about a time when he almost quit acting. Just a few years later, he would win a pivotal role (Burr) in one of the highest-grossing Broadway musicals of all time.
His secret: "When you do your work, you do it with your whole heart."
He's particularly excited about his role in One Night in Miami, a film based on a Kemp Powers stage play, which is set during a time of significant change in the United States. The story revolves around the fellowship among four friends,each of whom has ascended to the top of his profession—the civil-rights activist Malcom X, the boxer Cassius Clay (later known as Muhammad Ali), the football player Jim Brown, and the singer Sam Cooke, played by Odom.
We spoke with Odom about the film and its importance in today's world, the many hurdles he has overcome throughout his career, and how his time in Philadelphia shaped his career. He also discussed a forthcoming change that he and his wife, actress Nicolette Robinson, are expecting in the near future.
Q&A
Let's start with One Night in Miami, which involves a fateful night in 1964. The film seems eerily relevant in today's world. As you were going into the film, what did you like about the film and the character you play, Sam Cooke?
I suppose I like this version of Sam Cooke, because we haven't seen Sam depicted this way before. … What I liked about this was that Kemp Powers' version of Sam Cooke was not typical. From what I saw on the page, the point of view sounded familiar and contemporary to me in a way that was surprising; that's what drew me to it. … When I looked at the script, I saw that Kemp wanted to have a private conversation publicly, a conversation that I believe would have been relevant in 1964 and relevant in 1984 and relevant in 2004 and relevant today. It's the same conversation I witnessed many times as a child, and the same conversation we were having backstage at Hamilton: What is our responsibility as artists to address the things we see happening all around us? Do we have a larger responsibility, as a company of artists who have such a big platform, to shine a light on what's happening? What is our responsibility when Sandra Bland is murdered? What is our responsibility when Philando Castile is murdered in front of girlfriend and her young daughter? … Everyone talks about how relevant the piece is, and that speaks to what it means, and has meant historically, to be Black in America with a pulse.
Each of these four men in the film is at the top of his profession, but also compromised in some way. I think a lot of artists feel that success comes only through compromise, by caving to what's popular. Have you ever felt that in your career, or would you say you've done things the way you wanted?
Of course, I've felt that. There's a negotiation—always a negotiation and a collaboration, where integrity plays a huge role. You have to make choices that will allow you to sleep at night, and that line is different for everybody. There have been a couple times in my career where you have to leave certain projects behind. One time I was auditioning to be the assistant of two detectives for a show on a network that no longer exists. I'm playing the scene as you would, the man has a job to do and he's a professional, and it's down between me and another guy or two. In the final audition, they tell me, "We just wish you were a little more 'street,"' and they meant it earnestly. … That was a line they wanted me to cross. That was something I had to leave behind, even if it means I don't work as often. I need to play human beings and not tokens. Give me something more to do than facilitate the growth of the white star. At this point, taking a job like that, I would be out of integrity. Once you know those things, it becomes easier, and you know there's a line of five or six people behind you who are willing to do that.
One of Sam's best lines in the film is, "The only disasters in Hollywood are up there on the screen." Has that been your experience, too, living in L.A.? Has it been a good experience for you?
I love it out here. I grew up in Philadelphia, so when I got off the plane and saw palm trees, it just felt like a vacation. Almost 20 years later, it's still like that for me. It matches my internal rhythm, and it's a space where I get to think and imagine and dream. It has worked out really well for me in terms of my life. There have been times when things have gotten slow for me, but that's when I come back to New York and make things happen.
Speaking of New York, you were born in Queens. What brought your family to Philly, and how old were you when you came here?
I was seven years old. My parents wanted to buy a house, and all those years ago, you couldn't do that in New York City. I had a few cousins in Philadelphia, and we came up for a barbecue. My parents saw that you could pay something like $18,000 or less for a two- to three-story rowhome, so they started looking the next week. We moved a few months later; it was lightning speed. My parents are still there.
Did coming of age here influence you in a big way?
Philadelphia is my foundation. Philadelphia for me was instructive and indulgent. I mean it as high praise, but Philadelphia was the beginning of everything for me. Dance classes at Philadanco. Acting at Freedom Theatre. The friendships, artistic eye and ear I developed in the scene in Philadelphia. I owe Philadelphia quite a bit. It goes back to something Malcolm [X] said in One Night in Miami. Have I given enough back to the city? Man, it gave me so much. I'm trying to figure out a way to do that now.
When you're starting out, you just want to be able to get on your feet and survive, and you know it was 15 years of utter chaos and confusion and doubt and persistence that got me to this place today. I feel like I can take a deep breath, but for so long you feel like you just want to be able to work with some consistency and figure out how you're going to make a life for yourself in this business. Now my breaths aren't as shallow. … You learn a lot about a person who has achieved any sort of success, if that person has reached any kind of mountaintop in their life, you learn a lot about who you think helped get you to that point by who you serve once you get to that peak. In all things, success and any kind of awards potential or light that has been shined on me, it is only of use to me if it can be of use to a cause I care about.
I know you have the Sopranos prequel coming out soon. Where else do you go from here?
My wife and I have a [baby] boy due in March. That's a major thing. I remember when my wife was pregnant with my daughter. I've never really told anyone this before, but back then I was really hoping that it was not a boy, because I wasn't ready to raise a Black man. I didn't know if I had the stuff yet. With [the pandemic] and life being on pause, I've learned that you have to have faith and keep walking. I've felt more ready, and I owe a whole lot of credit to the lessons my daughter taught me about what it means to be a father. It has made me a whole lot more ready to welcome my son in March. There's still a lot about that I'm unpacking, and still a lot I need to get ready for. If my son is anything like me, he's going to challenge me, and I'm going to have be in the most prayerful, generous space I can find.
Click here to subscribe to the free digital editions of South Jersey Magazine.

To read the digital edition of South Jersey Magazine, click here.
Published and copyrighted in South Jersey Magazine, Volume 17, Issue 12 (March 2021).

For more info on South Jersey Magazine, click here.
To subscribe to South Jersey Magazine, click here.
To advertise in South Jersey Magazine, click here.