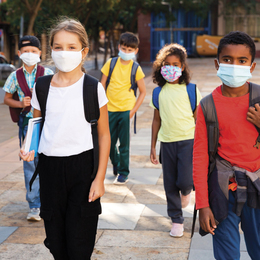 Lessons Learned
One year after the pandemic shut down schools, educators and families reflect on the ways they've had to adapt and the struggles they've overcome. With vaccines getting into more arms, could the next school year be normal?
The fate of students was a daily discussion last summer in the news and around social media where parents wondered if schools would open, and if so, should they send their kids back? The spring's impromptu shift to remote learning left parents with new teaching responsibilities and students spending hours on laptops. As fall 2020 approached, schools and parents had to make a decision and do the best with the resources available. Now at the midway point of the school year and with the Centers for Disease Control and Prevention's (CDC) newly released guidance on reopening, some can't wait for their kids to go back, while others remain concerned. However, thanks to the vaccine, both educators and parents are seeing promising signs of normalcy on the horizon.
"It's been a hard school year for students, staff and families," says Dr. Joseph Meloche, superintendent of Cherry Hill Public Schools. "There have been many hurdles and challenges that have come with being in remote sessions, having transitions in the length of the school day and how instruction is delivered and received."
No one could have predicted the course of events of the past year. "As we sat here on March 13, 2020, and heard [Gov. Phil Murphy] speak and announce that schools would close for two weeks, we only planned for those two weeks. Here we are a year later," Meloche continues. "Since then, it's been a balance of input from the community, staff and students, and making sure every child is connected intellectually, emotionally and in a technological sense to what's going on—it's been hard."
Through a blend of remote and hybrid learning, depending on the town, schools have had to tailor their schedules based on resources available and recommendations from the CDC and NJ Department of Health. However, the unpredictability of it all means the best-laid plans can change in a moment's notice, much to the frustration of families.
In a large district like Cherry Hill, staff concerns for safety and preparedness for teaching in the hybrid model led administrators to make a decision—albeit last minute—to go full remote until Nov. 4, 2020. Once that date came, students returned for hybrid instruction, only to be sent back to full remote just a couple weeks later due to a spike in COVID-19 cases in Camden County at that time.
As an administrator, Meloche struggled with making decisions that would make everyone happy. "We had to make determinations based on the information available to us at the time, and we've been reliant on medical and public health experts, and mindful of Department of Education guidelines. One of the most eye-opening things is that, no matter what we do, there are folks who won't be happy. Or those who are happy, won't be happy next week," he says.
Elsewhere, smaller districts and private schools were able to start the year off offering in-person learning. Moorestown Friends School's (MFS) Lower School and grades five and six have had the option to learn in-person since September, with the exception of the holiday weeks between Thanksgiving and January, says Mike Schlotterbeck, director of marketing and communication and member of the school's Coronavirus Response Team.
"Grades seven to 12 were in a hybrid mode for most of the year until returning to five days in person in late January and February. Families have had the option for their child to learn remotely at any point during the school year. Students opting to learn remotely have ranged from approximately 15-25% at different points of the school year," he says. "Decisions are made primarily based on families' comfort level and their child's needs at the time."
Not only have a wide range of mitigation strategies helped make in-person learning possible, but Schlotterbeck says community support played an important role. "The entire community has contributed to the success we've enjoyed as a school to support both in-person and remote learning this year. As the health situation evolved, we sought input from faculty, staff, students and families to make adjustments and enhance the on-campus experience. Our Coronavirus Response Team has spent many hours meeting and planning throughout the school year to develop and support learning and activities based on current guidance from state and local officials," he says.
Many public high schools have opted to remain hybrid, whereas Bishop Eustace Preparatory School offered full-time, on-campus learning, as well as virtual and hybrid plans from day one. "When we opened in September, approximately 20 families had opted for a virtual plan, and another 15-20 chose a hybrid option. That number has remained fairly consistent, although there has been some movement between the groups," says Dr. Jacqueline Coccia, head of school.
"The majority of our families wanted on-campus learning. This was a very personal decision for our families, and the small number opting for a full-time virtual plan made that choice because it was the safest option to meet the needs of their households," says Coccia.
After the CDC released further guidelines to reopen schools in February, which emphasized continued efforts in masking, social distancing, hand washing and consistent cleaning of shared objects and high-touch areas, several school districts began plans to usher in additional in-person learning. Lenape Regional High School District (LRHSD), whose students have been in A/B cohorts, just reopened at the beginning of March for five-day, in-person instruction, bringing all students in on the same days. Cherry Hill, which has been on a shortened day hybrid model since February, welcomed students back for four-day-a-week instruction on March 9.
Although these efforts offer some return to normalcy through the end of the school year, there are mixed emotions in the community as families and educators experience the repercussions of this unprecedented school year. From Google Meet meltdowns and lack of social interaction to shortened class periods and parents pulled away from work, it has been an uphill battle. Yet while many parents are excited about the expanded in-person plans, others aren't as comfortable.
Parents have been in a tough spot, choosing between remote learning and the caveats that come with it, or sending their children into an environment where they hope everyone else is respecting guidelines, but also allows them to work and their kids to socialize somewhat. No matter which way they went, families have had to make it work, for better or worse.
Moorestown's Smruti Sailam understood there were risks but wanted her children to be in school as many days as possible. "After speaking with other people in the medical field and knowing kids were not as high risk, for me I would rather them be in person and at least get to know their teachers and see other kids. They love school and like to be with friends," she says. "That's important, not just the academic aspect."
Sailam says she hasn't seen any problems as far as others in the school not following guidelines, even on the school bus and she is impressed. "This is definitely a huge improvement from last year. The teachers worked hard and I give them so much credit for double teaching online and with the cohorts," she says. "Most of the town wants to see their kids have more in-person time and I am hoping there is a plan to make that happen."
Another parent in Moorestown, Hope Horwitz, decided to keep her children, fourth and second graders, in the full remote plan. "We decided to keep our kids home to keep them safe and healthy. We just didn't think that being around that many other people, without knowing all of their family's practices with mask wearing and social distancing was safe," she says. "Additionally, my husband runs an assisted living. We did not want to be the family that risks exposure to our community or to his facility and its residents."
Horwitz's fourth grader has adjusted well to remote learning, making friends virtually and following the day's schedule with ease. However, the second grader's experience has not met Horwitz's expectations. "She has very little live lessons. She was live with a teacher for maybe an hour or hour and a half a day. The rest was all recorded videos," she says. "There was also no social time to make friends built into the day, which was not the case at other elementary schools in Moorestown."
On top of that, Horwitz has been pulled away from her professional obligations at times. "I need to be on hand to do/check each assignment with her. I'm trying to grow my business but she interrupts every Zoom I'm on. Thankfully, most people are great and understand the juggle I'm experiencing but I think it's one of the hardest things I've ever done."
Even though Moorestown did announce students in kindergarten through third grade could return for five days a week starting March 22 (pending installation of plexiglass barriers), Horwitz isn't changing her situation. "Parents will have to sign a waiver before sending their child back to school. Additionally, the school is relying on parents to take their kids' temperatures every day and to not send their kids to school when they're sick. This is asking me to trust a huge group of people that I do not know."
Remote learning hasn't been all bad, though. There are reports that it works well for some students, prompting districts to consider implementing it long term, Kingsway Regional School District being one of them. Its superintendent recently announced a plan to offer a Blended and Virtual Program to 100 high-achieving high school students during the next school year.
Remaining all remote was the best plan for Amy Leis, whose fourth grade daughter attends Moorestown Friends. "We chose the at-home option because a number of family members have health issues," she says. Aside from technology glitches, most of which have been on her daughter's behalf, Leis is really happy with how well MFS has handled COVID. "Zoe has an online teacher dedicated to her major subjects and then remotely joins her class for other parts of the day. It's impressive that MFS hired additional staff to make sure all kids were able to participate in the learning modality that worked for their family."
Meredith Callahan's children have been doing "amazing" with remote classes, says the Maple Shade mom, who also teaches at Carusi Middle School in Cherry Hill. "Our daughter was entering kindergarten and had never been in daycare or preschool, so I didn't want [masks and distancing] to be her first experience. For my son, who is in fifth grade, we gave him the option and he seemed nervous, so we said, 'Let's see if we can do remote,'" she says. With the help of her mom, who is a retired teacher, it's working for them. "We recognize it's not for every kid and granted, we'd love to have them back in school, but there are too many variables and this works for now."
After last spring's less organized education model, the fear of falling behind has played a big role in wanting to get children back into classrooms.
Jessica Mazur's children attend elementary school in Cherry Hill and she feels the impact has been the biggest on the younger population. "My third grader is a strong student, knows how to use the computer and has been able to keep in touch with friends, so there was not a huge impact that I noticed on her," she says, "but for my kindergartener, [remote learning] was really tough. We've been struggling with behavioral issues and I don't think the curriculum has stayed on track, especially since they are only in school for four hours a day. Condensing every class in that time makes everything rushed, and whether the student grasps it or not, they have to move on to the next thing."
Since reopening, Mazur has seen a 180 in her youngest daughter. "She's doing more of the typical kindergarten work, and they don't use computers for those four hours in school."
In some cases, nothing offered by the school district was a good fit for families. Erin Wickersham, of Glassboro, switched her first grade son to homeschooling. "I work full-time in health care and my husband has a demanding job from home. When we saw the proposed remote schedule, we didn't know how he could work and also help our son transition between classes and activities throughout the day," she says.
It has worked out better than expected. "We purchased a curriculum online focusing on language arts and math and we do it around our own schedule," Wickersham says. "Our son has excelled. He's almost finished second grade math and he's reading 200-page chapter books. This was absolutely the best decision for our schedule."
In all of the discussions taking place regarding returning to the classroom, teachers feel like their concerns have been pushed aside.
Suzanne Bryan* teaches at a charter school in Camden in a hybrid model. She knows children would be better served in person but the classrooms aren't well-equipped for social distancing. "Schools need to support teachers with their fears of being in a confined space with a group of students," she says. "Teachers are not involved in the discussions being had by the district and that is definitely part of the problem."
Callahan wants to get back into the classroom but safely. "We wouldn't ask someone to go back to work in their office if it wasn't safe for them. We're adults, we also have families. All we want is safety just like everybody else," she says.
Teachers also feel misunderstood. "Blaming teachers and saying they're enjoying their time off is not fair. Teachers are working incredibly hard to make sure the students are well taken care of," Bryan says.
Some teachers say they are working harder than ever before. "I think people don't realize how much work has gone into completely redefining our jobs," says Callahan, who has been a teacher for 18 years. "I'm doing things I've never done before. I had to teach myself how to use Google Forms and Meet to communicate with kids, and offer extra help sessions. I hear people say teachers are getting paid to do nothing but I know my colleagues and we're working harder than we have ever worked before."
Teachers are also dealing with the struggles of the new expectations. Eileen Penman is a literacy teacher at Voorhees Middle School. She has 116 students across five reading classes daily in a hybrid model where she simultaneously teaches the ones in person and the ones who are remote. Although she feels completely safe in school, her concerns are elsewhere.
"You always feel like a failure because it is challenging, perhaps impossible, to teach and reach both groups at the same time," she says. "Your focus is always more on one group or the other. … Normally, I would have lots of collaboration, movement and discussion between students. Now, kids in the room are wearing masks, they aren't allowed to move around, and are sitting far apart. Then, the virtual students can go into a breakout room on Google Classroom, but as a teacher I can't monitor both groups at the same time."
She is also missing out on the connection with students. "The majority of students who are remote do not turn on their cameras … we can't make them," Penman says. "This means I am often looking at a screen with a bunch of circle icons that represent children who are supposedly there. There is no face-to-face contact. … I just miss and crave the human connection and relationships that I normally form with the kids. It is so much more challenging this year."
Penman says her future as a teacher could be at risk if things continue like this. "I think I am doing a good job but I cannot physically continue this way. If I am asked to teach a full remote or hybrid class in the future, I will probably retire."
Central to any return to normal are the vaccines getting into as many arms as possible by fall. Leis' daughter is looking forward to starting in-person this month at MFS. "Our high-risk family members all got vaccinated so we felt better about sending her back," she says.
Teachers, who many argue should have been among the earlier eligible groups, and education support staff may now receive the vaccine, as announced by Gov. Murphy on March 6.
"Getting school employees access to vaccination is a huge step toward making our schools safer," says Steven Baker, director, communications, for the New Jersey Education Association. "With nearly 1.4 million students and over 200,000 adults, one out of six New Jersey residents is directly connected to a public school. Take into account the families they all go home to and it is hard to imagine another institution that directly affects more individuals in our state. Making our schools safe for everyone in New Jersey is an important step toward emerging from this pandemic."
"I hope the vaccine helps them feel more comfortable," says Meloche, who has been appealing to Gov. Murphy on behalf of educators to be put into the highest priority level for the vaccine in his role as president of the Camden County Association of School Administrators. "It has been a challenge and a cause for anxiety among all staff, not just teachers. I think this will help people feel better."
Baker says the vaccine is not a free pass to let our guard down. "It will still be several months, at least, until students can be vaccinated," he says, adding that the CDC still advises to continue with mitigation strategies.
Questions remain about what fall 2021 will look like. "We do not know what the future holds, but there is good reason to be hopeful that we will be able to have safe in-person learning in the fall. But we don't just want to go back to what we had; we want to go back to something better, with a greater focus on overcoming the inequities that this pandemic exposed and a greater commitment to meeting the social and emotional needs of our students, along with their academic needs," says Baker.
In Cherry Hill, discussions and plans are underway for fall 2021 that include a return to the full five-day in-person schedule, says Meloche. "I believe there will still be a virtual option for children who need it, but it would be set up differently. However, we're only able to provide remote instruction now under an executive order. If that is lifted, we would need approval from the state to offer that model."
Dr. Carol Birnbohm, superintendent of LRHSD, is not prepared to speculate. "I am part of a group of superintendents in Burlington County that recently met with the governor's deputy chief of staff of outreach. We hope the results of that meeting will be more definitive guidance from the governor—as soon as possible—to help us better plan for next academic year," she says.
Although no one can predict what might happen, some things can be counted on, not least of which is the way the community will continue to rise up for students.
"I am grateful to have our LRHSD community working in new and different ways to ensure our students are educated, safe and fed," says Birnbohm. "At every level, staff members are working to put our students first, and they continue striving for excellence in all aspects of our educational experience despite the challenges presented by the pandemic. Our administrators, support staff and teachers have taken on new roles and responsibilities and made adjustments, both big and small, to help provide some sense of normalcy for our students and to support their academic, social and emotional needs."
*Name has been changed to protect their identity


Click here to subscribe to the free digital editions of South Jersey Magazine.

To read the digital edition of South Jersey Magazine, click here.
Published and copyrighted in South Jersey Magazine, Volume 17, Issue 12 (March 2021).

For more info on South Jersey Magazine, click here.
To subscribe to South Jersey Magazine, click here.
To advertise in South Jersey Magazine, click here.