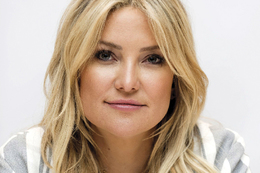 Fully Focused
A star actress, successful entrepreneur and doting mother of three, Kate Hudson isn't letting the world pass her by.
In her various guises as movie star, retail
entrepreneur and wellness advocate, Kate Hudson leads a very active
life. She's the kind of woman whose indomitable spirit is both
empowering and engaging. Drawing on the life lessons handed down to
her by her mother Goldie Hawn and stepfather Kurt Russell, Hudson is
unapologetically independent-minded and uninhibited.
Those are the qualities that have endeared her to audiences over the
years, beginning with her breakthrough role in Almost Famous and then
with her work in You, Me and Dupree, How to Lose a Guy in 10 Days,
Bride Wars
, Raising Helen, and her voiceover work in the
billion-dollar Kung Fu Panda animated family film franchise. In recent times she checked off a long-time goal by starring alongside her stepfather in Deepwater Horizon; and impressed opposite the late Chadwick Boseman in Marshall.
And 2021 is shaping up to be another stellar year for Hudson, who is already catching buzz for her role in the autism-enriched drama Music, a musical drama co-written and directed by Australian singer-songwriter Sia. Hudson is also set to appear in the psychological drama Mona Lisa and the Blood Moon later in the year.
Away from acting duties, the 41-year-old has
long followed in her mother's fitness footsteps—Hawn was a dancer
before she became an actress—and continues to embrace a lifestyle consisting of
regular exercise and healthy eating. That's what led her to
write a wellness book, Pretty Happy: Healthy Ways to Love Your Body,
that became a bestseller in 2016. Meanwhile, her athletic wear
company, Fabletics, which she launched in 2013, has exploded
into a $350 million corporate mini-empire.
Hudson
lives in Los Angeles with 16-year-old son
Ryder, from her seven-year marriage to Black Crowes' lead singer Chris
Robinson, and 9-year-old son Bingham, from her relationship with
Muse frontman Matt Bellamy. Since 2016 she has been dating actor Danny Fujikawa – they have a 2-year-old daughter together, Rani.
Free-spirited, clear-headed and relentlessly refreshing, Hudson has made a career out of playing upbeat and independent women. In person, she charms you as much with her infectious smile as she does with her thoughtful observations on life. Flashing a big smile, she is eager to answer almost any question and is every bit the confident woman very much in touch
with who she is and what she wants from life.
Q&A
What was it like working on Music and specifically with Sia who brings such a creative twist to the film?
She is incredible. So much energy, so much creativity.
I think what I admire most about Sia is she isn't afraid to look stupid—hat's the opposite of most people, particularly most in the movie industry. People are terrified of looking stupid and the more they go on, the greater the defenses they put up so they can avoid anything that will tarnish their reputation.
Sia seems to go completely the other way. It's like she wants to constantly dare herself to step even further outside of her comfort zone—she is pushing her instinct to hold back to the absolute extremes and always ends up breaking through that barrier.
It's probably no surprise then that the best work she does is always the most recent work. That totally follows.
Did any of that rub off on you?
It [has to]–she is that much an inspirational, creatively infectious person. By the time we'd gone through initial rehearsals I could just feel a huge wave of confidence come across me—I think everyone involved in the project could.
She makes you think anything is possible, and from that always comes great results.
And you were even happy to shave your head for the experience!
Well it fit the role—you know you have to invest in something fully. And that seems so long ago now—we filmed it in 2017 and for various reasons it has taken a while to come through to fruition. It's exciting to think it's close now, and I guess I am happy to have all my hair back!
Are you more comfortable acting with your all, as it were?
Yes and no. A film like Music was really good for me because I'm not a big fan when it comes to watching
myself in movies.
Really, why?
I really don't like it. I [have] these faces and weird
expressions; I'm literally sitting there, staring in absolute horror
between my fingers sometimes, crying, "Stop it, stop doing that!"
I'm not down with that at all [laughs]. I literally start screaming
and shaking. I don't like it; but this felt like a whole different thing, it was great.
Sia obviously left a big impression, but who has been your favorite or most memorable person to work with?
Bill Murray has always been one of my heroes. He is a very thoughtful actor
and sometimes he's incredibly goofy out there on the set, having
fun and making everyone feel so good and comfortable to be there, then in the next moment he will be very focused and intense.
He also makes great acting choices and it was a pleasure to work with
him. Bill is such a brilliant comedian that you just love watching
him work more than anything else, and getting the chance to hang around
him was such a pleasure.
Y
ou've spoken about feeling more carefree at this point in your life than you ever did in your 20s or 30s. Why do you think that is?
I have a much greater sense of inner freedom. That comes with accepting everything that life throws at you and not trying to impose your own expectations on everything. That was an important change in my thinking and it's given me so much more confidence as a woman and as a mother.
You don't put yourself in the position of always trying to have things conform to your way of thinking and instead you learn to adapt and move forward in a much better way.
Did
that logic inspire you to write your book, Pretty Happy:
Healthy Ways to Love Your Body
?
That's part of it. The basic message involves empowering
women and inspiring confidence about how we can build our lives in a
more positive and healthy way. I wanted to deal with basic questions
that women are facing today. There are so many expectations we have
to deal with in terms of how we look, how we're supposed to juggle
work and children, and the kind of mom we're supposed to be. We have
a lot of issues regarding how we see ourselves and how much we worry
about living up to our own expectations and how our role in society
has changed.
Where does your vigorous drive for health come from? Have you always been very big on physical fitness?
I've always liked to do a lot of sports and stay fit. It's so important to me to live a healthy lifestyle. I loved trying to keep up with my brothers and I loved playing football with them as much as I loved taking dance classes. Exercise is so important when it comes to giving you more energy overall and being active is not just something which benefits your body but it also improves your mental well-being.
Fitness is all about staying active and there's a big connection between mental and physical health. If we live a more conscious life, if we stay fit and eat better, we're going to have a more optimistic and beautiful life.
You started taking ballet and jazz classes several years ago. What made you interested in that?
My mother was a dancer before she got into acting and the kind of work you put into dancing is so intense and it does so much to tone your body. It's one of the best things I've ever done for my body.
It's always difficult to change your life and try to
become more active. There will be days when you will not feel so good,
and days when you will not achieve what you want—that's OK.
That's why there's no point in signing up at the gym for things you
don't like to do. If you prefer outdoor sports, then walk, run or
ride a bike. If it motivates you to be part of a team, then find a
sport where you can be involved with other people. The main thing is
that you have fun!
Do you have any guilty pleasures when it comes to food?
I love Hawaiian pizza, but in general I'm pretty lucky because I've always enjoyed eating fruits and vegetables. And whenever I go out with friends to eat at a restaurant, I never worry about calories. You have to be able to indulge once in a while and not always worry about what you eat. I think the best thing is to stay active and eat healthy as a general way of being. Then you won't need to diet.
Do your sons share your passion for fitness?
Oh, yeah! My sons will often join me when I'm doing my workouts at home. My brother and I also like to train together. He will bring his trainer to my house and we have such a good time working out. That makes a really fun kind of occasion.
What is the new vision behind Fabletics?
It's the same as the old vision—a company that promotes fitness and an active lifestyle,
especially for women. I believe in female empowerment and my company's message is about
setting your own goals because it should be about what makes you
happy ... I always wanted to be part of something where the message
would have a greater impact than what would come from designing a
clothing line. … I wanted to have a
product which inspires a healthier lifestyle and motivates women to
leading a healthier lifestyle and getting be involved in wellness.
Fabletics has grown so fast and I've had to become much more
involved than I expected simply because I've needed to learn a lot
more about the business and it takes a lot more of your time when
you're expanding.
That means if I'm going to make a movie, it has to be something that I really
want to do if it means being away from my kids and my family and
friends for any length of time. When I have to be on a set at 5:30 in
the morning I never want to be thinking, "What am I doing here when I
could be making my kids breakfast and then taking them to school?"
Do you think they'll follow your footsteps?
Honestly, if I'm to predict, I'd say it will actually be
music where they'll find their voice, so to speak. Ryder, he knows everything and everyone when it comes to music,
it's shocking. I'm like, "Who, what, where?" How can this be? I'm such
a fossil [laughs]. No, I'm a mom [laughs]. Yeah, I'd say, he will be an
amazing DJ.
What was growing up like for you?
We were always a very outdoorsy kind of family. We moved
from L.A. to Colorado [where Hawn and Russell owned a sprawling house
on the outskirts of Aspen] and it was such a beautiful environment. They created a very happy
and harmonious home life for us and I've tried to bring that same kind
of atmosphere to the way I've raised my own children.
I grew up riding dirt bikes, going hiking and enjoying being in
nature. I think that kind of experience stays with you all your life
and I've always loved to do those kinds of activities. It's second
nature to me.
What kind of life lessons did your parents impart to you? Who has
been the biggest influence on you?
In terms of my personality, I think my mother mother's
optimistic nature and energetic spirit has been a huge factor in how I
look at things. She's also a very sensitive and caring person, much
more than the public would ever be aware of because she's known more
as a comedienne, and I think that's also a big part of who I am.
My mother has taught me the importance of not taking things too
seriously and to try to be very open and free-spirited. Instead of
letting things get you down, my mother thinks you need to learn to
laugh even in bad times. I really believe in that. She's a great
woman and she always inspires me. She's been my rock and has taught me so much about
life.
What about your stepfather, Kurt?
Pa [her way of referring to her Russell]
has always been the realist in the family. He has a very pragmatic
way of looking at the world and he expects you to work hard, be
polite and have a strong sense of responsibility. My mother also
believes in that. I think those values have helped me a lot over the
course of my career.
I'm very lucky to have grown up with such loving parents. Pa has a clear perspective on things that teaches you not to waste time or worry about unimportant things. ... My mom has a very free-spirited nature but Kurt is a realist. They were always there for me and my brother and were always very attentive. I like to think I'm the same way with my children.
They weren't at all controlling and they really didn't place a lot of expectations on me or my brother Oliver. We were taught were to be kind, caring and generous, and to live very openly and honestly. But I also appreciated how hard-working and disciplined both my parents were and that's also been a very important influence on me. I've always believed in the kind of solid work ethic they shared.
Can you share any one particular piece of advice that your parents
may have imparted to you?
After I had my first son, Ryder, Pa told me not to place too many
expectations on my son. He said if you do that, he will never live up
to them. From the moment he said that to me, I understood that I
should not try to plan the lives of my children before they live it.
One big theme that's always in my head is the idea of acceptance and how families need
to come together and not try to stand apart from each other.


Click here to subscribe to the free digital editions of South Jersey Magazine.

To read the digital edition of South Jersey Magazine, click here.
Published and copyrighted in South Jersey Magazine, Volume 17, Issue 12 (March 2021).

For more info on South Jersey Magazine, click here.
To subscribe to South Jersey Magazine, click here.
To advertise in South Jersey Magazine, click here.