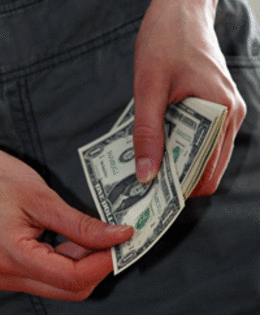 Down & Dirty
From backroom bribes to mishandled campaign funds, South Jersey politics seem mired in a culture of corruption. The question now is: Is there any end in sight?
By the time disgraced New Jersey Senator Wayne Bryant landed in federal prison in 2009, for a four-year stay, the veteran legislator had amassed quite the résumé. Unfortunately, most of his jobs were pension-padding, "low-show" gigs that re­quired little actual work.
The ex-senator served as a part-time attorney for the Gloucester County Board of Social Services. He was also the municipal attorney for the borough of Lawnside—where his own brother was may­or—and he held a job teaching law at Rutgers University-Camden. But it was a cushy, $35,000-a-year, no-show job at the University of Medicine and Dentistry of New Jersey's (UMDNJ) Camden campus that landed Bryant behind bars.
During his three years collecting paychecks from UMDNJ, Bryant routed more than $10 million in state grants to the school, effectively selling off his coveted position as chairman of the New Jersey Senate Budget and Appropriations Committee to the highest bidder. And less than two years after his July 2009 conviction, Bryant was indicted yet again, this time for allegedly accepting nearly $200,000 in bribes to support controversy-laden development projects in Camden and the Meadowlands.
Welcome to New Jersey, land of backroom bribes and crooked politicians.
A State of Corruption
In 1923, F. Scott Fitzgerald penned a fitting description of the Garden State: "Parts of New Jersey, as you know, are under water, and other parts are under continual surveillance by the authorities."
Almost 90 years later, it seems little has changed.
From straightforward pay-to-play, to mis­used perks, to expenditures that wander into gray areas of the law, South Jersey has had more than its share of government scandals. The Courier-Post re­cently re­port­ed on Medford's more than $650,000 in legal bills—charged by attorneys who allegedly made lavish contributions to the campaigns of township council members. (While the Election Law En­force­ment Commission is review­ing those contributions, there may not be any further consequences.) Going further back, there's Hainesport Mayor Ronald Corn, who in 2005 was given a five-year prison term for allegedly embezzling $339,000 from the township.
There's Daniel Wilson, a campaign treasurer in West Deptford who was also convicted of secretly accepting $100,000 in campaign contributions. And then there's Camden: Out of the city's seven most recent mayors, three have served prison terms for corruption.
"This is New Jersey: this is what we are," says George Anastasia, an author and Philadelphia Inquirer reporter who has covered organized crime and political corruption for more than 30 years.
In his six years as U.S. Attorney for New Jersey, Gov. Chris Christie indicted more than 130 public officials on corruption charges. The list included senators, assemblymen, mayors and public officials at nearly every level of government. No one, it seemed, was safe from temptation. "I think that it is a culture of the state," Anastasia says. "By this point, the perception is the reality."
And in a state with thousands of public officials managing billions in taxpayer funds, the opportunities for corruption are plentiful. New Jersey is split into 566 municipalities, more than 600 school districts and 21 counties, each with its own set of officials. "New Jersey is the only state in the country where every inch of land is incorporated into a town," says Michel Weng, staff attorney for the New Jersey State League of Municipalities. "When you open up the pool of people involved, you increase the chances that one of them is going to be corrupt."
That's not even taking into account the numerous authorities that oversee everything from highways to trains and buses in the state. Authorities—like the Delaware River Port Authority (DRPA)—that have been plagued by their own scandals.
The DRPA was at the eye of such a tempest last year, when questions regarding a misappropriated E-ZPass transponder gave rise to greater concerns over a general lack of transparency at the authority. Former DRPA chief public safety officer Mike Joyce resigned amid accusations that he misused a free E-ZPass transponder, lending it to his daughter for some 18 months.
The authority oversees the PATCO Hi-Speedline and four bridges between New Jersey and Pennsylvania. It brought in some $266 million in 2009, and, for years, has served as an economic engine for development projects in both states, including the Camden Aquarium and the Please Touch Museum. But it also raised public ire with its history of employee perks, like free tolls, lifetime health benefits, and alleged conflicts of interest among key staff members. In a letter to DRPA chairman John Etsey, Pennsylvania Auditor General John Wagner called for the authority to freeze $50 million in unused funds. The money, earmarked for various economic development projects, included some $2 million placed in an account vaguely titled "special projects fund."
Wagner requested the money remain frozen until his office can pore over an itemized list of all DRPA funds and their expected allocations. "There may be far better uses for some or all of these funds," Wagner wrote, "such as reducing the authority's debt burden and/or toll amounts charged to the traveling public."
Eliminating corruption in New Jersey may be impossible. But the most potent weapon in battling it is transparency. (After all, isn't that why a New Jersey Superior Court judge was appointed last August to monitor meetings of the Gloucester County freeholders in compliance with the Open Public Meetings Act?) "The No. 1 thing in any aspect of government is the ability of the public to see what you are doing," says Randy Brown, mayor of Evesham Township.
Political corruption occurs behind closed doors and out of the public's eye, Anastasia agrees. "Corruption will go where there isn't light," Anastasia says. "You shine a light, and corruption goes down."
Personal Gain
Can corruption be eradicated? Gerald Luongo doesn't think so.
"The stakes are high in New Jersey," Luongo says. "It is a land where land is precious, projects are expensive and there are just too many developers, too many businessmen, and the only way to get their project is to pay."
Luongo should know. The former New Jersey Assemblyman and mayor of Washington Township has seen his share of scandal. He served time in a Florida federal prison after using mayoral campaign funds to bankroll vacations, mortgage payments and maintenance fees on his Manhattan apartment. He received a 13-month sentence after pleading guilty to siphoning off a total of $35,990 in campaign funds for personal use.
The former mayor clarifies that he wasn't jailed on corruption charges; he claims he was never told that campaign finances couldn't be used for personal expenses. "To be honest with you," Luongo says, "you figure it is campaign money; people gave it to you and it is not, in a sense, public funds. You spend it … but it was never corruption. It was never a bribe. I never took a bag of money or an envelope."
Still, he admits, even where the law is clear—and, most agree, corruption is clearly illegal in New Jersey—it may not prevent politicians from acting in their own interests. "I believe there are some people who have larceny in their hearts," Luongo says. "I think it is just a matter of an individual's lack of morality of consciousness when it comes to taking a bribe."
These days Luongo resides in Florida and serves as artistic director of the Boca Raton Singers choral group. He still looks back fondly on his time in Washington Township. "Life has been good," Luongo says. "I am not going to dwell on the past. I did what had to be done."
Helpless to Change
The majority of New Jersey residents feel the state is hopelessly corrupt. According to the most recent Rutgers-Eagleton Poll on corruption in November 2009, 65 percent of state residents believe there is "a lot" of corruption in New Jersey politics. More than half felt New Jersey was more corrupt than other states.
So, you'd think that it was Gov. Christie's reputation as a crusader against graft—as a hard-charging U.S. Attorney who once took down 44 public officials in a single massive sting—that helped propel him to his post in Trenton. That might be true, says Patrick Murray, director of the Monmouth University Polling Institute, if New Jerseyans hadn't already resigned themselves to the reality of rampant corruption.
"Property taxes zoomed to the top of the list [of election issues]. I don't even think corruption broke the top five," Murray says. The issue is that many residents believe corruption is a foregone conclusion. "At the end of the day, it is so ingrained in our culture here that most people have thrown their hands up about corruption and said, 'Just lower my property taxes, no matter how you do it.'"
But this attitude can undermine the very tenets of democracy. Cynicism, after all, can drive down voter turnout, civic engagement and political participation.
The best antidote for that cynicism may be simply to get involved, says Harry Pozycki, chairman of the civic action group Citizens' Campaign. "There is no way you can simply legislate away or regulate away corruption," Pozycki says. "The best remedy to the culture of corruption in New Jersey is to replace it with a culture of service where everyone is actively involved in [finding] the best solutions for competing problems."
The Citizen's Campaign has helped draft citizen-supported pay-to-play ordinances in Collingswood, Cherry Hill and Washington Township. And it's that type of municipal-level action that can really make a difference, Pozycki insists. "Over two-thirds of the total tax dollars collected in the state are spent at the local level," he adds. "Most of the waste exists at the local level. Citizens have to learn there are more ways to exercise their power than at the ballot box."
Reality Check
In a state where corruption routinely grabs boldface 48-point headlines, where elect­ed officials' careers are so often felled by greed, corruption is inextricable from politics. Right?
Maybe not, says David Redlawsk, director of the Rutgers-Eagleton Poll. "In the last decade specifically, people think the state has gotten more corrupt," he says. However, that perception may not be in line with reality.
Jersey ranked just 21st in a list of most corrupt states compiled by the news website The Daily Beast. (Tennessee, Virginia and Mississippi comprised the top three.) According to U.S. Department of Justice figures, public corruption cases prosecuted by the U.S. Attorney's Office of New Jersey have declined since peaking in 2007.
And, Anastasia argues that efforts to clean up local government have been successful. "I truly believe, as a guy spending most of my life covering stuff in New Jersey, that South Jersey is not as corrupt as in the 1970s or as mobbed up as it was in the 1970s," he says. "It is a constant battle, a constant game, and it ebbs and it flows. There are these times where there is a lot of corruption and there are times where there is not."
That misperception may be in­formed by our region's oversaturated media market. New Jersey is covered by more than 50 newspapers, not to mention countless news affiliates, blogs, radio stations and, yes, magazines. "When you are corrupt in the middle of Nowhereseville, America, no one hears about it," Dworkin says. "When you are corrupt here in New Jersey, everyone hears about it."
Corruption in South Jersey today may be, in relative terms, infrequent. But viewed in absolutes, some say the picture is still grim.
"Is it oversaturated media to have 44 public officials brought down in a sting operation?" asks Joe Patten, chair of political science and sociology at Monmouth University. "I am not convinced that it is simply the function of the media or perception of The Sopranos kind of mass media." Besides, who knows how many corruption cases in South Jersey are still yet to be uncovered? If there's one thing Tony Soprano—or Wayne Bryant, for that matter—taught us, it's that crime pays. Until it doesn't.
Published (and copyrighted) in South Jersey Magazine, Volume 7, Issue 11 (February, 2011).
For more info on South Jersey Magazine, click here.
To subscribe to South Jersey Magazine, click here.
To advertise in South Jersey Magazine, click here.