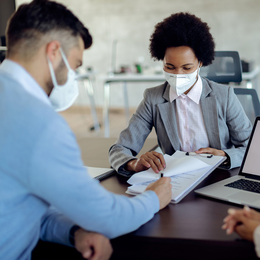 Take it to the Bank
From helping struggling businesses secure funding to giving consumers more personalized remote options, the banking sector has redefined the customer service experience.
As it became apparent that the COVID-19 pandemic wasn't just a public health crisis, but a major financial crisis as well, a refrain commonly heard throughout the business world was the importance of being able to pivot in order to meet the moment. One of the best examples of this has taken place in the banking industry which not only had to significantly adapt the consumer experience, but also assist commercial customers with navigating the Paycheck Protection Program (PPP) and other available economic relief.
The unprecedented nature of the pandemic didn't exactly make that an easy transition, especially in the early stages when the economic fallout was happening in real time. Further complicating matters was the fact that many employees rapidly shifted to working from home, which caused the need to adopt new operating procedures that would keep staff safe and customers connected.
"We were forced to build the plane while it was flying and that was not an easy task," says Michael Affuso, executive vice president and director of government relations for the New Jersey Bankers Association.
While the headlines made it difficult to see beyond COVID-19's immediate threat, the uncertainty created a watershed moment for the industry as the banking sector was being relied upon to help usher in the recovery.
Dave Hanrahan, president of Century Savings Bank, says the ability to weather the storm and provide support for customers required plenty of resiliency and resolve.
"Early on in 2020, when the amount of work seemed especially daunting, I told our staff that bankers only get a few times in their career to rise to an occasion like this one, serving customers' needs at a moment when they most desperately need help. Our employees soldiered through, working however many hours were needed to care for our customers," he says.
TD Bank also worked swiftly to adopt new customer-centric solutions, from curbside service to enhanced online and mobile applications, with a focus on creating personalized banking experiences in place of the typical in-person visits. The bank also implemented its TD Cares customer relief program alongside its PPP efforts to help business owners secure funding. All told, TD Bank approved 86,000 PPP loans in its Maine-to-Florida footprint for $8.7 billion, with more than 23,000 loans and a total of $2.4 billion approved in New Jersey alone.
"What we accomplished as an organization and as a team in 2020 is the proudest I've felt in my 31-year career," says Rob Curley, market president South Jersey/Coastal New Jersey
.
New Jersey provided $17.4 billion in PPP funding to more than 155,000 businesses (with an approval rate of 81%). Affuso estimates the sheer volume of the program saved as many as 1.5 million jobs across the state. "As far as bright spots, that certainly is a great story," he says. "Our folks were working day and night to try and get money out on the street."
In addition, Affuso says another silver lining was that by and large the banking industry avoided the mass layoffs that so many other businesses were faced with and were able to keep employment numbers at pre-COVID levels.
And now that it's been almost a year since the pandemic began, institutions are using the lessons learned along the way to determine which means of operation will have lasting effects. The increased reliance on technology to sustain critical needs has paved the way for new methods of interacting remotely—and in some cases, more efficiently.
"I found myself wondering back in March how we could possibly service our business clients at such a high level while working from home, especially those that needed financing, which is a risky and high-touch business," says Curley. "However, we quickly learned to adapt and pivot to use technology that had previously been available but underutilized. While face-to-face interaction and socialization are important, I think many of us now trust that we can lead, interact and collaborate virtually and still achieve great results."
While digital and mobile banking have put financial solutions at the fingertips of customers for quite some time, the pandemic has served as a catalyst to make these experiences more personalized and intuitive and has accelerated the demand of these options across all age groups.
"You had people using technology more often, even people who were not necessarily capable or wanted to use the technology," says Affuso. "There were people depositing checks from their phones or into ATM machines that wouldn't have been doing that.
"We were really nimble in trying to provide customers what they needed. The customers were well served—they may have been served differently—but they were well served," he adds.
But regardless of this technological advance, relationship banking will always be a hallmark according to Hanrahan, and he says the pandemic put a heightened emphasis on the importance of maintaining close relationships between an institution and its customers.
"We experienced that time and again over the last 12 months as we did our best to work closely and flexibly with borrowers who were impacted by the pandemic. Regardless of technology changes that have and will occur, I believe that most business owners will continue to crave a relationship with their accessible and reliable banker who is empowered to make the right decision," says Hanrahan.
Click here
to subscribe to the free digital editions of South Jersey Magazine.
To read the digital edition of South Jersey Magazine,
click here.
Published and copyrighted in South Jersey Magazine, Volume 17, Issue 11 (February 2021).
For more info on South Jersey Magazine,
click here
.


To subscribe to South Jersey Magazine,
click here.


To advertise in South Jersey Magazine,
click here.