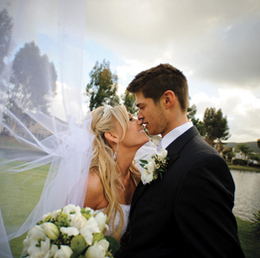 South Jersey Weddings
…Special Advertising Section from the pages of South Jersey Magazine…
The easy part was saying, "I do." Now comes the hard part: the wedding planning. From venues and florists, to caterers and jewelry, planning a wedding can be a very stressful, yet exciting time. It's a good thing our region has so many experts ready to help you make sure your big day is perfect.
Choosing the Right Place
From choosing the location for your rehearsal dinner to selecting the place where you will officially become man and wife, our experts share the ins and outs of choosing a venue.
"Couples tying the knot in 2011 are motivated to find locations that cater to their plans," says Jessica Conner, director of catering/sales at Café Madison in Riverside.
"Individuality has become paramount as couples steer away from weddings that don't have their personal touches. Venues offering exclusivity and undivided attention are becoming more and more desirable as savvy people seek out a caterer's best value. Attention to detail, gourmet food, award-winning service and stylish, one-of-a-kind atmospheres, all combine to make for an unforgettable wedding. Locations offering professional services, such as an on-site coordinator or planner, can help couples exceed their own expectations by sharing years of experience and ideas."
"You may start out with a different size wedding/bridal party than you end up with," says Antonietta Romano, chef at Antonietta's Restaurant and Bar in Runnemede. "The more flexibility you have with the room, the better it will be in the long run. Do they offer several options like sit down, buffet, or family style? Are the desserts made in house? Custom menus or preset menus are nice choices, but speak directly with the chef so he/she can clarify menu choices, as well as give you some good advice."?
"When planning a rehearsal dinner, you may want to consider a unique atmosphere that really speaks to who you are as a couple," says Nancy McDevitt, owner of High Street Grill in Mount Holly. "For the romantic in you, consider a restaurant offering warm brick, romantic candlelight, excellent service and delicious quality food. Be sure to select a restaurant that will have your dinner personally created for you with your guests in mind, including vegetarian, gluten-free and other dietary requests."
Joan Brown, event coordinator at the Moorestown Community House, agrees that it's vital to find a place that suits both the bride and the groom. "Look for a venue that reflects who you are as a couple—whether it be sleek, modern, traditional, or warm and intimate. Choosing a historical venue is a great option for couples looking for old world charm and elegance. An added plus is a venue where your wedding is the only event held that day. Some facilities are built just for this. It is also really important that you select a caterer that meets both your culinary and budgetary requirements. Most of all, relax, take it all in and enjoy! This is your day," says Brown.
"There is a growing trend away from large catering halls and toward upscale restaurants for weddings, both small and large," says Jai Avichal, manager/event coordinator at The ChopHouse in Gibbsboro. "Restaurants with private rooms are seeing more and more intimate weddings, second weddings, and wedding/reception luncheons in addition to traditional evening celebrations. We are also seeing more couples opt for having the actual wedding ceremony at the restaurant, as opposed to a church or other venue. This makes planning easier and provides an uninterrupted wedding celebration from ceremony to reception."
Treno has also been seeing this new trend in weddings. "At Treno, we have seen a trend towards more casual weddings and away from the old style, formal sit-down weddings," says Todd Fuller, executive chef at Treno's in Westmont. "People still love to get dressed up and the weddings are still glamorous, but we've noticed our guests want to spend more time enjoying themselves and less time worrying about if everyone is sitting down at the same time."
Another wedding venue option is a BYOB restaurant. "A BYOB is a perfect and versatile option for weddings, rehearsal dinners and bridal showers," says Nunzio Patruno, chef/owner of Nunzio Ristorante Rustico in Collingswood. "Consider a chef's table where six to 12 guests find themselves intimately dining in their own private dining room, while enjoying a menu paired with your finest wines. Perhaps an Italian 'festa' complete with a roasted suckling pig, would be more appropriate for larger gatherings where the menu is overflowing with traditional Italian cuisine and specialties."
Some brides and grooms opt to host their wedding in their own backyard. "A backyard wedding right at home can be truly beautiful, and creating the perfect setting doesn't have to be difficult when it comes to the landscaping," says Dan Young, owner of Young's Landscape Management in Moorestown and Lumberton. "With a mix of temporary trees and shrubs, one can build an altar, then add color with flowers and other plantings to create a festive environment."
"As with any other element of a wedding, the process begins with a plan—one that captures the vision of both bride and groom. It's an artistic endeavor that considers color, season and natural surroundings in order to create a setting that enhances the environment. For spring, maybe it's a colorful array of tulips or blossoming dogwoods.
The goal is to create a design that complements the couple's theme," says Young.
He goes on to explain that "The customized exterior design is temporary, and timing is critical. When creating the environment, one should evaluate the installation and break down needs to work with other vendors, such as caterers, rental companies and photographers. The entire aspect should be streamlined and hassle free."
Delicious Bites
From tall chocolate cakes to a buffet or sit down dinner, there are ton of food options to choose from.
"When searching for a caterer, look for one that has multiple facilities and full event coordinating," says Henry Gosik, president of Sensational Host Caterers in Maple Shade.
"This will allow the bride many different options, such as a wedding in the backyard, on the beach or in a garden. Full event coordinating will save the bride from dealing with multiple vendors."
He also notes, "Some of the latest reception trends include having a unique reception site with interesting and alluring features. Look for having different sizes and shapes of guest tables and centerpieces. The use of lighting and unique vase fillers such as glass marbles, sea shells, rocks and moss, acrylic ice and fresh fruits, such as lemons and limes, are giving weddings an unusual yet intriguing vibe from start to finish."
"One of the hottest trends in wedding cake design is the use of blown and pulled sugar accents," says Robert Bennett, executive pastry chef at Classic Cake in Cherry Hill and Washington Township. "For spring, we are creating the likes of daffodils, tulips and irises molded with pulled sugar and complemented with blown sugar pedals. Other couples are choosing to feature brilliant glass-like bubbles—some in mid-burst—alongside pulled sugar ribbons and bows. Such sugar accents allow for unlimited creativity with both shapes and a rainbow of color choices."
He also adds, "Another trend is the groom cake. Always in the shadow of the larger wedding cake, this delicacy is in honor of the groom and often incorporates many of his likes and hobbies. The groom cake is one of tradition. In the South, the unmarried female guests take home a slice, lay it beneath their pillow and dream of the man they will marry."
Krista Walker, owner of Pretty Sweet Bakery in Haddonfield emphasizes the variety of choices available. "There are a wide variety of cakes and cupcakes that you can offer at your wedding. Consider a black-and-white cake or stark contrasts in colors with 3-D flowers or accents," Walker says. "Try a damask or patterned fondant cake with tall tiers to show off the design. Cupcake wedding cakes are still a big trend for 2011. Have a small cake to cut at your reception, and then serve your guests individual cupcakes, which is always a big hit."
The Arrangements
Roses or tulips, sunflowers or lilies? Jamie L. Vandergrift, owner of Vandergrift Floral Company in Cinnaminson suggests "Before selecting flowers for your wedding, be sure you have purchased your gown and bridesmaids' attire. Not only will it help with color matching flowers, most importantly the design and size of wedding party flowers will be determined," says Vandergrift. "At the time of your floral consultation, bring with you pictures of flowers and arrangements that you like. Your professional florist can guide you through making the perfect selection of flowers and décor."
Snapshots
After your wedding day, you'll want to preserve the memories, so make sure you choose a creative photographer with lots of options. "Some photographers offer engagement sessions along with their wedding packages," says Stavra Kalina of Stavra Kalina Photography in Mount Laurel. "This is a great opportunity to work with your photographer and vice versa, prior to your wedding day. It gives the photographer a chance to get familiar with your 'good side' for the best images of you and your fiancé. Pick a location that says something about you as a couple, such as where he actually popped the question, a restaurant, the beach or, if you're sports fanatics, Citizens Bank Park, or Lincoln Financial Field. Also, ask for a DVD of your proofs from the engagement session to use for prints and favors at your wedding."
The Perfect Look
Be sure to stand out at your rehearsal dinner and engagement party. "Lace is a hot fashion trend for the spring and summer 2011 season and a beautiful choice for the bride-to-be," says Loretta Liberi, owner of Fashion Rocks Boutique in Cherry Hill. "Stand out in a crowd with a classy vintage lace look with large prints, or opt for a more sensual look with tiny patterns. Sheer also looks fantastic and makes a statement. This could be a perfect look for the bride, bridesmaids or family members at your engagement party or rehearsal dinner."
Marlene Gagliardi, owner of Marlene's Dress Shoppe in Collingswood offers some helpful hints on ordering your mother-of-the-bride or mother-of-the-groom gown. "Go online and print out pictures of styles that you like. Then, once you visit a store, bring those pictures with you. It gives the bridal associate a good idea of what you like and makes it easier to pick a style that suits you. Remember to order at least three months before the wedding so you're sure to get exactly what you are looking for."
Diamonds and Pearls
Whether you're looking for that special engagement ring or picking out jewelry for your wedding day, it is important to not rush into any decisions. "When comparing diamonds make sure to compare the exact same certifications from specific gem labs and qualities," says Jack DeAngelis, president of Morton & Rudolph Jewelers in Cherry Hill. "Every diamond is individual and unique and should always be viewed in person, because you're not buying a piece of paper, you're buying a diamond. For instance, when I buy diamonds for the store, I may look at 50 diamonds that are SI2 but only buy two. A clarity range like SI can be broad and varying more than a customer may realize. So you always want to work with someone you can feel comfortable with and trust. The jeweler you select should always be happy and excited to explain all of the facts and details of any diamond to a customer."
David Sendrow, owner of David Arlen Jewelers in Hainesport, explains a new trend for engagement rings in 2011. "Engagement rings aren't just about diamonds. In 2011, jewelers and trend experts say that more and more women will be wearing engagement rings featuring colorful gemstones including ruby, sapphire, emerald, topaz and peridot.
If you're a fashionista, you might want to consider a beautiful gemstone as a finer and more fashionable choice over a diamond. Penelope Cruz and Kate Middleton both have engagement rings featuring diamonds encircling a large sapphire, while Jessica Simpson's engagement ring has a central ruby flanked by two diamonds," says Sendrow.
Accessories are a great way to show your individual style on your wedding day and can also compliment your bridal party. "Layered pearls are always a classic look. They provide a way for the bride to look fresh and feel fabulous which also gives a vintage edge," says Dana Diantonio, owner of Joeys Unique Boutique in Marlton. "I would also recommend a chunky chandelier earring, something stunning and captivating. A chunky crystal necklace is always a perfect statement piece complemented by a simple stud. Matching sets are also a wonderful gift for the bridal party. They're a great way to help the girls portray a sense of style and complete their look. Beaded and crystal barrettes and hair accessories are a great way to add that last finishing touch."
Get Pampered
The way a bride wears her hair is a very important part of the look she is going for. "The current trends in bridal hairstyling are leading toward a more casual design, yet sophisticated enough to be worn with a formal dress. We are seeing a lot of soft curls and the new wave pattern that is not your usual—more of an "S" formation. Soft and romantic is the new look in bridal styling," says Sam Bermudez, style director at Caryn Max West Salon & Spa in Moorestown. When deciding what kind of look to go with, "First talk to your stylist about your dress (a picture is preferred) and if there is going to be a headpiece. Once that is established, your stylist can recommend a hairstyle for that look, which can be either contemporary or classic depending on the individual bride."
For another great way to look your best on your wedding day, Dr. Steven Davis, a plastic surgeon in Cherry Hill, recommends a new procedure called BodyTite™. "This new technology would be a perfect fit for the entire bridal party since it tightens the skin and removes unwanted fat. The procedure can be performed quickly without anesthesia or downtime and can be done three weeks to one day before the wedding," says Davis. He also suggests Pellevé, "a revolutionary non-surgical procedure to safely and effectively treat facial and hand wrinkles with virtually no pain and little downtime, which would also work great for the bride-to-be. With just a single, one-hour treatment, you could be on your way to firmer, tighter skin—with results that can last up to six months," says Davis.
As far as skin care goes, "We get a lot of brides who like to come in to prep before their wedding," says Anu Momi, D.O., of Anu Medical Spa in Voorhees. "Some come even three to 12 months before the wedding to set up a "skin care regimen" to get the best results. In this age of digital cameras and hi-def videography, brides are very concerned with making sure there pores are as small as possible and no brown or red spots bleed through the make-up," says Momi. She also adds that "Laser genesis is the most popular laser for brides, which helps with skin texture. Vein therapy also helps small unsightly broken capillaries on the face, which become visible through the makeup."
Dr. Jose Diaz Jimenez, medical director of Creations Medical Spa in Sewell agrees. "Looking your all-time best is often the goal of every bride (and groom) to be. For those stubborn areas that diet and exercise just don't seem to help, there's a minimally invasive procedure that can be done in the privacy of your doctor's office, with minimal to no downtime," says Diaz Jimenez. "Laser Body Sculpting (LBS) is a revolutionary approach that uses thermal energy to help you achieve the body you desire. It is a safe, effective procedure that uses a laser (similar to those used in surgical procedures) to liquefy and remove unwanted fat in targeted body zones. In addition to removing unwanted fat, Laser Body Sculpting (LBS)'s thermal effect causes the skin to contract, resulting in firmer, smoother skin that further enhances your body shaping goals."
Planning Ahead
Although we hope your marriage lasts forever, in some cases things don't go quite as planned. "Couples planning a wedding may also wish to consider entering into a prenuptial agreement," says Howard S. Mendelson, Esq., of Davis and Mendelson, LLC in Voorhees. "Prenuptial agreements are particularly appropriate when either the bride or groom has been married before, has children from a prior relationship and/or has acquired significant assets prior to the marriage. The prenuptial agreement is accordingly a contract between the marrying couple defining their rights in the event of a divorce. The prenuptial agreement must be entered into prior to the marriage, accurately disclose each party's holdings, and be entered into without fraud, coercion, duress or other circumstances that would call into question the voluntariness of the agreement."
Now that you have all of your wedding "do's" and "don'ts", go ahead: start planning. Keep this guide handy for everything you need to plan your dream wedding in South Jersey.
Published (and copyrighted) in South Jersey Magazine, Volume 7, Issue 11 (February, 2011).
For more info on South Jersey Magazine, click here.
To subscribe to South Jersey Magazine, click here.
To advertise in South Jersey Magazine, click here.