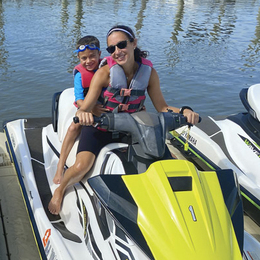 An Escape from the Everyday
The Jersey Shore is perhaps more appreciated than ever with the threat of the pandemic still lingering.
While the Shore season got somewhat of a "late start" for some last year—it quickly picked up and was soon as hot a summer as any other. But there was a noticeable shift, with many renters or homeowners extending their season into the fall to take advantage of the still-favorable weather and sparser crowds. As families across the area begin to gear up for this summer and make their vacation plans, many are expecting it to be an even better season this year.
Diane Wieland, director at Cape May County Department of Tourism, says that although things got off to a slow start in 2020, it ended up being an amazing, extended season.
"We had a record number of September and October overnight visitors," Wieland shares. "And many of those folks have already made their reservations for 2021. That gives us a good indication that we're likely to start our season on time this year but still possibly extend that as many people came to realize the Shore is still a great place to be in those fall months."
Kathryn Supko, real estate broker with The Supko Team, confirms that quite a few vacationers have already booked their rentals for 2021. For many, this was done toward the end of 2020, with people anxious for summer to roll around—and a getaway to look forward to. Supko says that her advice is that if they haven't already done so, vacationers should book soon as inventory is already becoming slim.
"The shore, for many, is a safe haven with outdoor activities and a chance to connect more with family and friends," Supko says. "This does not mean anyone should throw caution to the wind, but the Shore does give a bit more relaxation—and a change of four walls."
While living in close proximity to the Shore, the change of scenery can certainly feel like an escape for families desperate to get away from the grind of their daily lives. That's what Mantua's Jessica Cogan appreciates about heading down every weekend with her family.
"When you drive over that bridge, it's like another world," she says. "I love the Jersey Shore. I've been going since I was a kid and just love being there."
Paul Fortino and his family feel the same way. The Medford resident says that in some ways, experiencing the pandemic has made him appreciate the Shore even more as he and his family were able to spend more time at their Ocean City house than ever.
"The Shore has always been great, but COVID made it even better because it became our escape," he says. "The beach was one of the few places this past summer where things felt 'normal.' New Jersey's restrictions were pretty strict right out of the gate, but at the Shore, we could be on the beach and safely social distance. The beach never felt too crowded and everyone was so respectful of one another's space. It actually became one of the places where we all felt safe to be."
What's great about the Jersey Shore is that it can be a weekend getaway—or can be an extended vacation. One trend that professionals like Supko report seeing is that parents are working remotely and children are doing virtual schooling from their coastal hideaways.
That was the case for the Dorfman family from South Jersey. This year, they have already booked a house in Ventnor after having such a great time last year. While the Dorfman's aren't typical renters—they'd usually stay with either set of parents who have Shore homes—the COVID-19 pandemic, drove them to try something new.
"We ended up renting a house for a whole month and temporarily moved down to the Shore," says Julie Dorfman. "We already knew our children did not have summer camp and we were looking for a COVID-friendly summer vacation. Being able to work remotely allowed me to [take advantage]."
Those planning an upcoming Shore trip should know that most activities and dining are open—they've simply pivoted to adopt new regulations whether mandated or imposed themselves. While it's still not completely clear what this year holds, last season many restaurants extended outdoor dining options and brought in new cleaning policies and procedures to keep everyone safe. A lot of restaurant goers ended up loving some of these changes.
"I think we'll continue to see even more outdoor dining as people really enjoyed that," says Wieland. "It added some excitement to the area and gave people more options."
In terms of finding a place to stay, Wieland says the choices are varied.
"We have so many different options," she continues. "You could rent a condo or a house—or you could stay in a hotel, motel, or B&B. We also have a great camping industry here. We have 47 campgrounds that allow people to get out and experience the Shore in a different way. Families can make a decision as to what they feel most comfortable doing."
Dorfman says her best advice to families looking to rent would be to consider homes with good outdoor spaces—particularly for an extended stay. She says a home with a deck will help a family have room to spread out—or even enjoy a meal outside. In terms of dining at one of the many restaurants, Dorfman says it just takes a little more planning. Making reservations ahead of time will help ensure you can secure a table if indoor seating ends up being reduced or removed again this summer.
As far as things to do, Dorfman agrees the possibilities remain abundant.
"There are so many COVID-friendly activities at the Shore," she says. "We felt very safe and able to social distance on the beach. But we also went for family bike rides, rented a boat for a day and visited the Cape May County Zoo. We avoided the Boardwalk at prime times more than we used to, but that was our own choice to be as safe as possible. Just being able to be outside and in a different environment was good for everyone."
Wieland says that she has heard from the recreational fishing and boating venues that these were popular activities last year and are sure to be once again this season.
"This was another area that might have had a slow start but quickly picked up," she says. "It's yet another offshoot for families to get out but still practice safe, social distancing. What better place to do that than on the water?"
As with anything right now, being able to fully and safely enjoy a Jersey Shore trip just comes down to a little bit of forethought. Supko advises renters to pay attention to rules for dining or entertainment so that they can plan accordingly and be careful not to step outside of restrictions. But she anticipates a great season.
Wieland agrees, saying the virus has caused a lot of people to redefine what a vacation means to them. "Spending time with family in a safe and enjoyable way is made even more fun at the Shore. We have rural areas where you can hike, bike or birdwatch. And of course, we have the beach where you can play or relax," she says. "A Jersey Shore vacation is an opportunity to get out there and have a great vacation with lots of time outside."
Click here
to subscribe to the free digital editions of South Jersey Magazine.
To read the digital edition of South Jersey Magazine,
click here.
Published and copyrighted in South Jersey Magazine, Volume 17, Issue 11 (February 2021).
For more info on South Jersey Magazine,
click here
.


To subscribe to South Jersey Magazine,
click here.


To advertise in South Jersey Magazine,
click here.