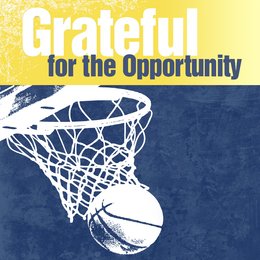 Grateful for the Opportunity
The high school winter sports season looks a lot different than normal but these standout local athletes are just happy to be back in action.
Alexa Therien, Cherokee basketball
The youngest of three Therien sisters to star at Cherokee, this senior is already a member of the 1,000-point club and led the Chiefs to an unforgettable season last year, as they went 30-1 with a sectional title and reached the Group IV state final before it was canceled due to the pandemic. She is poised for a huge final season before continuing her career at Boston University.
SJM:
Are you happy to be playing even though this season is a lot different than what we're used to?
AT:
Yes. There's a lot of uncertainty about even having a season so I'm really grateful that I even get a senior season.
SJM:
In normal times you would be playing in packed houses for most games. What is it like playing in empty gyms?
AT:
It's surreal. You score a big bucket and there's silence with the exception of your teammates. It's definitely the biggest change I've had to make in my basketball career, not having fans. I think having that packed house is something my team thrives on and not having the fans there is a huge, huge change for us.
SJM:
Going back to last year, Cherokee was one of the teams hit the hardest because you were already in the state final before the game got canceled. Now that time has passed are you able to look back at it as a memorable season or does it still hurt?
AT:
I'm definitely able to look back and say me and my teammates accomplished a lot. We were 30-1 and we won a lot of accolades. When you think about it, we were one game away and one day away from playing and you get that pit in your stomach. If we had that one day just to play the game we could have hung our hats on being state champions. I think we all like to say we are [state champions] because we believe we would have won that game. To get there is still a huge accomplishment and there's nothing more we can do but come out this year and play the same way.
SJM:
It's hard to believe this is the last season for your family playing girls basketball for Cherokee. Has it been special to have all three of you enjoy success there?
AT:
It definitely is special. I didn't get to play with my older sister Isabella which was a bummer but I did get two really fun years with Ava. It is really cool because everyone knows the last name Therien and you get looked at like, 'Those girls can play.' It's such an honor that people know we can play. I think me and my sisters hang our hat on toughness and playing with heart. I just think we bring it and it's really cool to say all three of us came through one of the best programs in South Jersey.
SJM:
Isabella and Ava both said even before you got to high school that you were going to be the best player in the family. What does it mean to hear that?
AT:
That's really cool because in my house I hear differently. It's good to hear that they said that about me. Coming from those two, who can really ball, it means a lot. Everything that comes with physical and mental aspects of the game, I've learned from them. They paved the way for me and they got me exposure from colleges and coaches. It's made my basketball career a lot easier, to say the least. I'm really thankful that I have two sisters who could pave the way for me.
SJM:
I can't believe they couldn't get you to join them at Loyola.
AT:
[Laughs] I know. Everyone says that.
SJM:
You will actually be competing against them in college since Boston U. is in the same conference as Loyola, right?
AT:
Yeah, we're going to play each other twice a year. We'll see how that goes. I've been telling my mom that she has to get a half-BU shirt and a half-Loyola shirt. Isabella actually has an extra year of eligibility so there's a possibility I could play both of them. She's not sure where she's going to play her fifth year so when the time comes I guess we'll figure it out.
SJM:
What did you like about Boston University as a school and program?
AT:
I didn't know much about it before I visited. I knew Boston was a great city but I kind of had to see for myself. So I took my visit up there and I just fell in love with the city, the school, the culture of the basketball team and the coaches were a huge part in my decision. Overall, the family atmosphere on the basketball team and on campus just reminded me of home and that's what I was looking for. Plus, I wanted to be in a city and Boston is a great city, so it was an easy choice for me.
SJM:
Do you know what you want to study?
AT:
I'm not sure yet but I know I want to go to law school. I think you can study anything and go to law school so I'm undecided right now. … I don't have a particular field I want to go into yet but I'll figure that out along the way.
SJM:
What are you going to miss about South Jersey when you leave for college?
AT:
It's home to me. I've lived here 17 years of my life in the same house. My friends are here, my family's here, so I'm definitely going to miss my family and friends. I'm also going to miss my town. Going up there is going to be a big adjustment, but everyone I've talked to who goes to BU or one of the other schools in Boston say that they're never going to come home again. I'm kind of hoping it goes the other way for me because I love South Jersey, but we'll see when I get up there. I'm excited.
SJM:
Just don't start rooting for Boston teams.
AT:
[Laughs] That's what my dad says.
SJM:
During the pandemic we've lost a lot of things that we take for granted. What are you most looking forward to doing after it's all over?
AT:
It's definitely been hard. I don't know if there's something I would do but I'm looking forward to the day when we don't have to wear masks anymore because I just dread it. I used to go to school on a hybrid [schedule] every other day, but I couldn't take the masks. So I really look forward to the day we can take our masks off and be in public without them. I also look forward to the day when we can fully indoor dine and there's no restrictions.
Isaac Dean, Shawnee wrestling
After winning a district title at 182 pounds, becoming Shawnee's first region champion since 2014 and competing at states in a fantastic junior season, Dean is hoping for an opportunity to wrestle on the big stage once again in his senior campaign.
SJM:
Normally around this time of year you would be in the middle of the season, but this year because of the pandemic the wrestling season is not starting until March. How are you dealing with the time off?
ID:
I'm just waiting. I'm super ready to go and I feel like I haven't had to wait this long to wrestle for a long time. I'm ready to get on the mat as soon as possible.
SJM:
Are you able to train and prepare for the season?
ID:
I have a couple of outlets. I'm in shape and I think my conditioning is well. I'm getting mat time here and there. I don't have a facility all the time but when I do I go to American or Underground.
SJM:
Looking back on last year, were you surprised by your success or were you expecting to compete for district and region titles?
ID:
I wouldn't say I was surprised. I always knew I was one of the better guys in the state. Once I won my district title it reassured me that I deserve to be one of the top-tier guys and on the podium.
SJM:
You became the first region champion for Shawnee in several years, winning in overtime. What was it like to win in that fashion?
ID:
I was excited but I was more excited for the team. It was the farthest anyone made it on our team and I felt like I was representing everyone by winning that.
SJM:
Do you plan on staying at 182 this year?
ID:
Most likely. I'll probably wrestle around [195] in the beginning but I'm going to wrestle at 182 when it comes to states and regions if we have that.
SJM:
Everybody in the state wants to see districts, regions and states and I know there's a lot of work being done to make that happen. Do you think those tournaments will still be held this year?
ID:
I think it will happen in whatever fashion. Whether it's sanctioned by the NJSIAA or whether it's USA Wrestling, we'll definitely have something to showcase the talent.
SJM:
As a senior, I'm sure it would be heartbreaking for you if those tournaments get canceled.
ID:
Yeah, that's kind of all you think about when you're in eighth grade. You can't wait to get to high school and see what the competition is like. Once you get there, all you dream about is going to states, making a name for yourself and winning districts and regions. Not being able to compete right now is a heavy blow, but I kind of feel more for the younger guys; the freshmen and sophomores who are not going to get the same learning curve or experience that we had.
SJM:
If they do have states it sounds like it will not be at Boardwalk Hall in Atlantic City but you got to experience it last year. What was it like to wrestle in that environment?
ID:
I wouldn't say it was overwhelming but it was a new experience. When I went I was the third seed so it felt like there was a lot expected of me. When I got to the quarters I was a little bit in my head. I feel like if I had that opportunity now I would be more conditioned to go out and leave it all on the mat.
SJM:
What are your plans for next year?
ID:
I do want to compete in college. After last season I think I do have some talent and I can compete at the college level or D-I level. Hopefully, someone recognizes that, takes a chance and gives me an opportunity.
SJM:
Do you know what you want to study in college?
ID:
Business and marketing is the main one I'm trying to go for. I think I have a pretty decent sales personality and I kind of have a foot in business already because I work with my parents. My dad owns a landscaping company.
SJM:
Have you always lived in Medford?
ID:
I think it was second grade when I moved here, mainly for sports and academics. It's a really good community. I met a lot of friends here and they've always been good people. The parents and people at school always support us and the community is always looking out for you.
SJM:
What are the best and worst parts of remote learning?
ID:
The best is you have some more free time and you can kind of hang out with your friends more and pick up some extra hobbies. The worst is the school experience and not seeing everybody. You feel like you're missing out on stuff like football games and pep rallies, especially since it's senior year. They haven't said anything about prom but we're making payments now for the Disney trip. It's still going to be iffy and they're putting refunds in place because they still don't know if they're going to be able to follow through when the time comes.
Lilly Derivaux, Haddonfield swimming
Just midway through her high school career, Derivaux already has a long list of accomplishments. Last year as a sophomore she placed third in the state in both the 200 and 500 freestyle and was part of two relays that set school records and placed in the top three as well. She also helped the Bulldawgs to their second straight state championship.
SJM:
What stands out when you look back at your sophomore season?
LD:
I would say the whole team coming together, especially for states. Everybody worked so hard all season and it was so exciting to finally get to states and to pull together and get another win. We were all so happy and it was a lot of fun.
SJM:
Last season, the Haddonfield girls and boys teams won state titles in the same year for the first time in school history. Did that make it extra special?
LD:
It was awesome. The guys team was there for us cheering us on and we were there for them cheering everybody on. It was a lot of fun to have the experience of both teams winning states. We were all so happy for each other.
SJM:
Were you happy with your performance at the Meet of Champions?
LD:
I was very happy. I was just going in and trying to swim as hard as I could. To place in the top three was exciting.
SJM:
Do you have a favorite event?
LD:
Either the 2-free or the 5-free. The 5 is definitely a hard event but once you learn your rhythm and the way that works best for you to swim it, it becomes a lot of fun.
SJM:
This year will obviously be a lot different with no Meet of Champions or other big meets. Are you just happy to have whatever kind of season you can?
LD:
Yes. I'm so excited to have somewhat of a season; we're very lucky to. I think we're going to take whatever we can get and see what happens.
SJM:
I know there's a possibility of holding virtual meets, with one team at a pool and the opponent at another pool. What do you think about that?
LD:
I heard that was an option but I'm not sure what the meets are really going to look like this year. It will probably be something similar to that.
SJM:
Without state championships, how are you setting goals for yourself this season?
LD:
My goals are the same even though we're not going to have the big state meet at the end. With every event we do we try to swim our hardest and come out on top. We still want to do our best.
SJM:
Your club team, the Jersey Wahoos, is a renowned club in this area. What does it mean to be part of that tradition?
LD:
I've been swimming with Wahoos since I was 6. I love it. My whole family swims for Wahoos and it's definitely a lot of fun. I have a sister who's in sixth grade, a brother who's a senior and a brother who's a freshman and we've all been swimming at Wahoos our whole lives.
SJM:
Have you still been able to swim at Wahoos during the pandemic?
LD:
Yes. Practices have been pretty much exactly the same. The only thing that changed was our meet schedule but we've still been able to have some meets, which we are fortunate to have.
SJM:
Have you started thinking about college yet?
LD:
I actually committed to Yale a few months ago. I knew I wanted to go to the Ivy League going into the recruiting process. I'm just so lucky and so excited to be able to go to Yale and have the opportunity.
SJM:
What has school been like during the past year?
LD:
It's definitely a lot different. You have to adapt to being online and once I got used to that it started to become a lot easier. It provides me more time to study for tests and make sure I'm going over everything.
SJM:
What do you like to do for fun when you're not swimming?
LD:
Since I have three siblings, we usually hang out a lot and I like to go on bike rides around town.
SJM:
Have you always lived in Haddonfield?
LD:
I moved to Haddonfield when I was 10. Before that I lived in Medford. Haddonfield is a small town where everyone can walk everywhere and it's nice to go on bike rides around town.
Tommy Burns, Eastern bowling
Burns, a junior, is coming off a memorable sophomore season in which he captured the individual state championship along with the Olympic Conference title. He posted a 222 average game during the regular season and had six series over 700.
SJM:
Last year was a huge year for you individually. Did you see it coming or were you surprised by your success?
TB:
Going into the year I really wanted to win states, but overall, no, I didn't see anything like that coming. It was such a big year.
SJM:
What's it like competing at states in a pressure-filled environment with so many people around?
TB:
The main idea is trying not to focus too hard. I try to keep my head in the moment; not think about the future and not dwell on the past if I have a bad shot either. You have to be on top of things.
SJM:
Has it sunk in yet that you're a state champion and what does it mean to you?
TB:
Well, it's very disappointing to see that we're not going to have states this year because I was looking forward to trying to go back-to-back as state champion and becoming the second person in New Jersey history to do it. It's cool to have done it though. Every day I walk by the state title. It's in my house in my living room. I have a cabinet with all of my accomplishments from bowling.
SJM:
As you mentioned, it appears that none of the major tournaments will be held this year due to the pandemic. So what will your goals be for the season?
TB:
I'll probably try to get the highest average in school history for bowling, and I believe that has to be over 222. And possibly shoot a 300—that's on the list.
SJM:
Have you ever done that, record a perfect game?
TB:
Yes, I have nine. My first one was in 2014 I believe. [The pressure] is like states. You can't focus too much. Looking back, I don't even know how I did it the first time, to be honest. I threw the ball so bad back then. It doesn't faze you until you get to the 10th frame. That's when it hits you: 'Oh my God, I can shoot 300.' That's when it gets nerve-wracking and I'm still always shaky when I get there.
SJM:
How did you get into bowling in the first place?
TB:
I started when I was around 10. The way I really got into it was I went to this camp called All Sports Camp in the summer and in the afternoon we would take a bus [trip]. Some days we went to a water park, some days we went to a baseball game or a bowling alley. One day I was bowling and I really liked it. As soon as I got home from camp I asked my parents if we could go bowling. I remember I wanted to get the exact same ball when we got there so I could use it again. I just kept going and going and I used bumpers at first. Then one time I went with my dad and I struck three times without the bumpers. I was like, 'I'm pretty good at this.'
SJM:
Did you miss bowling early in the pandemic and were you able to jump right back in as soon as bowling alleys opened again?
TB:
I'm very involved in bowling and there's tournaments all over New Jersey. There was really a lockdown and it was hard to find tournaments and the bowling alleys were closed, so I had to stop for a little bit. But once they opened up a little bit I found some tournaments I could bowl in and got back into it.
SJM:
Where is your favorite place to bowl?
TB:
I would say either 30 Strikes or The Big Event. I know a lot of people at The Big Event and I like seeing them and talking, and 30 Strikes is close to home. If I really need a demanding practice or if it's the day before a tournament, I'll go to 30 Strikes and spend three hours there.
SJM:
What do you see for your future in bowling?
TB:
My idea right now is I plan to go to college for bowling. After college I'm hoping, if I get better, that I can get on the professional tour. If that doesn't work out then I'll probably just do it for fun.
SJM:
What else do you like to do for fun?
TB:
I started playing guitar, so there's that. I work on my dad's car or on my Jeep for fun. My dad has a 1969 Camaro RS.
SJM:
What do you like about growing up in South Jersey.
TB:
The people. Everyone is really nice everywhere you go.
Olivia Johnstone, Lenape basketball
A senior guard, Johnstone has been a key player for one of the best teams in the area the last three years and helped Lenape capture a sectional championship in 2019. She has emerged as the Indians' go-to scorer in her final campaign and recently committed to Ramapo College.
SJM:
Obviously, this is a much different basketball season but how are you enjoying it so far?
OJ:
I'm glad to just be out on the court. I honestly didn't even know what to expect for the season and I play every game like it's my last because I never know what's going to happen since it's so strange and unpredictable this year. … We had our Senior Night for our first home game just in case we get shut down again.
SJM:
What's it like being in the gym with just players, coaches and referees and no fans?
OJ:
It's definitely different but my team is so great. Everyone on the bench is so loud; they cheer and give great vibes. Lenape streams the games on YouTube so all of my friends and family can watch it on there.
SJM:
Do you feel like you have taken your game to another level as a senior?
OJ:
I definitely try to be a leader out there and I try to be the leading scorer for each game but scoring isn't always my priority. I try to get the younger players and everyone else involved; getting assists and seeing the court is a key part of my game. I try to be a leader for the younger players but I know they can hold their own out on the court and I trust them.
SJM:
Do you consider yourself more of a point guard or a shooting guard?
OJ:
Definitely a shooting guard because I like taking shots. But if someone needs to step up and be the point guard I will take that role too. I love facilitating and being in control of the game.
SJM:
When you look back on your career, is the highlight winning a sectional title and reaching the state final as a sophomore?
OJ:
Oh yeah, that was an amazing experience. Beating Cherokee for the [sectional] championship is a feeling I'll never forget. Playing against Franklin in the state final and Diamond Miller—she's a great player who everyone looked up to—was a great experience that I always look back on.
SJM:
Since there are no playoffs this year, what are your goals?
OJ:
I want to be on the first or second team all-conference since I didn't make it last year. Being our high scorer and leader on the court is also a personal goal of mine.
SJM:
The Lenape-Cherokee rivalry is one of the best around. What is it like to play in those games?
OJ:
Cherokee is always great. They're tough, they're physical. We definitely prepare ourselves mentally for those games. Alexa Therien is a beast on the boards, Katie Fricker is a great outside shooter and they have Gabby Recinto on the boards. We just try to play our game and get fast breaks in transition. We have to play our A game against them.
SJM:
What did you like about the school and basketball program at Ramapo that made you commit?
OJ:
I committed in the fall after visiting the campus. This is cliché but it felt like home. The court is so beautiful and the campus is amazing. It's just under two hours from my house and I wanted to stay close. I'm also pursuing nursing and they have a great nursing program. The facility is about two years old so it's basically brand-new. The coach and the staff were so welcoming and I knew it was the place for me. I'm excited to play the game for another four years.
SJM:
What are some of your other interests aside from playing basketball?
OJ:
I love hanging out with my friends and the Shore. We love going to LBI and Ocean City in the summer since it's so close to home. I also love working out. I go to a gym called Alpha Athletics two to three times a week. I also love hanging out with my mom and watching movies. During quarantine we watched a lot of movies. Movies I love are Game Night and Aquamarine.
SJM:
What is something you haven't been able to do during the pandemic that you're looking forward to when this is all over?
OJ:
I would love to be all in-person for school for the rest of the year, maybe for springtime, so I can be with my friends. And going to a concert would be a good one since we didn't get to do that last summer. I've been to a couple Zac Brown concerts. I don't love country but just going with my friends is so much fun.
Drew Amos, Washington Township basketball
A three-year starter at shooting guard, Amos is primed to lead Washington Township in scoring for the third consecutive season as he wraps up his standout career. More importantly, he plans on helping the Minutemen to a winning record before moving on to the next level.
SJM:
How do you feel about this unusual basketball season?
DA:
I'm just happy we have something to do and people to play against. Hopefully it doesn't get shut down or anything. It's definitely weird [playing in an empty gym]. It feels like a scrimmage. In a way I guess it's helping us because kids are talking more on defense and we're communicating better with each other. I feel like we're picking each other up.
SJM:
It seems like you keep getting better and better the last few years. Are you proud of your progress?
DA:
After my sophomore year I feel like I learned what it's like to play at the varsity level and the game speed. This year I got a lot bigger; I gained some weight and some muscle and it's helping me. I thought I had to do that, especially if I wanted to play in college.
SJM:
How is the recruiting process going?
DA:
It's been good. I want to make a decision probably within the next month, after basketball season. I definitely want to stay close to home. I want to hopefully play my freshman year but really be a big part of the team by my sophomore year. I want to be involved with the team and not just be a practice guy.
SJM:
Do you know what you want to study in college?
DA:
I'm thinking either business or education. If I go with education I would want to coach when I'm older.
SJM:
What do you love about basketball?
DA:
I love competing and you meet a lot of kids and make good friendships. I like that it's a team sport too.
SJM:
Which team do you love competing against the most in high school basketball?
DA:
I would say Cherokee, especially since I play AAU with a lot of those guys and it's cool being able to play them twice a year. It's a big rivalry.
SJM:
What do you like to do away from the court?
DA:
I like to hang out with my family, hang out with friends, watch a lot of sports and play some Xbox. I play 2K and Madden. I like playing with the Sixers on 2K.
SJM:
Who are the NBA and college players you like to watch?
DA:
I like watching Ben Simmons but I wish he could shoot better. I think Joel Embiid is fun to watch just because he's a character. I like watching [Collin] Gillespie from Villanova too.
SJM:
What's your favorite basketball movie?
SJM:
Have you discovered any good TV shows during the pandemic?
DA:
I've definitely watched a lot of TV. I liked that show Outer Banks and I like All American, the football shows. But Friends is probably my favorite TV show.
Catie Shawaryn, Moorestown swimming
Shawaryn, a junior, is an outstanding sprinter who owns school records in the 50 and 100 freestyle and helped Moorestown win its third straight state championship last year. She was also part of the second-place 200 medley relay and the third-place 400 free relay at the Meet of Champions while finishing 10th in the 100 free.
SJM:
What stands out from another memorable season for Moorestown in 2020?
CS:
I think a big turning point for us last year was sectionals. We were super confident going into the playoffs but we had never swam against Mainland before and we didn't know how it was going to go. We all brought our A game and a majority of us had our best times in our events. They hype was really, really high and we were all very excited for one another. I feel like that was a big confidence-booster and then we got rolling from there. The semifinals went well and then we won the state championship.
SJM:
The team has now won three straight state championships and you were part of two of them. That must be very special.
CS:
Yeah, it's amazing. Freshman year, it was kind of scary for me because I knew they had won the year before and we were hoping to win another one. We were able to get the job done and then sophomore year was even more exciting because I was able to integrate the freshmen and I felt like I was able to play a bigger role as an older student, and it was still a lot of fun.
SJM:
What does it mean to you to be in the record books in the 50 and 100 free for a program that has been so successful over the years?
CS:
It's really exciting. The energy at the sectional meet [when the records were broken] was great. Going into my individual events it was nerve-wracking as usual but I knew all my teammates were going to be supportive of me no matter what, and the parents in the stands of course. A lot of the adrenaline helped get me going and to perform at my best when I needed to. Our coaches have run a very successful program and to be on the record board at that school is such a great honor.
SJM:
Can you tell when you're going that fast? Do you have an idea in your head before you even see your time?
CS:
I have a rough idea. At high school meets the time doesn't mean as much to me as winning and getting those points for the team. In the sprint events every little thing counts, especially in the 50 because it's just up and back. Everything has to go right in order to go your best time. You have to bring your A game and come right off the blocks as fast as possible. Really high competition helps too.
SJM:
The Meet of Champions was another great day, especially for the relays. Is it fun to be part of successful relays and push each other?
CS:
It's truly a feeling like no other. To be on a medley relay with such amazing athletes is awesome because we all encourage each other and push each other to be the best we can be. That was the fastest we've ever gone, and the freestyle relay as well. … I feel like being on the relay together, we also became closer as friends.
SJM:
This year is a lot different without the team state championships or the Meet of Champions. What are you expecting from this season?
CS:
I feel especially bad for the seniors because we were hoping to repeat what we've done in the last couple of years. It's a big disappointment that there's not going to be any playoffs but everybody is in the same situation and we're taking it as it is. We're happy that we have a season to swim together even if it's abbreviated. What we're all looking forward to is having a good time together, doing our best in the meets and cherishing the time we have together because we've been separated for so long because of the pandemic.
SJM:
Are you excited to have your mom, Julie, as an assistant coach this year?
CS:
Yes. She's been such a big supporter of me in my athletics for so long. She loves to watch me and my sister race, she's always said that. I'm grateful to have her support me and now to have her on deck. … My sister and I have been swimming since we could walk and she's always been at our meets and helping out.
SJM:
What is your sister's name?
CS:
Her name is Stephanie and she's a year below me. We've always played sports together growing up and we've always kept each other company at home. It's really fun to be on the same team together.
SJM:
What else do you like to do for fun?
CS:
This year I actually picked up rowing so I'm doing both sports as of now. I'm definitely big on winter sports. I love watching hockey on TV and I used to play hockey but not anymore. I also love to snowboard so I'll go to Pennsylvania on the weekend if I can and take day trips to hit the slopes.
SJM:
Is there anything you haven't been able to do during the pandemic that you're looking forward to doing when this is all over?
CS:
I realized, especially over the spring when we were in full lockdown, that you take a lot of little things for granted. Things like going to a restaurant or going out with your friends. It really put things in perspective for me and made me grateful for the things I do have. My family and friends are all healthy and we're still able to go to school and do our sports. But I feel like we're all super ready for things to go back to normal and it's definitely on my list to go to a concert, go to a hockey game and just go back to experiencing life with my family and friends.
SJM:
Have you always lived in Moorestown?
CS:
Yes. My parents moved here 20-some years ago so I've lived here my whole life. I love the people I've met and it's a great community. There's always something to do.
STAR WATCH
More top-flight athletes to keep your eye on this season.

BOYS BASKETBALL
Tazir Cantey, Eastern: After a monster junior season at Lindenwold in which he was among the state scoring leaders, this explosive guard is now suiting up for the Vikings in his final season.
Matt Delaney, St. Augustine: Delaney, whose mother Jeannine and older brothers Tim and Andrew were also South Jersey basketball stars, is carrying on the family tradition. He is poised for a big senior season before moving on to American University.
Drew Greene, Cherry Hill East: Greene emerged as a top player last year as a sophomore and helped Cherry Hill East reach the sectional final. He is a talented scorer and distributor at point guard.
Zach Hicks, Camden Catholic: A 6-foot-7 senior small forward, Hicks was the leading scorer for the Irish last year and eclipsed 1,000 points for his career earlier this season. He is committed to Temple.
Logan Jagodzinski, Moorestown: Jagodzinski, a 6-foot-6 forward, is effective both in the paint and stepping out to hit a 3 and has been part of a terrific stretch for Moorestown over the last few years. He will continue his career at Rochester.
Wisler Sanon, Paul VI: A key contributor all over the floor throughout his career at Paul VI, Sanon will play college ball at NJIT.
Derek Simpson, Lenape: The Indians' starting point guard since his freshman year, this junior keeps getting better and better. He can affect a game with his scoring, playmaking and rebounding.
D.J. Wagner, Camden: Ranked as the No. 1 sophomore in the country by ESPN, this dynamic guard is following in the footsteps of his grandfather Milt and his father DaJuan in starring for Camden.
GIRLS BASKETBALL
Aaryn Battle, Camden Catholic: After starring at Clearview as a freshman, this versatile guard is now leading the way for the Fighting Irish.
Keegan Douglas, Haddonfield: A four-year varsity starter at point guard, Douglas has led the Bulldawgs to at least 22 wins each season of her career, with three trips to the sectional semifinals and one appearance in the final. She is committed to Loyola.
Hannah Hidalgo, Paul VI: Hidalgo, a sophomore point guard, led the Eagles in scoring last year as a freshman and is doing so again this season while adding outstanding defense for one of South Jersey's best teams.
Katie Kempter, Bishop Eustace: One of South Jersey's top shooters—she won the 3-point contest at last year's South Jersey Invitational—Kempter has been a key player for the Crusaders since she was a freshman.
Marianna Papazoglou, Wildwood Catholic: A senior guard/forward, this Penn recruit is a terrific scorer but plays multiple roles for Wildwood Catholic.
Nia Scott, Shawnee: Scott, a sophomore forward, continues to build on the promise she showed as a freshman and is putting up big scoring and rebounding numbers for the Renegades.
WRESTLING
Jared Brunner, Eastern: Brunner took eighth place in the state at 106 pounds last year as a sophomore, and also won a district title and placed second at regions in a 39-8 season.
Martin Cosgrove, Camden Catholic: After placing third in the state at 170 pounds as a freshman, Cosgrove took home his first state championship at 195 last year. He finished 40-1 and led the Fighting Irish to the Non-Public B state title.
Mike Misita, St. Augustine: Misita was a state semifinalist at 195 pounds last year and ended up placing third. His lofty goals this year include a state title and becoming the first wrestler in program history to win four district crowns.
Cooper Pontelandolfo, Kingsway: Pontelandolfo, who won more than 100 matches and was a state placewinner during his three years at Cherokee, has transferred to Kingsway for his final season and is expected to be one of the top 152-pounders in New Jersey.
Ty Whalen, Clearview: Whalen, a junior, wrestled at 113 pounds as a sophomore and picked up his second district title, his first region championship and took fourth at states while compiling a 46-5 record. He is committed to Princeton.
GIRLS WRESTLING
Rachel Forsman, Eastern: A captain and leader for the Vikings, Forsman was a runner-up at regions and placed fifth at states in her weight class.
Emma Matera, Delran: Matera made school history last year as she became the first girls wrestler to capture a state championship and just the third person overall. She posted a 25-1 record with 22 pins.
BOYS SWIMMING
Michael Gozdan, Bishop Eustace: Gozdan had top-eight finishes in both the 200 IM and 100 breaststroke at the Meet of Champions last year and anchored the Crusaders' medley relay, which took fourth. He is committed to Loyola.
Evan Greer, Moorestown: A key contributor for the Quakers in the backstroke, 100 free and relays, Greer will continue his career at Duke.
Tanner Jones, Gloucester Catholic: Jones is a strong competitor in several events but specializes in the 500 free, in which he placed fifth at the Meet of Champions as a sophomore. He has committed to North Carolina.
Henry McFadden, Haddonfield: McFadden's phenomenal freshman season included a second-place finish in the 200 free and a fourth in the 500 free at the Meet of Champions, as he set school records in both events.
GIRLS SWIMMING
Annie Behm, Cherry Hill East: A two-time state champion and six-time finalist at the Meet of Champions, Behm's fantastic high school career will come to a close this year before she moves on to Notre Dame.
Erin Cavanagh, Bishop Eustace: Cavanagh was the runner-up in the 200 free and 500 free at last year's Meet of Champions, giving her four second-place finishes in the state on her resume. She is headed to Harvard in the fall.
Allison Fenska, Moorestown Friends: A two-time All-American as named by the National Interscholastic Swim Coaches Association, Fenska became the first swimmer in school history to earn an individual state title last year when she won the 100 butterfly. She is committed to Ohio State.
Maddie Waggoner, Moorestown: As a freshman, Waggoner took third in the breaststroke and fifth in the IM at the Meet of Champions. She and her older sister Allie, a senior, were also part of the medley relay that took second in the state.
BOYS BOWLING
Marcus Spann, Washington Township: Spann, a senior, recorded a game average of 220 during the regular season last year and was even better during the postseason as he guided the Minutemen to the Group IV state title and Tournament of Champions crown.
GIRLS BOWLING
Lindsey Hoffman, Eastern: Hoffman, a junior, was a state qualifier last year and helped the Vikings win the South Jersey Group IV championship.
Click here
to subscribe to the free digital editions of South Jersey Magazine.
To read the digital edition of South Jersey Magazine,
click here.
Published and copyrighted in South Jersey Magazine, Volume 17, Issue 11 (February 2021).
For more info on South Jersey Magazine,
click here
.


To subscribe to South Jersey Magazine,
click here.


To advertise in South Jersey Magazine,
click here.