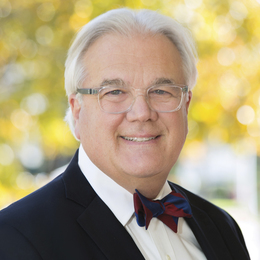 Sponsored Content: Saving Teeth
Dr. Gail Childers brings the latest technology and therapies to patients affected by periodontal diseases.
Periodontal disease is one of the most common in the U.S., affecting more than 47% of people over age 30, and more than 70% of those over age 65, according to the Centers for Disease Control and Prevention. Over time, these infections of the gums destroy teeth and their supporting bones. Dr. Gail Childers, DMD, PA has spent his entire professional career dedicated to diagnosing and treating periodontal disease.
"I save teeth," he says. "And if I can't save them, I replace them."
For more than 30 years, Dr. Childers has operated one of the premier periodontal practices in South Jersey, Periodontal Health Professionals, with locations in Marlton and Turnersville. He provides a variety of treatments, including dental implants, cosmetic periodontal surgery, deep teeth cleaning, gum grafting and an innovative therapy known as the pinhole surgical technique.
As a dual board-certified periodontist and dental implantologist, staying on the cutting edge is at the foundation of his career, and he is regularly asked to speak at professional conferences, sharing his expertise with others in the dental community across the world. He also mentors the next generation of periodontists through his post-graduate teaching at the University of Pennsylvania.
His stature in the profession amounts to unparalleled treatment and outcomes for patients. "Those who have periodontal diseases may have receding gums, oral infections, teeth that have shifted or fallen out. Bad breath is one of the signs and often it's a spouse who will notice it," Dr. Childers says.
Many people don't realize they have a serious disease, leading to neglect or improper dental treatments. Dr. Childers hopes to increase awareness among the general population and dentists. "General dentists don't typically diagnose periodontal disease. I work with dentists in various study clubs and try to get the word out about improving patients' quality of life. Even if you are not experiencing pain, you should check to see if you are at risk. I love to teach patients when they come to me," he says.
Technological advancements have undoubtedly improved patient outcomes, says Dr. Childers. For instance, 3D CAT scans can provide a complete virtual picture of a patient's mouth, showing shifted teeth or bone loss, and helping determine if teeth can be saved or if implants are the better course and what the finished smile design will be. Additionally, digital planning for bone augmentation uses CAD (computer-aided design) technology to construct a bone mold, which leads to more predictable outcomes and lessens infection risk.
Dr. Childers embraces treatments that are less invasive and save time for patients. Implants used to take months from beginning to end, but now take just a few weeks. He's also one of the few periodontists trained in the pinhole surgical technique, a minimally invasive procedure for treating gum recession. Unlike traditional gum grafting, the pinhole technique involves making small holes in the gum tissue and guiding it to the desired position. Collagen strips are then inserted, without cutting or stitching, and only minimal pain and swelling. Results can be seen almost immediately.
More than ever, Dr. Childers says people should not neglect seeing a professional for periodontal treatment, especially as the pandemic looms. "Studies are showing that patients with periodontal disease are at a greater risk of complications from COVID-19 so it is more importrant than ever that they are evaluated and treated," he says. His office has implemented rigorous safety protocols to keep both patients and employees safe, including a pre-appointment phone screening, temperature and blood oxygen check upon arrival, air purifiers in the waiting area and a pre-treatment oral rinse that kills bacteria. "People are often scared of the dentist and we try to do whatever necessary to put them at ease, especially during this pandemic. Some patients have said they feel safer coming here than going anywhere else," he says.
But even more importantly is how oral health connects to a person's overall health. "There is a perio-systemic connection and research shows its relationship to heart disease, diabetes and rheumatoid arthritis. Research shows an inflammatory link throughout the body," Dr. Childers says. "When I see patients, I'm not only asking for their history of periodontal disease, but I'll also assess their overall health. It's important to take the time to talk with patients, even in our post-COVID world. I feel it's a privilege to treat these patients."
Periodontal Health Professionals
48 South Maple Ave., Marlton, 856-983-5593
Click here
to subscribe to the free digital editions of South Jersey Magazine.
To read the digital edition of South Jersey Magazine,
click here.

Published and copyrighted in South Jersey Magazine, Volume 17, Issue 8 (November 2020).

For more info on South Jersey Magazine,
click here

.


To subscribe to South Jersey Magazine,
click here.


To advertise in South Jersey Magazine,
click here.