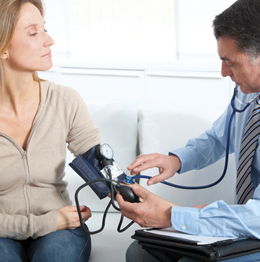 Matters of the Heart
Cutting-edge medical innovations are transforming the nature of emergency cardiac and stroke care in South Jersey.
When Moorestown Police Director Harry Johnson suffered a major heart attack while sitting in his patrol car one afternoon, it could have been disastrous, even fatal. But instead, the emergency call triggered a chain of events involving the latest medical technology and protocols, which ended up saving his life.
His heart was jumpstarted when another officer used a defibrillator, (required equipment in each police cruiser, thanks to a push from the American Heart Association). Then he was taken to Cooper University Hospital in Camden, to the catheterization laboratory, where chief of cardiology Dr. Perry J. Weinstock knew to decrease the officer's body temperature in order to preserve his brain function, while the team worked to insert a catheter into the blocked artery and use a balloon to restore blood flow to his heart. Today, he doesn't suffer the typical aftereffects of such a severe heart attack, and he continues to serve on the force. Weinstock says this example is only one of hundreds of successful outcomes at Cooper, thanks to recent advances in cardiology.
"The rate of survival after cardiac arrest historically is pretty poor—somewhere down around a 10 or 15 percent chance," Weinstock says. "But with some of these therapies available at Cooper and other hospitals, patients now have about two to three times greater chance of survival."
Rapid Intervention
One of the major advances in care for cardiac patients is quicker intervention, or what's known as door-to-balloon time. "What that means is, from the time a patient gets to the hospital, how quickly can we get them to the cath lab and get a catheter placed inside of their heart, and put a balloon through that catheter and open up that blocked artery," he explains. Thanks to mobile communications technology—which saves time by allowing paramedics to transmit an electrocardiogram directly to doctors at the hospital—and improved hospital policies, a process that only last year would have taken an average of four to five hours is now sometimes completed in as little as 30 minutes.
Part of the shift in the way cardiac patients are treated comes from the state Department of Health, which has identified three South Jersey hospitals—Cooper, Atlantic City Medical Center and Our Lady of Lourdes Medical Center—as specialty heart centers with 24-hour cath labs.
"It's a paradigm shift in terms of the way we help patients," Weinstock says. "The concept there is that there's a specialty heart center waiting for you 24 hours a day. Your local hospital might not be the heart center, so it may make sense to fly or drive that person to a center that can take care of the problem. The state of New Jersey is behind this, so we're going to have specialized centers that are designated as STEMI hospitals that can take care of the sickest patients 24 hours a day."
When it comes to strokes, speed is equally as essential. Dr. Kenneth Wu, medical director of the inpatient unit at Marlton Rehabilitation Hospital, emphasizes that the sooner a stroke victim seeks medical attention, the more successful their rehabilitation will be.
"Everyone knows if they have chest pain to go to the emergency room, but if people have numbness or tingling in their arm, they tend to just wait a while and hope it goes away," Wu says.
Throughout South Jersey, hospitals and doctors are continuing to improve the way they treat heart attack and stroke patients, which means you don't have to look far to find cutting-edge medical treatment. Last month, Lourdes Health System announced its acquisition of Associated Cardiovascular Consultants, one of South?ern New Jersey's largest medical practices, with seven offices and 31 cardiologists. "This model is similar to the ideal promoted by forward-leaning organizations such as the Mayo Clinic and Geisinger Health System," says Alexander J. Hatala, chief executive at Lourdes Health System.
Cooper is also in the process of building a new cerebral vascular center designed, like the cath lab, to treat stroke patients in a timely manner 24 hours a day.
Evolving TechnologyB Within hospitals, new technologies and medications continue to improve outcomes for heart attack and stroke patients.

Dr. Joshua M. Crasner, chief of medicine for Kennedy University Hospital in Washington Township, says that instead of a balloon angioplasty, the majority of patients now receive stents, which remain in the artery to maintain bloodflow. "Stents are ever developing," Crasner says, "and now available are drug-eluting stents, which are coated and slowly release medicine used to prevent reclosure of the coronary artery." This helps to reduce the need for repeat procedures.

For patients in need of a pacemaker, Crasner says the latest models are more compact and longer lasting. "The sophistication has ramped up incredibly over the years, in terms of the computer chip inside," he adds.

New research partly developed at Cooper in the past few years has also changed the way physicians treat patients whose hearts had stopped completely, but who were shocked back to life after only a few minutes. Until recently, doctors could repair a clogged artery in the heart, but patients would still suffer massive brain damage due to oxygen loss. "Now we've learned that if you reduce the patient's body temperature, their brains do better," Weinstock says. "We learned that from victims who fell into icy water." Through a hypothermia protocol, he says, "The metabolic processes of the brain slow down and the brain has time to recover from the event."

Stroke rehabilitation techniques have also advanced, helping patients regain mobility in the arms, hands, legs and throat. "It's all about electrical stimulation now," Wu says. "If you have a weakness in one part of your body, it stimulates the muscles so they don't get too atrophied or weak."

When patients get this level of care, and get it within the recommended time frame, "you're going to save a lot of lives," Weinstock concludes. "And you're not only saving their life, but the quality of their life."

Published (and copyrighted) in South Jersey Magazine, Volume 7, Issue 11 (February, 2011).
For more info on South Jersey Magazine, click here.
To subscribe to South Jersey Magazine, click here.
To advertise in South Jersey Magazine, click here.