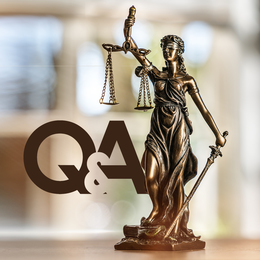 Legal Q&A
Does my spouse get half of my retirement assets when we divorce? I earned it; I want to keep it!
Your spouse is entitled to one half of what was accrued from the date of marriage until the date the complaint for divorce is filed. Keep in mind though that everything is subject to negotiation. If you want to keep your entire portfolio you must give your spouse something of comparable value in exchange. If your spouse accepts the trade off, you can retain your retirement assets.
Colleen T. Collins, Esquire
How should I choose a medical malpractice attorney?
Medical malpractice cases are extremely complex and expensive. You need an attorney who is certified by the Supreme Court of New Jersey as a civil trial attorney and has extensive experience with every facet of a medical malpractice case. The law firm must have the resources to research your case and hire the necessary expert witnesses. You have the right to be represented by qualified and experienced legal counsel. Accept nothing less when so much is at stake.
Haddonfield | 856-795-1444
How long does divorce take with a mediator?
The parties control the mediation process, by accepting compromise to end the time, money and emotion expended in divorce litigation. Some cases resolve in one session; other more complex matters take several meetings. In candid sessions, the mediator considers each position, then guides everyone to shape a satisfactory final result.
Marie E. Lihotz, P.J.A.D. (ret.)
Haddonfield | 856-795-2121
Has COVID-19 impacted child custody arrangements and if so, how?
While the impact of COVID-19 on child custody arrangements was initially viewed as negative for the noncustodial parent who invariably lost parenting time, the long-term impact may actually be positive for the family. As a result of the pandemic, parents have been forced to improve their communications, coordination and creativity to ensure continued contact between children and their noncustodial parent. This newfound collaboration between parents will ultimately benefit children of every age.
Charny, Karpousis, Altieri & Donoian, PA
Karen Rose Karpousis, Esq.
Michelle F. Altieri , Esq.
Nicole Donoian-Pody, Esq.
How has the pandemic impacted your legal practice?
We primarily practice family law and education law and these practice areas have been thriving since March of 2020. While our clients may now need longer to pay us because of their financial circumstances, our special education clients, divorcing and/or divorced parents and clients wishing to "start over" now need us more than ever. Cost-effective child-centered peaceful alternatives to resolving legal disputes; virtually or in person, are now more important than ever!
Howard S. Mendelson, Esq.
What are the three most important things to know about NJ car insurance?
1. Most N.J. drivers don't have enough uninsured (UM) or underinsured (UIM) coverage. UM and UIM protect you and your family if you are injured by someone with no insurance or a minimal policy. Raise to at least $500,000. 2. Do not lower your $250,000 PIP medical. 3. Raise your PIP income benefit to what you earn weekly. Call me for more suggestions.
Cherry Hill | 856-779-9500

What should you do if involved in a motor vehicle accident?
Call 911 even if no one is injured or there is no damage to your vehicle. Unless dangerous, leave vehicles where they are until the police want them moved. Use your phone to take photos of the scene and vehicles. Get names and phone numbers of eyewitnesses and notify your insurance company.
Law Offices of David J. Karbasian, PC
David J. Karbasian, Esq.
Serving South Jersey | 856-667-4666


KarbasianLaw.com
What has the impact been on the court and judiciary as a result of COVID (i.e. timing, delays, getting in front of a judge, trial, settlement etc.)?
Like any other aspect of our lives, the New Jersey Judiciary, and specifically the family law part, has not been spared COVID-19's wrath. First the bad news: Matters take longer than normal. Managing litigation, including trials and motions, are all addressed remotely. The process is slow and cumbersome. The good news is that emergent matters are addressed timely, including domestic violence and, while slow, matters are being heard. So, in COVID world, you can proceed, but be patient.
Moorestown | 856-662-0700
Click here
to subscribe to the free digital editions of South Jersey Magazine.

To read the digital edition of South Jersey Magazine, click here.

Published and copyrighted in South Jersey Magazine, Volume 17, Issue 8 (November 2020).

For more info on South Jersey Magazine, click here.
To subscribe to South Jersey Magazine, click here.
To advertise in South Jersey Magazine, click here.