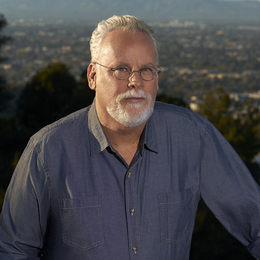 Criminal Mind
With 30-plus books to his credit, Philly-born crime novelist Michael Connelly keeps inventing clever obstacles for his characters to overcome.
Fiction has a very short list of living titans. Stephen King and James Patterson come to mind. As do J.K. Rowling, Nora Roberts, and Danielle Steel. One can easily argue that Michael Connelly has earned his place in this very select club.
Connelly, 64, has penned more than 30 novels, including several New York Times bestsellers, that have sold in excess of 74 million copies worldwide. His characters have evolved to live beyond the pages of his books. His long-running character Harry Bosch, an LAPD detective, is the basis of the Amazon Studios series Bosch—Connelly serves as executive producer—and several of his novels have been adapted to the big screen.
Bosch and another familiar protagonist, the "Lincoln Lawyer" Mickey Haller, star in Connelly's newest novel, The Law of Innocence, which drops this month. Just as loyal readers will no doubt delight at the chance to read the continued exploits of characters they know so well, Connelly admits to feeling a keen fondness for the personas he imagined into being.
"I've been writing Harry Bosch since the 1980s, and even though I've spent 30-plus years with this character, he's still pretty fascinating to me," he says. "I've always felt there's more to say, partly because of the character, and partly because of the city he lives and works in, which remains ever-changing. Going back to him becomes a joy. I don't always write about the same guy, but Harry Bosch is the tree trunk, and there a lot of branches that take me away from him."
Connelly, who was raised in Wayne, moved to South Florida at age 12. He now splits his time between Tampa and the hills of Los Angeles. During a nearly hour-long interview, he spoke with us about topics ranging from his new novel, to the event that sparked his interest in crime fiction, to the "scam" his parents used to move the family from Philly to the Sunshine State.
Q&A
The Law of Innocence brings together your characters Mickey Haller and Harry Bosch. Mickey finds himself in a tight spot and has to fight his way out of it. What do you like most about the story?
In every book, you give your character a mission or put them in a tight spot and have them figure out how to get out of it. With Mickey, he can't be in any more of a tight spot. In the first chapter, he's arrested for murder. He feels he can't depend on anyone else as much as himself, so he elects to defend himself. He's also dealing with the obstacle of being held in jail; his bail has been set vindictively high because the judge doesn't like him. The challenge for Mickey, and for me, is that he's stuck in a jail cell and having to defend against a murder charge. As a writer, you're always trying to find new challenges and obstacles. With Mickey as a character, I like his ingenuity and his relentless pursuit of the truth as he goes about trying to beat the system. The other aspect of the story, and this goes back to the [book's] title, is that Mickey is smart enough to know that the American justice system delivers a verdict of guilty or not guilty; it's doesn't declare that you're innocent, so Mickey has to win in the court of public opinion. He has to find the true killer. That's the law of innocence.
I've read that you had an interesting personal experience in Florida that hooked your interest in crime drama.
My mother was voracious reader of [detective] novels, so books were always a part of my life, but I didn't grow up in this kind of world. The experience you're referring to happened when I was 16. I was a semi-witness to a crime, and that experience was impressive to me. I was in my car, and I saw something, a car-jacking, and from the safety of my car I trailed him and saw him running into a bar. It was a biker bar, and the cops went in—this was in '72—and took everyone out of the bar, and everyone had long hair and a beard. I spent the night in a police station in Fort Lauderdale, looking at bikers [in a lineup]. I met with a detective, a no-guff type of guy, but I couldn't make this detective happy. I couldn't convince him that "No, you don't have him." It didn't end well. They let me go at dawn and never arrested anybody.
After that I moved away from my mother's softer crime novels to hard-boiled crime. Something clicked, in that I liked how those stories tried to explain how we would react, either stepping up or stepping back, in difficult situations. There's a reassuring nature to it. These are the reasons I was so attracted to [the genre].
Did they ever solve the crime you witnessed?
The crime has never been solved. The kicker of that story is that seven years later, after I graduated from college with a journalism degree, I was a police reporter for a newspaper in Fort Lauderdale, and the same detective was still there. I think that experience pointed me in a direction, but it was very subtle. I initially went to college to study engineering, but I quickly decided I would go in a different direction.
A number of your works have been adapted to the screen (Blood Work, The Lincoln Lawyer). Your character Harry Bosch lives on through the Amazon Studios series, Bosch. You're executive producer on the series. Tell me about the role you're play as EP.
It has changed a little from year to year. We're now two weeks into filming our seventh season, and my involvement has been everything from extremely high to not much. I'm now an overseer; I want to watch over what happens to [Harry Bosch]. I'm not concerned that people will destroy the character; there are fantastic writers who want to keep the character true to form, and I've never invoked my status as the author to challenge where the character goes. We've built a team that loves Harry Bosch as much as I do, and I feel very safe with how he is portrayed in this TV show. I can't not acknowledge that it's an amazing ego boost. More than 200 people work on this TV show, and they're all there because of the idea I had for this character. But I'm a book writer first; the Hollywood stuff is still second place.
Writing for Hollywood must be very different than writing a novel. Was it an easy transition?
There's a big loss when you're switching over to writing scripts, because the whole story is told through dialog and action. To me it was a big challenge, especially because I came to this late. I'm way down the road to the inner thinking of Harry Bosch, so I have to think differently. That's the biggest challenge. Instead of describing places, we just film at places that are in the books. I know all kinds of writers who have had issues with Hollywood and had a lot of stuff go bad rather than good, but I've had a good experience.
You grew up in the Philadelphia area and stayed there until 12 or so. Were you happy about the move at the time?
My parents scammed us, in a good way. We moved in December, in the middle of the school year, during Christmas break. My parents told me we would be back. My dad went to Malvern Prep, and he was going to start a rental-car business in Ft. Lauderdale. … [My parents] said, "We'll go down there, do this, and then come back in the summer," so it wasn't a big goodbye. We went to Florida viewing it as a six-month adventure. I don't know if that was the true plan or a soft way of getting us to move without really having to break the news, but we never came back.
Do you remember much about your time in Philly?
My mother was from Upper Darby, and we lived in Devon in a house my father had built. I remember the Mummers Parade. I remember field trips in school. I remember playing sports and playing with my 20 cousins, some who are still in the Philadelphia area; I've gone back many times for weddings and funerals. We have a family reunion every two or three years in the Poconos.
Have you been watching or reading anything noteworthy these days?
I know reading is a way of putting gas in the tank for a writer, but I'm almost ashamed to admit that my reading is so much less now. I might hear about a book that I really want to read, like Blacktop Wasteland [by S.A. Crosby], but I'm not a voracious reader anymore. Most of the time that other people use to read I would rather write, so I write. I also do a fair amount of reading for unpublished writers. Right now, sitting here at desk, I have four stacks of unpublished first novels I'm reviewing. I don't go looking for this stuff, but if people find a way to get it in front of me, I'll read it. I just make sure they know they might not be in for a good ride.
Considering the fact that writing is largely a solitary venture, has the pandemic changed your life changed in a significant way?
I know it's been a brutal time, but I can't complain. It's actually been a throwback for me. Before Bosch, I was the guy who wrote novels at home, and I loved idea of not leaving the house for days at a time. With the pandemic, which basically shut Bosch down until we opened two weeks ago, we were writing scripts from home. To me, the pandemic has pushed me back seven or eight years, which I kind of reveled in. I have a 22-year-old daughter who was out on her own, and she got furloughed. She lives here in L.A. in her own place, and she decided to come home and wait out the pandemic with my wife and I. It was like we were seven or eight years ago and she's back in high school. We got six months with our daughter we didn't think we'd ever get back.
It's been a weird year even apart from the pandemic. Do world events have any effect on your creativity?
In a way, yeah. I'm aware of the role that crime novels play. They start from a place of disorder or uncertainty. By the end, the order is restored, the bad guy is caught and brought to justice, and the world is better because of it. … I'm happy to be part of that. I do know it's hard to not let what's going on in the world get in your head, but if it gets into your head, then it gets into your creativity.
What's next for you?
One of my novels, Fair Warning, got sold to Hollywood, so I'm helping to produce the script. I also have another book coming down the line, but I haven't written a single word of it.


Click here to subscribe to the free digital editions of South Jersey Magazine.

To read the digital edition of South Jersey Magazine, click here.
Published and copyrighted in South Jersey Magazine, Volume 17, Issue 8 (November 2020).

For more info on South Jersey Magazine, click here.
To subscribe to South Jersey Magazine, click here.
To advertise in South Jersey Magazine, click here.