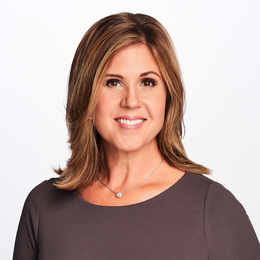 Getting Personal
NBC10's South Jersey correspondent Cydney Long dishes on being a single mom, her renewed love for a good book and why pickleball is her latest obsession.
Where does the time go?
I love being a mom to Charles and Emily, and a single mom at that! Somewhere out of left field, my son is now in high school and my daughter is in 6th grade. I'm still pinching myself. I'm incredibly proud of their patience and perseverance. The pandemic has been tough enough on adults, let alone all our kids. It has fortunately given us more time together as a family and made mom a better cook.
Speaking of school
.
I graduated from Shawnee High School in 1989 and was always a jock. Lacrosse. Basketball. Track. We (Renegades) were state champs in lacrosse all four years, defeating fierce competitors-and rival-Moorestown. I can still hear the voice of Coach Sue Rudderow drilling the calisthenics in the breezy fall weather. I went on to study Mass Communications at The University of South Florida in Tampa. Thankfully, my Aunt Margo (a Haddonfield native) lived near campus.
The Pandemic.
Reporting during the COVID-19 pandemic
has been some of the toughest work we've done under stressful circumstances. I must credit NBC10 for being at the forefront and thinking of anything and everything to keep our crews safe and informed. Never before in my 20-plus year career have I had to report from my kitchen table, but what doesn't break you makes you stronger.
Finding time to relax
.
My new favorite daily routine is taking time out to just take it down a notch from work. Yoga, meditation, a bike ride or bath. I also discovered the Geneo Treatment facial and warm stone massage at Rejuvenation Day Spa in Hammonton.
Anyone up for some pickleball?
My friend Michele told me about this pickleball thing, which I always thought was reserved for seniors. It turns out I was wrong. Who knew it would be such an amazing workout, calorie burn and have you showered and in bed by 9 p.m.! If you haven't played, it's a must try. Grab your paddle and let's pickle!
In the National Spotlight
.
I don't have an air date just yet, but I had the exciting opportunity to be interviewed for my role covering and uncovering the GoFundMe case involving Philadelphia homeless veteran John Bobbitt and a South Jersey couple that was determined to be a scam and resulted in their arrests. Stay tuned, the American Greed documentary series airs on CNBC.
There's one person I'd like to interview before the end of 2020.
Kellyanne Conway. Why, you might ask? She's a Jersey girl, an author, a former counselor to President Trump and recently contracted COVID-19. She's also a mother of four and made the tough decision to leave her political career to make her family a priority.
Pick up a book.
Let's face it, life keeps us busy and on the go. Being home more during the pandemic has forced me to work at setting a better example for my kids by reading more.Emily now wants to visit Hawaii after reading about Pearl Harbor. Helping our kids understand our American history will inspire. My current reads are Untamed by Glennon Doyle and Maybe You Should Talk to Someone by Lori Gottleib.
Fun local ties
.
Hammonton is home now, but Haddonfield is also close to my heart, as it was the family home of my mom Susan. In the early 1950s, my grandfather John Schweigart (known as "The Great Scott") held the heavyweight belt as pro wrestling champion. A former Wildwood Crest lifeguard, my pop-pop used to love to mow the lawn in his wrestling shorts and high socks—perhaps just to embarrass my mom as she arrived home from Haddonfield High School.
On a final note
.
A little more than a year ago we had to say goodbye to our dad, Theodore "Teddy" Gill. He left an invaluable impression on myself, my brother Ryan and all of our six siblings from Washington Township to Wildwood. His lessons were that we should always work hard, life should be enjoyed with friends and laughter, and everyone should be treated with kindness. He wouldn't love the pandemic, that's for sure. But his motto—change creates conflict and conflict creates growth—is more profound to me now. We miss his fun, crazy, charismatic, confident and authentic character every day.
Click here to subscribe to the free digital editions of South Jersey Magazine.

To read the digital edition of South Jersey Magazine, click here.
Published and copyrighted in South Jersey Magazine, Volume 17, Issue 8 (November 2020).

For more info on South Jersey Magazine, click here.
To subscribe to South Jersey Magazine, click here.
To advertise in South Jersey Magazine, click here.