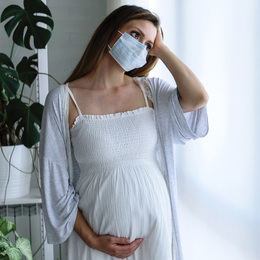 Pregnancy and the Pandemic
Expectant mothers are at an increased risk during COVID-19, but hospitals have been taking extra safety measures to protect them and their babies.
Vulnerable patients have been hospitals' biggest priority since COVID-19 hit, but it's not just COVID-positive patients doctors and nurses have been working round the clock to protect—this includes expectant mothers as well. According to the Centers for Disease Control and Prevention (CDC), pregnant women are at a higher risk when it comes to COVID-19.
"From what we've seen, [evidence] does suggest symptomatic pregnant women who have COVID are at a risk for more severe illnesses compared to non-pregnant women," says Dr. Rachel Kramer, lead physician for Virtua Medical Group, OB/GYN. "The CDC does include pregnant women in its increased category, meaning there's a small significant risk of things like ICU admission and mechanical ventilation."
Because of these higher risks, the New Jersey Hospital Association (NJHA) has been working closely with hospitals such as Virtua, as well as state departments since the pandemic began, developing protocols and stringent safety precautions to protect expectant mothers and those caring for them.
"More than 60,000 babies have been born in New Jersey hospitals since COVID-19 arrived in our state in March. NJHA continues to work very closely with key stakeholders like the N.J. Department of Health, Department of Human Services and Department of Children and Families to meet the needs of expectant mothers," says Cathy Bennett, president and CEO, NJHA. "As part of that work, we've been a partner at the table to develop processes and protocols to ensure the safety of all patients during the pandemic."
One of those protocols is cohorting—separating spaces and separating staff who care for non-COVID cases, including labor and delivery, Bennett says.
"NJHA also helped establish the visitation guidelines that reduced risk by limiting the number of visitors in OB units, while ensuring that laboring women could still have one support person accompany them," she says. "An important part of that effort was ensuring that women could have doulas there supporting them throughout labor and delivery."
For Gabrielle Hackney, having her husband, Jeremy, with her in the delivery room was of the utmost importance. Having a support system by her side is important for just about every pregnant woman, but even more so for Hackney because when the pandemic started, Jeremy wasn't allowed at any of her remaining doctor appointments leading up to her delivery and on top of that, she was considered a high-risk pregnancy.
"I was 26 weeks pregnant when COVID hit and I was a high-risk pregnancy, going to the doctor every four weeks and no one could come with me," the Glendora resident recalls. "I went alone and always had to get ultrasounds, wear masks and get screenings. During ultrasounds, I couldn't even have my phone out in that room and couldn't send pictures of the baby right there. My husband would get a text message update rather than see the baby with the ultrasound."
Despite these hardships, Hackney says she understood why the precautions were in place and ultimately had a great experience giving birth at the hospital.
"The nurses were welcoming and nice and went out of their way to make sure everyone was comfortable," she says.
Hackney's sister, Ally Chando, also gave birth to a healthy baby this summer but had a completely different experience.
"The prenatal part felt pretty normal," she says. "My doctor's office allowed one adult to accompany appointments, which I know wasn't the case at other offices. That was a perk for us. I was nervous about the delivery, but the doctors and nurses were awesome and answered every question I had and made me feel at ease about my hospital stay. That being said, I thought they were good at managing expectations. They were super upfront, saying we can talk about this now, but to keep in mind this can change tomorrow."
Chando was disappointed family members could not be in the waiting area, as she was used to her loved ones ready to meet the newest family member after her previous three deliveries.
"Having to break the news to our kids when we left for the hospital that they wouldn't be able to come up and meet the baby or come see us for a few days, that was a huge thing for me," the Runnemede resident says. "Things started opening back up around that time and my husband and I held out hope thinking they would let immediate family come in, but it's for the best they didn't."
In addition to the risks from COVID, pregnancy can be a stressful time in general. Kramer says she constantly talks to her patients to make sure they are doing OK and offers ways to decrease stress and anxiety that can potentially arise.
"We've been asking all our patients throughout the pandemic not just how they are feeling physically, but how they are doing mentally," she says. "It's extremely important to stress to expectant mothers they maintain prenatal care appointments, wear masks, be socially distant, wash hands and limit contact with others to stay safe and healthy. When they do these things, it makes them feel a little more in control. We tell patients to meditate to help calm them. If a patient needs a therapist, we encourage them to talk to someone.
"Most everyone knows someone who has COVID at this point. They may have a good friend or a family member who got sick, or someone they lost. It's very stressful, especially on the African-American community, women of color and the Hispanic community. We certainly see a diverse population of patients; we care about them and want to make sure they are doing OK. We have social workers that can help and all kinds of support that we engage with our patients to help get them through this."
Chando's biggest concern was going into the hospital and feeling safe among COVID-positive patients.
"Ahead of time I thought, 'How could I walk into a hospital right now, have this little baby and feel safe?' But my doctors helped me get through that and when we got to the hospital, every fear went away," she says. "Everyone made us feel as safe as they possibly could and did an amazing job. Besides the [face] masks, it almost felt normal. It felt like every other time we were there."
Kramer says the hospital is still a safe place for pregnant patients and COVID-19 should not deter anyone from getting pregnant.
"If you want to get pregnant, you should get pregnant. I've had two colleagues who are pregnant—one delivered a month ago and another will deliver next month. It's safe to deliver in the hospital," she says. "What's not safe is not going out with friends not wearing masks. As long as pregnant women are wearing masks, staying socially distant and following CDC guidelines, there's no reason why they can't have a healthy pregnancy and a wonderful delivery."
Looking back, Chando says her advice to pregnant women would be not to worry and to trust the health professionals.
"I wish I didn't worry as much leading up to this," she says. "I put so much emphasis putting into going into the hospital that I couldn't wrap my head around feeling safe, but once we were there, it was great."

"Every baby we have delivered and every mom in our hospital has gotten the same care as you would get as it was not during a pandemic," Kramer says. "It's a special experience to deliver a baby, and it's still that way. It's still a wonderful, exciting experience."
Click here to subscribe to the free digital editions of South Jersey Magazine.

To read the digital edition of South Jersey Magazine, click here.
Published and copyrighted in South Jersey Magazine, Volume 17, Issue 8 (November 2020).

For more info on South Jersey Magazine, click here.
To subscribe to South Jersey Magazine, click here.
To advertise in South Jersey Magazine, click here.