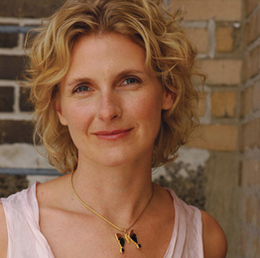 Love Story
Why Elizabeth Gilbert, bestselling author of Eat, Pray, Love, finds herself in a committed relationship with New Jersey.
Even before the year of therapeutic traveling she chronicled in Eat, Pray, Love—the wildly successful bestseller that made her the missing link between gonzo journalism and chick lit—Elizabeth Gilbert had more in common with a tumbleweed than, say, New Jersey's own state tree, the Northern Red Oak. In the name of research and, well, life, she hopscotched from a stint on a Wyoming dude ranch, to waiting tables in Philadelphia, to tending bar in the Lower East Side of Manhattan at Coyote Ugly. (Her article for GQ was, in fact, the basis for the movie.)
So, it almost comes as a surprise that the poster woman for wanderlust has, for several years now, become deeply rooted in New Jersey. "I think I'm going to play out my scene here," says Gilbert, who lives near the Delaware River in Frenchtown.
"It's a wonderful, special community that sort of has a Brigadoon-like feeling. It just doesn't move at the pace of the outside world. It's a special place and I'm deeply involved in my neighbors' lives, and it's home," she says. "My husband loves it too. We have a little business that we run together and we just settled in. We have pets, a garden, a house, neighbors, friends. We're married to the town, just as much as we're married to each other."
Coming from Gilbert, that's saying a great deal.
After all, she followed Eat, Pray, Love with Committed—out this month in paperback from Penguin—some 279 pages spent grappling with her own dread of the institution of marriage. (Gilbert and her now-husband, both divorcées, found their vows necessary due to immigration restrictions.) So to become this settled—wed not only to a person, but also to a place—seems to run counter to Gilbert's very nature.
On the other hand, it could also be a symptom of withdrawal from the overwhelming high of Eat, Pray, Love—which spent more than 200 weeks on The New York Times bestseller list—that Gilbert was craving a more humble, stable existence.
"Eat, Pray, Love in general took on a life that was so much bigger than me, from the beginning when it just exploded in popularity and just took on its own existence. And the movie"—starring Julia Roberts—"was another extension of that," Gilbert says. "But I still don't watch it and think, 'Oh my god, that's me!' I think, 'Oh my god, that's Julia Roberts walking around where I used to walk around.'"
If Eat, Pray, Love represented romantic possibility, Committed deals in sometimes-harsh reality. Though it's superficially the continuation of the love story that began in the previous book, this story is, at its heart, a sociological and philosophical study of marriage, leavened by Gilbert's personable tone and deeply personal anecdotes.
"Committed is like a bran muffin with chocolate frosting on it," Gilbert says. "It sort of looks like a cupcake, but actually there's quite a bit of nutrition in there. In a way, I feel like I struck a bit of a bargain with the readers of Eat, Pray, Love that said, 'Listen: If you want to know what happens next to these two characters who you probably came to care about, I will tell you what happened to Liz and Felipe, but in the meantime you're going to have to come away from this book learning something more than when you went into it. And hopefully it will inform your own life and help you make better, wiser decisions for yourself.'"
After three years of marriage, Gilbert says the research—which included interviewing everyone from her own mother and grandmother to Hmong women in Vietnamese hill country—has helped strengthen her own relationship.
"Every single day, I think about something I learned while writing that book," she says. "Marriage is the big?gest investment emotionally, financially, politically, socially that you ever make in your entire life, and we enter into it without giving it a moment's thought. And I think, especially for young women, it's really difficult to tell the difference between the longing to have a wedding and the longing to get married."
These days, Gilbert is working on a new novel—and planning yet another trip, this time to Tahiti and the South Pacific for research purposes. Her novels are just as research-driven as her nonfiction books, she says, so this sort of study is essential. "My weakness as a writer is invention, and my strength is as a reflection of the world. So I need to go out in the world and roll around in it before I can really get my head around what I want to say," she says.
"For me, research is fun," she adds—which is why this working vacation offers so much excitement for her. "Literally, there's nothing in the world that can make me happier than that."
Published (and copyrighted) in South Jersey Magazine, Volume 7, Issue 11 (February, 2011).
For more info on South Jersey Magazine, click here.
To subscribe to South Jersey Magazine, click here.
To advertise in South Jersey Magazine, click here.