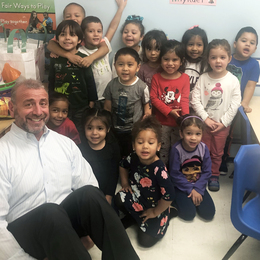 Sponsored Content: Giving People a Hand Up Through the Power of Education
Through the support of The Joseph Fund of Camden, children in the city are receiving education and essential resources that lay the foundation for success in life.

When people give to a nonprofit organization, there is not always an immediate connection that their donation is making an impact on real human beings. People like Erianny Reyes, for example. At age 3, she and her then-pregnant mother immigrated to the U.S. from the Dominican Republic, settling in Camden where her father and maternal grandmother had been living and working. Reyes attended St. Joseph's Pro-Cathedral School on the east side of Camden for kindergarten through eighth grade. In middle school, Reyes was struggling with math and her parents could not afford an after-school program to help. That's when she heard about a youth center supported by The Joseph Fund of Camden (TJF).

"I solely went because I heard they helped with homework at no charge. I had no idea that I would continue in the program and that it would help me with my college application process the amazing way it did," says Reyes, who attended Camden Catholic High School and is the first person in her immediate family (and first person in her whole family on her mother's side) to attend college. She is currently a sophomore at Villanova University with plans to become a doctor of physical therapy.

Reyes is just one of more than 600 examples in which support from The Joseph Fund of Camden is transforming lives through the power of education.

The Joseph Fund was founded in 2012 by the iconic Monsignor Bob McDermott, "Father Bob," to continue providing the crucial resources, financial and otherwise, needed to extend his vision of creating opportunities for those marginalized and most vulnerable in Camden. Since its inception, TJF has reinvested more than $2.5 million in the people of Camden.

When looking at the acute circumstances that befall those in Camden, TJF's Executive Director, Jim Catrambone, says their main mission is to provide the structure (for all who are willing to work ) to become self-reliant and functional in society, and that starts with education.

"The most helpful aspect when breaking the cycle of multi-generational poverty and providing stability in a home is education," he says. "This year, our board of trustees narrowed our focus on keeping children in quality schools and creating scholarship opportunities for ages 3 through secondary education."

The core belief is rooted in the idea that handouts don't work. "We give people a hand up," Catrambone continues. "We can provide the resources, but the success and accomplishments are up to them."

Scholarships for the St. Joseph's Child Development Center (CDC), where children of young families have a safe and stimulating learning environment to prepare for kindergarten and well beyond, help parents maintain their jobs. In many cases, parents are working two jobs to make ends meet and the CDC provides before- and after-care services through a Wraparound program, as well as providing nutritious meals, helping to fill the gaps.

No one at TJF could have predicted how crucial these services would be as 2020 progressed. "The population we serve is disproportionately more vulnerable to the effects of this pandemic. These families earn less than $25,000-$27,000 a year with most working in the hospitality industry: housekeeping, food and restaurant service—fields directly impacted by COVID—and many may have lost their jobs," Catrambone says, adding that these families often occupy multi-generational homes, elevating the risk of illness. "At the CDC, we immediately saw 20 families in full distress—no income, no food—and were scared to death of the ripple effect."

Like so many others, the 2020 pandemic is preventing The Joseph Fund from hosting its largest annual fundraiser, The Hand Up Gala. This has put critical funding in jeopardy. However, thanks to help of its many generous community partners, TJF projects it can meet growing crucial financial needs.

TJF looked at how it could take any burden possible off the plate of these families, also seeing the risks of tuition default at the elementary school, St. Joseph Pro-Cathedral, that the fund helps support. In response, TJF raised $62,000 in emergency scholarships to underwrite tuition shortfalls for 59 students. Funds were also used for ShopRite gift cards to ensure families could satisfy the basic need for food.

Anny Garcia is a Camden resident whose children have been part of the CDC. As a single mother working full time, making minimum wage, she relied on the CDC as a safe space for her kids and received a scholarship through TJF to help her afford the extended care Wraparound Program. "My kids loved it and loved being able to play outside on the jungle gym and ride the tricycles. They would always come home talking about what they did that day," she says. "I knew my children were being cared for and were safe while I was at work."

Garcia has struggled during this pandemic and is currently unemployed. To assist her, The Joseph Fund provided gift cards to help purchase groceries. "This is more than just a daycare. They are close like family, and we feel loved and respected. They care about what is going on in my life and always try to help in any way," she says.

"This is an insight into the hard decisions being made out there; we rely on our partner organizations like the CDC staff to direct us on the support we can lend, in this environment. Most recently that's been the need for basics and essentials—the things we take for granted," says Catrambone.

Hearing from real people like Garcia and Reyes and witnessing the toll the pandemic has taken on South Jersey's neighbors in Camden, it's clear that the need for donor support is greater now than ever.

"Any amount goes a long way in making a difference in a child's life, not just today but in the future," Catrambone says. "It's never just about the ABCs and 123s in Camden. Being able to address trauma, to inspire self-determination and help raise the aspirations of children and young families, transforms lives, neighborhoods and a city. If we can relieve this small piece of worry from these families' minds and provide the reassurance and the confidence they need to focus on other things, it doesn't just help Camden, but all of society in the long run."


To donate, visit JosephFundCamden.org.
The Joseph Fund of Camden
Click here
to subscribe to the free digital editions of South Jersey Magazine.

To read the digital edition of South Jersey Magazine,
click here.

Published and copyrighted in South Jersey Magazine, Volume 17, Issue 7 (October 2020).

For more info on South Jersey Magazine,
click here
.


To subscribe to South Jersey Magazine,
click here.


To advertise in South Jersey Magazine,
click here.