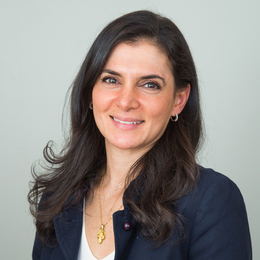 Sponsored Content: A Welcomed Addition
Dr. Ruby Hanna is the newest doctor to join the staff at Comprehensive Cancer & Hematology Specialists and is excited to be a part of the South Jersey community.
Comprehensive Cancer & Hematology Specialists is already known as one of the leading practices in South Jersey treating oncologic and hematologic disorders. The center offers state-of-the-art treatment and personalized attention to each patient led by a talented and experienced staff that includes Richard L. Gordon, D.O. and Trina Poretta, D.O.
Next month, Comprehensive Cancer & Hematology Specialists is adding another experienced physician to its practice—Dr. Ruby Hanna. Dr. Hanna has been in private practice since she graduated from her fellowship in 2007 and is excited to make the transition from North Jersey to South Jersey.
"I think it's a wonderful opportunity for me to work in a community with a fantastic group of doctors," Dr. Hanna says. "The level of expertise is unparalleled and they are held to an amazingly high standard. The group already consists of top-quality physicians."
Comprehensive Cancer & Hematology Specialists provides services for all oncology types, including breast cancer, such as lung cancer and a variety of gastrointestinal malignancies, as well as a broad spectrum of hematologic disorders. It is a smaller practice which allows Dr. Hanna and the rest of the physicians to offer personalized care to patients, one of the reasons why she is excited for this new opportunity.
"This allows us to be more personal and intimate with our patients, and gives us the time we need to spend with them. I have a strong desire to get to know each patient on an intimate level to provide them with personalized care as well as the most modern care in terms of the advances that are coming out in oncology," Dr. Hanna says.
She became serious about pursuing medicine and knew she wanted to become a physician in high school after being inspired by her father, who was a primary care physician in Pittsburgh, where she grew up.
"I was truly inspired by the relationships he formed with his patients and I could see the impact he had on their lives," Dr. Hanna says. "It was the first source of inspiration for me to pursue medicine."
She initially pursued a medical career modeled after her father's through an Internal Medicine residency at Lenox Hill Hospital in New York City. It was during that residency program where she was first exposed and became drawn to the field of hematology and oncology. She recalls very specific interactions with cancer patients that left her feeling as though she had a calling which would change her path. She later pursued a fellowship in hematology/oncology at North Shore University Hospital in Long Island, New York where she graduated in 2007.
"It was during my rotation on the oncology unit during residency when I realized my affinity for the specialty," she recalls. "I remember wanting to stay late, not only to gain more knowledge about their cancers and treatments, but also to learn about them as individuals, learn about their lives, their families and how their diagnosis would affect everything. I could see even then that the field was dynamic, and more options were being offered to oncology patients which was exciting and I knew I wanted to be a part of it."
Fast forward to the present time and she says the "field is more dynamic than ever."
"It's changing more than anyone could have possibly guessed," Dr. Hanna says.

"Whenever possible, treatment choice is based upon individual characteristics of the tumor. Specific molecular mutations or genetic mutations will guide decision making. Management of cancer has become more individualized than ever before. It's a very exciting time to be in oncology for those reasons."
Hanna says one of the biggest changes that has taken place in recent years is the immunotherapies available with many cancer types.
"This type of therapy first had its place in melanoma, renal cell cancer and lung cancer—much broader spectrum of tumor types," she says. "Cancer cells are often able to escape recognition by a person's immune system, but these immunotherapies make cancer cells vulnerable to the immune system."
Hanna says breast cancer has also had many advancements in recent years.
"In advanced breast cancer we are able to significantly delay the need for chemotherapy since more oral-targeted medications are now in use," she says. "We are able to treat their cancer with drugs that are more effective and far more tolerable than choices they would have had in the past. Considering quality of life is of utmost importance. Women fighting breast cancer are able to continue their lives, raise families, pursue their careers and have an excellent quality of life while treating their cancer."
Dr. Hanna'sgentle nature and compassion resonates with patients as she gets to know them on a personal level.
"It's an honor to be able to be with these patients and provide them with this service," she says. "It's a matter of getting to know them and forming relationships over time. You earn their trust by the actions you take when caring for them. This allows a partnership to form and puts me in the best position possible to provide them with the treatment they need."
Dr. Hanna says forming these relationships, combined with using the best technology available, is vital and provides for greater success of each patient's treatment.
"This practice is set up in a way which is designed to give our patients a personalized care that's on the cutting edge," she says. "As the technologies and medicines advance, we don't want to lose touch with the personal side of medicine. Having a strong bond with the patient and earning their trust will allow them to overcome fear and anxiety that is often associated with the diagnosis and treatment they will be undergoing. We are not treating the disease, but are treating the person as a whole. I think that this approach directly leads to the best possible outcomes."
It's an exciting time for Dr. Hanna and the Comprehensive Cancer & Hematology Specialists, and she is looking forward to this next chapter in her career as she gets acquainted with patients and South Jersey.
"I'm thrilled about joining this practice, exploring other parts of South Jersey and meeting patients," she says. "It's exciting to become a part of a new community."
Comprehensive Cancer & Hematology Specialists
Click here
to subscribe to the free digital editions of South Jersey Magazine.

To read the digital edition of South Jersey Magazine,
click here.

Published and copyrighted in South Jersey Magazine, Volume 17, Issue 7 (October 2020).

For more info on South Jersey Magazine,
click here
.


To subscribe to South Jersey Magazine,
click here.


To advertise in South Jersey Magazine,
click here.