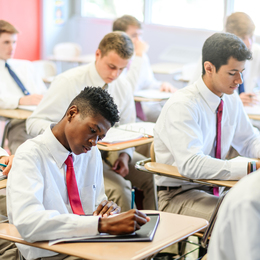 Sponsored Content: Grounded in Tradition: Setting Course for the Future
Bishop Eustace Preparatory School in Pennsauken Township has a long-held reputation as the premier private Catholic Prep school in South Jersey. With new leadership at its helm, it's not only maintaining the traditions that helped form that standing but propelling itself into an exciting future.
Head of School, Jacqueline Coccia, Ed.D., says that Eustace Prep is dedicated to developing self-discipline, integrity, cooperation, responsibility and citizen leadership in students. She is part of the new and accomplished leadership that is ensuring Eustace Prep remains on an upward trajectory as the premier secondary educational institution. Dr. Coccia has a Doctorate in Educational Leadership with a concentration in organizational development, more than 25 years of experience in K-12 Education and 20 years of experience in school administration having served as a superintendent, head of school and principal.
"I believe educational leadership begins with proactive, effective and consistent communication," she says. "This communication depends on my ability to listen actively and attentively while promoting open and honest two-way dialogue, which leads to clear understanding and transparency. This sets the table for the type of environment in which everyone is encouraged to exchange their ideas, opinions, and feedback in a positive and constructive manner."
Dr. Coccia says that Eustace Prep is uniquely situated to help students thrive and achieve success—helping them overcome any challenges that may stand in their way.
"Today's students have many opportunities, but they also face many challenges, some of which have added layers of complexity in today's society," she says. "The happiness
and success of each student is at the heart of my work as a school leader, and every decision I make is considered through this lens. My role as a trusted advisor and compassionate leader is the one that I value most and do my best to uphold every day. Contributing to the welfare of every individual under my care can be a daunting responsibility, but a responsibility that I gladly assume to help make a difference in someone's life."
Helping Students Take Educational Ownership
At Eustace Prep, young men and women take on college-modeled lives where they manage their own schedules across campus and consult with faculty to reach their full potential. After all, one of the greatest endeavors of preparatory school is the development of the self-disciplined student who is fully equipped to excel in college and beyond.
To achieve this, students embark on a journey that fosters educational ownership not only through academics but through athletic accomplishment, as well. Led by Principal Kim Eife, Director of Development Rick Purcell and Director of Athletics Mike McGinn, along with accomplished faculty and staff, students develop responsibility in a cooperative atmosphere to prepare for a competitive world.
The fact is, when students are challenged by the material presented to them, they excel. When opponents test them, they persevere. And when those in need reach out, they step up.
Eustace Prep fosters that independence by providing the resources and support students may need. They also offer a number of unique learning opportunities to help develop students academically. Under Eife's direction, the school has introduced a new STEM Scholar program which includes an interdisciplinary course of study for students that want additional opportunities in science, technology, engineering, or math. STEM Scholars complete additional coursework and will participate in extracurriculars such as robotics club or technology club, depending upon their specific area of interest. As a STEM scholar, students can truly develop a mastery of their discipline.
Eife also highlights the exciting opportunities presented by the Social Studies department, which offers a wide range of courses. There are the courses one would expect like World History or U.S. Government, but there are also upper-level classes like AP European History, AP Macroeconomics and AP Psychology. Eustace Prep even offers a unique college-prep level course on law and criminal justice that looks deeply at themes of social justice. Students go as far as learning how to prepare a brief for a Supreme Court case.
Dr. Coccia says that teachers serve as "mentors to students" and they're committed to making sure that everyone gets the support that they need to be successful not only in school but in life.
Legendary Sports Accomplishments
Those layers of support carry into athletics, as well. A large number of faculty and staff also serve as coaches for the school's 20 different athletic programs. Plus, around 80 percent of the student population participates in at least one sport.
Rick Purcell, Eustace's Director of Development and the Head Football Coach, says that the school's approach is to create a sense of responsibility in student-athletes' lives. They learn discipline, accountability and trust through sports while learning to balance competing priorities.
"We're producing citizen-leaders here—not just bystanders, but those who can seek solutions and solve problems in a diverse community environment," he says. "It begins with our holistic approach in educating our student-athletes. As they embark to college, they are equipped with the necessary experience and tools to take on the mental, physical, and social rigors of college life and beyond."
Purcell is part of that infusion of new leadership into Eustace Prep that will drive the school forward. He has more than a decade of experience in business, marketing, and entrepreneurship and more than a decade of experience coaching. As a former Golden Domer, he was a member of the University of Notre Dame's 1988 National Championship team.
"Part of being a leader means making sure you have the right resources and when you don't, seeking them out," he says. "When our student-athletes get to college they are prepared mentally, physically and socially for the rigors of college life. They go on to excel in college because they have already done it in high school."
McGinn, who has more than 40 years of experience in athletics, adds that it's part of the "360-degree mindset" that is encouraged at Eustace Prep. As students are encouraged to take educational ownership and manage their own schedules, they develop the skills they need to succeed in life. Eustace Prep provides students with the resources that they need to thrive—even when expectations are high.
This carries into a community activism as well. In fact, the school has a graduation requirement that students must complete service hours within the community. But students are known to go well beyond those hours as they become invested in service and outreach—following the example of Saint Vincent Pallotti, who showed the value of bringing faith into action.

It's all about preparing students for life beyond Eustace Prep. Students are guided to becoming leader-citizens in a diverse and constantly evolving world.

Bishop Eustace Preparatory School
5552 Route 70, Pennsauken
856-662-2160 |

EustacePrep.org



Click here
to subscribe to the free digital editions of South Jersey Magazine.

To read the digital edition of South Jersey Magazine,
click here.

Published and copyrighted in South Jersey Magazine, Volume 17, Issue 7 (October 2020).

For more info on South Jersey Magazine,
click here
.


To subscribe to South Jersey Magazine,
click here.


To advertise in South Jersey Magazine,
click here.