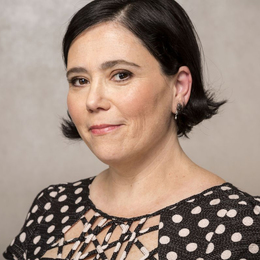 A Different World
As life returns to normal, Alex Borstein readies to once again "disappear" into a beloved character from another time and place.
Alex Borstein sure knows how to steal a scene. Or at least Susie Myerson, her character from The Marvelous Mrs. Maisel, does. In one scene she's walking around the Catskills with a plunger slung over her shoulder, pretending to be a plumber. In another she's learning how to swim, as an adult, in the pool of the Fontainebleau hotel.
"Susie is used to failure," Borstein says of her character, a curmudgeonly talent manager for Miriam "Midge" Maisel, played by Rachel Brosnahan. "She's used to pushing a boulder up a hill only to have it roll right back down over her. But she never gives up. She's going to push it up a different hill if she has to. She's going to get to the top no matter what."
A three-time Emmy winner (twice for Mrs. Maisel, once for Family Guy), Borstein is eager to step back into the shoes of Susie, Miriam "Midge" Maisel's cranky and blunt curmudgeon of a talent manager. Until it's safe to reunite on set, she and her Mrs. Maisel castmates have been keeping in touch through WhatsApp and texting.

In the meantime, the 49-year-old actress has spent the past seven months in "super isolation" with her two young children at home in Barcelona, Spain.
Besides Mrs. Maisel, Borstein is known for her previous work on MADtv, Gilmore Girls, and Getting On, as well as lending her voice to the Lois Griffin character on the animated series Family Guy. Acting represents only part of her busy life. She also executive produced Bombardier Blood, a 2019 documentary about Chris Bombardier, a daring mountain climber with hemophilia who scaled each of the famed Seven Summits, the highest peak on every continent, including Mount Everest. She wanted to raise awareness about bleeding disorders; she is a carrier of the disease, and her daughter and brother have hemophilia.
The first three seasons of The Marvelous Mrs. Maisel—featuring some scenes set in Philadelphia—are streaming on Amazon Prime Video.

Borstein talked about why the show has become such a fan favorite, how she hopes her character evolves, and her eagerness to head back to work as life returns to normal.
Q&A
What was it like reading the script for the pilot episode with Rachel Brosnahan?
It's a lot like speed dating. It is either there from the beginning, or it's not. It's something you can't put in a script. That's how chemistry works.
What kind of feedback do you get from your fans?
Most of them love the female buddy comedy aspect of the show. We remind them of what they loved about Lucy and Ethel. When I came to New York to audition for Susie and Rachel walked in it was like a Mary Richards and Rhoda Morgenstern kind of thing that just worked. We could see that it jelled really well.
[Writer, director, and co-creator] Amy Sherman-Palladino creates these incredible and beautiful worlds, and so from the time I read the first script I knew that this was one of those worlds. I think viewers fall in love with these worlds, and it is fun to be part of it. I knew that this part was special because Susie is such a cool woman to play.
What is your impression of the show?
In some ways, it feels like a cozy and safe nostalgic fantasy. There's something warm when you show up on the set and it's all designed in the '50s and '60s; all the period cars are parked on the streets, and everyone who walks by is Dapper Dan and dressed to the nines. There is something so lovely, calming, and charming about this show, especially during more difficult times.
How have you spent the past few months of the pandemic?
Homeschooling my children. Cooking classes and violin lessons for my daughter, and hip-hop classes for my son. We did a lot of baking, eating ice cream, enjoying family movie nights, puzzles, a few local car trips, and "terrorizing" the family dog.
T

here's no such thing as too much dessert or too much screen time. It's about getting through the day, and finding something to laugh really hard at every day.
Why are you eager to start filming Season Four of Mrs. Maisel?
It's fun to disappear. With all the weight of the coronavirus, the elections, the vaccines, and the hatred people seem to have for one another, it's just nice to disappear into a character and into a different period of time, a different era, and just play there for a little while.



Click here
to subscribe to the free digital editions of South Jersey Magazine.

To read the digital edition of South Jersey Magazine,
click here.

Published and copyrighted in South Jersey Magazine, Volume 17, Issue 7 (October 2020).

For more info on South Jersey Magazine,
click here
.


To subscribe to South Jersey Magazine,
click here.


To advertise in South Jersey Magazine,
click here.