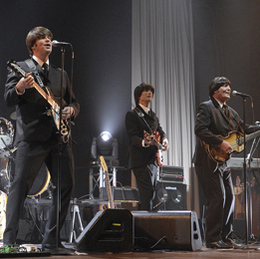 Rock 'n' Roll Will Never Die
From grown-up garage bands to high-drama tribute acts, these South Jersey musicians still know how to rock.
In his teens and 20s, Dom Reitano played in his share of rock bands. But over the years, jobs, family and the demands of everyday life all got in the way. His rock 'n' roll dreams were put on hold.
Now, at age 43, the Washington Township resident may boast a little extra weight and a little less hair. But he's still got plenty of stage presence, and a voice that invites comparisons to a South Jersey Steve Perry. So, more than 10 years after leaving the stage, he found his way back, this time as the front man for a local bar band, Dom Pablo and the Flying Burritos.
Rock, says Reitano, has "always been one of my hobbies and true loves." Still, he admits, getting up on stage isn't exactly the same as it was two decades ago. "Now that I'm a lot older it's a slight bit different," says Reitano, a landscaper with a wife and a child. "Back then it was a lot more fun; now it's a bit more like a job.
"But," he adds, "I still get excited before a show."
After all, we may get older, but the allure of rock stardom never seems to fade. Across South Jersey, in soundproof basement studios with the latest equipment, a grown-up alternative to the teenage garage band is taking root. They may not fit into their old tight jeans and leather jackets. They may not write their own music. But, in a time when the U.S. record industry is hemorrhaging money—concert ticket sales, long considered one of the strongest segments of a flailing industry, declined 15 percent in North America in 2010—the interest in these cover bands (and their over-the-top brethren, tribute bands) appears to be at an all-time high.
That popularity has inspired musically inclined locals to take their shows farther than ever before—from party bands that book regular gigs at neighborhood pubs, to tribute bands who are finally drawing the fans, gigs and financial success they only dreamed of as original acts.
Of course, making it on the ever-crowded local bar circuit requires more than desire. It also demands tireless self-promotion and a willingness to do just about whatever it takes. "We'll play anywhere they have money and electricity," says the fortunately named Billy D. Light Jr. of Voorhees, whose band, the Billy D. Light Trio, augment occasional gigs playing their own original music with weekly or bi-weekly engagements serving up rockabilly and surf covers from the 1950s and '60s. After 22 years together, the band never practices anymore; their songs are, Light says, "mostly three chords and attitude" anyway.
"I believe in putting on a rock 'n' roll show. When somebody comes to see my band they're going to see a great show—guys having a great time and playing great music. There's nothing worse than seeing a band that looks like they're phoning it in," he says. Light says that, though his band often plays several shows each weekend, he never tires of the hobby. "The music is the one thing that I can do that helps me get rid of all my junk," he says. "I just really love playing. I love getting up there and playing and communicating with people through music."
So what's the difference between a garage band and its grown-up counterpart? For one thing, says Mullica Hill's John McCarty, "We can afford better instruments now, and better equipment than we could back then."
By day, McCarty, 44, has a dental practice in Washington Township. But on nights and weekends, he's the drummer and backup singer for Final Vinyl, the kind of band that pleases crowds at Ott's or, in the summer, at the Atlantic City Hilton, with assorted covers by The Doors, Chuck Berry and Santana.
Some of McCarty's patients also number among his fans. (Though he doesn't advertise his band in the office, the classic rock soundtrack in lieu of the traditional waiting room Muzak tends to tip them off.) "I had been playing drums ever since I can remember, so once my career settled in a little bit, I decided I wanted to get back to it," he says. "It's a complete escape from the everyday. It's a great release."
Fans can't always make it to shows as often as they'd like—after all, many have kids at home. But, so does McCarty. It doesn't hold him back. "I don't want to ever stop playing," he says.
That's the same degree of passion that drives local tribute musicians—who take the stage with complete onstage personas, costumes and lavish stage shows.
Bob Taylor manages the drum department at Sam Ash in Cherry Hill. But it's his alter ego, Bobby Alucard, (that's Dracula backwards), who invokes drummer Peter Criss in Cold Gin, a decade-old Kiss tribute band that performs up and down the East Coast.
Taylor fell in love with Kiss when he was 6 years old, and saw the band on the PBS program 3-2-1 Contact. After years playing with original bands that got regional attention but never quite took off, Taylor had grown frustrated. "It's not that it's impossible, but it's really, really hard to make it as an original band," he says.
So, he went back to what had drawn him to rock in the first place.
Now, he spends about an hour applying Criss' precise makeup and costume before each Cold Gin show, of which every element is designed to replicate the band's 1977 Love Gun tour. "We do get paid for it, but it's more than that. It's keeping the spirit of Kiss alive," he says.
Mount Laurel's Jon Ferris takes the tribute band concept to an even greater extreme with his act, Britishmania. The John Lennon impersonator has a full cast of 12 to 15 Beatles on call, meaning his band could theoretically perform in a New York theater and at an L.A. bar mitzvah at the same time—a trick even the original Fab Four never managed to pull off.
The former banking industry manager created Britishmania in 2003, and has developed an elaborate stage show with four costume changes, covering iconic Beatles performances from 1962 to 1968. He's on track to do about 50 shows this year. "To be successful at anything you have to be passionate about what you're doing, and I've always been passionate about the Beatles," Ferris says.
The trick, then, is being passionate about the band, without getting caught up in it. It's easy to lose yourself in the mockstar fantasy, says Taylor.
That's one reason he prefers to use a stage name: to keep his makeup-coated, leather-clad stage life separate from the one where he spends days helping suburban high school students and weekend warriors pick out new drum equipment. "A lot of guys get so into the character it's almost scary—they lose sight of who they are. I've seen it happen. When you do the show like that, it's almost like they treat you like the real Kiss," he says. At a recent show, one fan even brought him a handmade scrapbook as a memento. But for many South Jersey musicians, rock is their reality. They may get older, but they say they can't let it go.
The Juliano Brothers, regulars at bars from Medford to Maple Shade, grew up playing together in a family band. Now, at age 51, drummer Mike Juliano says he's not ready to slow down. "It seems as if you're getting older, and you're trying to take it easy," he says. "But we're the total opposite of that.... We don't get tired of it. We just love to play music."
Published (and copyrighted) in South Jersey Magazine, Volume 7, Issue 11 (February, 2011).
For more info on South Jersey Magazine, click here.
To subscribe to South Jersey Magazine, click here.
To advertise in South Jersey Magazine, click here.