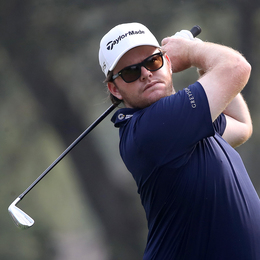 Winning Over the Crowd
In just two seasons on the PGA Tour, South Jersey native Harry Higgs has already become a fan favorite with his everyman vibe and inspired play.
Golf may have a reputation as a stodgy, country club sport, but Harry Higgs is doing his best to turn that stereotype on its head and bring some much-needed energy and levity to the finest courses across the country. The South Jersey native is not exactly the class clown of the PGA Tour—he takes his craft way too seriously for that—but it turns out his infectious personality was exactly what the highest level of the sport needed.
Whether he's playing George Costanza in the recreation of a classic Seinfeld scene, wildly celebrating an amazing shot or sharing a funny story on a podcast, Higgs has quickly been embraced as a fan favorite in his brief time on the Tour.
"It seems like these ridiculous things follow me and there's always drama and things for people to laugh at, and I'm all for that," Higgs says. "The PGA Tour is great golf from great players, but it is also an entertainment product. I'm not trying to entertain anybody but it seems to be happening so I'm going to keep doing it."
Of course, Higgs has also made a name for himself with his play. In 27 starts over the last two seasons, he has made 17 cuts, finished in the top 10 three times and twice been a tournament runner-up. He has already amassed career earning of close to $2 million and is currently ninth in the FedEx Cup season standings.
He knows as well as anyone that the road to the top is not always a smooth one, and he certainly put in the work to get this far. Turning pro in 2014 after a standout college career at Southern Methodist University, he had stops on several minor tours before being called up the "big leagues" last fall.
Along the way, he grew weary of constantly seeking financial backing to support his dream, and briefly considered giving up golf in 2017. It was during the final day of a tournament at PGA Tour qualifying school, or Q-school, that Higgs challenged himself to start performing like he knew he could or start thinking about a new career.
"I don't know what clicked that day," he says. "I've won some tournaments at different levels, but that day was the most pressure I've ever been under. It was all self-inflicted but that's how the game goes for all of us. Under that pressure I went out and shot 63, and we were off and running after that."
Now that he's achieved his goal of reaching the PGA Tour, the 28-year-old plans on sticking around for years to come. He spoke to us about his career in golf, why he still has strong ties to South Jersey despite spending most of his childhood in Kansas City and the one local course he can't wait to play.
It has been quite a journey on the way to the PGA Tour, with stops on the PGA Tour Latinoamérica and the Korn Ferry Tour. Do you feel like you paid your dues?
One hundred percent. Last season was my rookie season and part of making it was I was a better golfer than I was years ago and I continue to get better, which is great. But honestly, I just felt after the way in which I got here that I was just ready.
What has your approach been to competing against the best players in the world?
I realized if I kept on doing the same things I could beat people at this level too. It's certainly not any easier, but you have to do the right things, stay hungry and think you're the best player there even when you don't have your best stuff. I've been able to do that and I've had some great results over the last year and a half, spanning two seasons. I feel like I should have two wins, but it's hard to win out here.
One of those second-place finishes came last month at the Safeway Open, where you carded a 2 on a par-5 for a walk-off albatross in the second round. What was it like to seize the attention of the golf world with one shot and your ensuing celebration?
That was the ninth hole but it was my 18th of the day. … Thank God it was my last, because if I had to go play No. 10 after that, I would've been so pumped up that I don't know where I would've hit it. It's amazing the ridiculous stuff that cameras have caught me doing and for some reason people seem to enjoy laughing with me or at me—I'm fine with either.
That day is just one example of how you've become a fan favorite already. People just seem to relate to you. Is that a surprise?
It's not lost on me that I look different and may interview different than a lot of guys. Some guys give what I call "the company line" to the media. … I don't mind doing interviews; I can talk, so I'm happy to answer any question and some people think I'm funny. I had a different path and my antics on the golf course might be a bit different, but I think I'm pretty normal. It's still weird as all get-out that people have taken to me in basically two years. I hope good play keeps following and they get to see me more.

A lot of people have now seen the Seinfeld homage video you and a few friends on tour did where you recreated the classic marine biologist scene, with you playing George Costanza. How did that come about?
We were in Raleigh and they asked me to do it. I'm always kind of the "yes man." We did it on a Wednesday and I was up studying my lines on Monday and Tuesday because I was the one doing most of the talking. I was panicked that if I couldn't memorize my lines, the other three people in the video with me were going to be there all day. But they cut it and we changed camera angles a few times, so it wasn't as hard as I thought. That was fun.
I know U.S. Open champion Bryson DeChambeau was a college teammate of yours at SMU, but what other veterans on tour have taken you under their wing?
Honestly, not many. It's not that they haven't been kind. We're all friends and everybody has their close group of friends. If you asked anybody for help, they would be happy to help. I know Jordan Spieth some from being in Dallas. I guess Jordan is a veteran but he's younger than I am. Another buddy of mine from SMU is Kelly Kraft. I have a Kansas City connection with Gary Woodland. I've played some practice rounds with him and he was kind and helpful. … I got to spend some time with Tom Watson recently and we had some brief chats basically about winning golf tournaments. The events that I finished second in, I thought I played really good golf. I played well enough to win and it just didn't happen. He reiterated to me to keep doing what I'm doing and if I get in that position enough, wins are going to come. Then you learn from that the next time. Everybody out here is so great and almost everyone is willing to help in any way they can. You want to know that you helped a guy out and then you went out and beat him when he was at his best.
Are there any guys you've been in awe of? Or do you try to put your fandom aside since you're competing against them?
I was paired with Adam Scott last year on Sunday. I played the first hole so poorly because I was so amped up and I made a double [bogey]. But then I flipped and said to myself, "I don't care who you're playing with, let's just play good golf." And I had a great day after that. So I guess I'm not in awe. Bryson is pretty jaw-dropping with what he's doing and what he's able to do, especially since I've played so much golf with him for two years in school and rounds at home before he got huge and started hitting the ball nine miles. That's awesome and it's fun to watch because he hits it so far and it's straight. I don't even know if I can be in awe, though, because I'm never physically going to be able to do that anyway. If I just keep doing my stuff, I know it's good enough, so I don't need to pay attention to everyone else, because they're all so good.
Is it true that you once played a round with President George W. Bush?
We played three holes together. He was well behind us, but he plays golf extremely fast and he caught up with us. Normally you just let him right through, but the last few holes were stacked up so he decided to join me and a few buddies from SMU. That was pretty cool. If you can hit shots in front of him, you're doing alright. You're pretty amped up to meet any president; it's such an honor, regardless of what you think of him. It was fun to see him in that light because all you ever see is him on TV, giving State of the Unions. He let his guard down a little bit and we had some fun for three holes.
How long did you live in South Jersey?
I was born there and I want to say we lived in Somerdale for five years before we moved to Columbus, Ohio for two years. Then we moved to Malvern just outside of Philadelphia, and I was there for second, third and fourth grade. In fourth grade we moved to Kansas City and that's where I physically spent the most time growing up. But I'm certainly not a Chiefs fan; I'm an Eagles fan through and through. My mom and dad are from the Philadelphia area, and all my aunts and uncles and cousins are in the area. We love getting back there whenever we can, for holidays and things like that. It feels like home and it feels like those are my people. I spent more time in Kansas City than anywhere else, but Philadelphia is home, for sure.
You said you're a big Eagles fan. How did you celebrate their Super Bowl win?
We were in Scottsdale, Arizona. My parents rented a place for the month of February so we were there with them. We ordered pizza and cheesesteaks from a place called Corelone's and then the Eagles won and it was the greatest day ever.
Do you get to see many games in person?
We went back the weekend before Christmas last year and did a Villanova-KU [Kansas University] game at the Wells Fargo Center and then the Eagles-Cowboys game at the Linc. We get back every now and again. I would love to get back for one or two Eagles games a year and some Nova games. I'm a huge Villanova basketball fan because my dad went there. Obviously with the way the world is right now, we're not doing that any time soon. But all the folks I grew up with in Kansas City are huge KU fans so I hate KU and I love that Villanova has been beating them lately. And I hate the Cowboys because every Eagles fan has to. I live in Dallas now and I wear green as much as I can down there. I love to see the Cowboys lose.
Have you played Pine Valley or any of the other well-known courses in the South Jersey or Philadelphia area?
I have not played Pine Valley. There are a few members at the course I'm at in Dallas, Trinity Forest, who are also members at Pine Valley. I've gotten some invites but I haven't been able to make it work yet. There are so many great courses in Philadelphia, but I wasn't playing much when I was living there. When we moved to Kansas City, we lived on a golf course and that's when I really got into it.
Who first got you into the sport?
I actually first started playing down at the Jersey Shore. We would go down to Avalon, Stone Harbor and Sea Isle for the summer with family and everybody was around. Me and my little brother were making air swings in the backyard and a good buddy of my dad, Bobby Johnson, told him he had to get us clubs. I think it was Avalon Golf Club—my dad went in and got us U.S. kids' sets. That's where we got our first clubs, and we really started playing when we got to Kansas City.
What's your favorite course you've played?
We played Cypress Point out in Monterey, California and that's unbelievable. Pine Valley or Augusta would be the ones I want to play the most. I've been to The Masters but I haven't played the golf course. Those are the three that are always at the top of the rankings. I need to get back to the Philadelphia area and play some golf. There's Aronimink, Philadelphia Cricket Club—there is so much good golf there. I have to find some time to visit family more often and play some golf in the Philadelphia area and Jersey.
Now that you are starting to establish yourself on the tour, what is the next goal for your career?
I've made my biggest jump in the world rankings and I want to try to keep my position in the FedEx Cup as high as I can throughout the year. I'm not going to change anything because I know what I do is good enough. I just want to get better at what I do, get into the majors and contend and win golf tournaments. I know there's a Ryder Cup coming up; I don't pretend that I'm a lock but I would love to make the decision hard on [captain] Steve Stricker and I'd love for him to choose me, or just get in on my own on points. Playing golf and representing the USA would be awesome. I like to set my goals as high as possible so I keep working toward them every day and I don't ever feel like I've made it.




Click here

to subscribe to the free digital editions of South Jersey Magazine.

To read the digital edition of South Jersey Magazine, click here.

Published and copyrighted in South Jersey Magazine, Volume 17, Issue 7 (October 2020).

For more info on South Jersey Magazine,

click here

.


To subscribe to South Jersey Magazine,

click here.


To advertise in South Jersey Magazine,

click here.