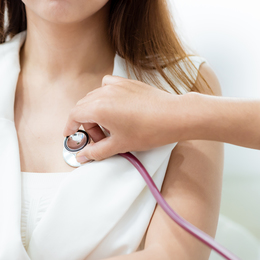 A Better Way
As women's health care evolves, early detection remains the key to effective treatment.
As we proudly wear pink during the month of October to celebrate breast cancer awareness, anyone that's been personally touched by the disease knows the battle doesn't end when the calendar flips to November. The same could be said for any number of other medical concerns related to women's health. Along with cancer, heart disease and chronic lower respiratory diseases make up the leading causes of death for females. And though women tend to live an average of six-to-eight years longer than men, those extra years are not always spent in good health.
Around South Jersey, some of the area's leading medical professionals are working to combat women's health issues with a dedicated focus on elevated care using the latest advancements and cutting-edge treatments to produce favorable results.
Dr. Sherrill Little, co-director of woman's imaging at South Jersey Radiology, says breakthroughs like 3D mammography have greatly helped the ability to detect cancer sooner and thus help improve the long-term outcome for patients.
"Technological advancements have increased the cancer detection rate, particularly for small, early cancers. The earlier a cancer is found, the more likely it can be treated and cured," says Little.
With the pandemic still raging, a big fear throughout the medical community is that patients will delay routine checkups and required screenings out of fear of contracting the virus. While it's a valid concern, the dangers of putting off necessary care can cause much larger issues the longer they are ignored.
"Screening studies, such as mammograms, play an important role in early detection of cancer," says Little. "Delaying these screening studies can result in a patient having a more advanced cancer when it is finally detected. This means additional treatments are sometimes needed, and it sometimes means that the chances of the cancer being cured are lower."
While it's true that the odds of having breast cancer increase with age, that doesn't mean that women in their 30s and 40s—and in some unfortunate cases, even younger—need not worry. One of the most important risk factors in younger patients is a family history of breast cancer in a young, first-degree relative. That doesn't mean your 83-year-old grandmother, but rather a mother, sister or daughter who had premenopausal breast cancer.
"In patients with a significant family history, a genetic consult is often helpful to determine if they are someone who should be tested for a genetic mutation that could be associated with breast cancers at an earlier age. Even in these younger patients though, there is often no significant family history of breast cancer. All patients should seek medical care for a palpable mass, a focal area of persistent breast pain or nipple discharge," says Little.
Nearly 10 million Americans suffer from osteoporosis and about 80% of that makeup is women. That can be partly attributed to having smaller frames and thinner bones, but the likelihood also increases when women reach menopause. Because estrogen helps to protect bones, once it decreases sharply, bone loss can occur.
"The biggest cause of primary osteoporosis is loss of hormone," says Dr. Linda Brecher, division chief of rheumatology with Rowan Medicine. "Because women go through menopause between ages 45 and 55, they are spending the second half of their life without hormonal stimulation. Bone is stimulated by estrogen, so in the first 10 years of menopause, women could lose 10 to 20% of their bone strength."
Brecher is helping to open up a new treatment center in Stratford to cater to those dealing with the condition and she says it's long overdue. "Osteoporosis is kind of underrecognized and undertreated, and unless people realize they are at risk, we end up missing the opportunity to treat these people and they end up with fractures," she says.
One of the things that makes it so hard for patients to identify is there's no pain associated with the bone loss. Often the first manifestation of the condition happens when there's a fracture which could be the combined result of having low bone density and suffering a fall.
"We have to worry not only about [patient's] density, but about their stability as well," says Brecher. "If you fall from standing height and you break something, its osteoporosis. If you fall down a flight of steps, that's trauma. But [any female] who's had a broken bone after menopause should be evaluated."
When a woman reaches 65 years of age, it is recommended that they get a dual-energy X-ray, or DXA, to measure bone density. Brecher says this simple imaging test goes a long way in correctly diagnosing osteoporosis early enough that a proper treatment plan be created to help avoid future low-trauma fractures or compounded effects like associated morbidity and mortality.
Brecher also says younger women would serve themselves well by getting adequate calcium and exercise to help stimulate and strengthen their bones while they are still developing.
"Bones peak at age 30, so up until then there's still the opportunity to make the best bone you can," she says. "It's important to achieve peak density in their younger years. From 30 to menopause, things pretty much stay the same. It's just when that loss of estrogen happens that things start to deteriorate."
With the world paying more attention to their health and well-being than ever before, modern advancements in medicine should continue to drive more successful outcomes. Thankfully, the pandemic hasn't completely taken the focus away from making that a real possibility.

Click here
to subscribe to the free digital editions of South Jersey Magazine.

To read the digital edition of South Jersey Magazine,
click here.

Published and copyrighted in South Jersey Magazine, Volume 17, Issue 7 (October 2020).

For more info on South Jersey Magazine,
click here
.


To subscribe to South Jersey Magazine,
click here.


To advertise in South Jersey Magazine,
click here.