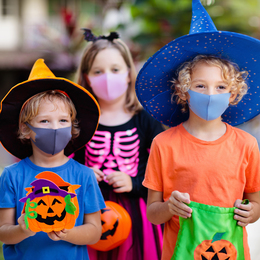 Trick or Treat
As a celebration that naturally encourages the mingling of strangers, Halloween will undoubtedly look different this year, yet those in South Jersey are determined not to let COVID scare them from having a good time.
Every October, the one-square-mile town of Merchantville transforms into Monsterville. Homeowners decorate their front yards with elaborate, spooky displays, and events throughout the month celebrate all of Halloween's fun frights, including a haunted house put on by the eighth grade that draws people from across the region. Not to mention the crowds on Halloween night itself—reportedly thousands—who come to walk door to door in hopes of a good scare or two and a brimming bag of candy.
Of course, as it has done to just about every aspect of our lives, the pandemic is also changing Halloween celebrations across the country. This year's Monsterville will be scaled back, says Sean Fitzgerald, Merchantville council president. "Our public events group put together some great ideas back in January that all had to be scrapped, unfortunately, because they were all based on having group gatherings," he says.
But things are not completely ruined, just different. Merchantville's eighth grade haunted house, which is the biggest class fundraiser—generating nearly $10,000 in profits last year—normally winds through a large recreation field and playground in town. This year, they've adapted and are turning it into a parade through town on Oct. 24.
"Kids are going to create floats, put the school band on a float and decorate trailers and cars and weave through town to avoid congregating along one particular street," Fitzgerald says. "This is usually a big thing for the borough but this is still a way to give kids something to remember in a tough year."
In this new reality, we live by the adage "something is better than nothing," and until earlier this month, speculation was rampant about whether or not Halloween would be completely canceled. Most towns were hesitant to announce anything until both the Centers for Disease Control and Prevention (CDC) and Gov. Phil Murphy weighed in.
"Just like when we were preparing to reopen schools, we knew at any moment things could change. If towns planned and dedicated resources to Halloween events, advertised them, obtained sponsors and then suddenly had to pull back— it's a challenge. None of this has been easy," Fitzgerald says.
Trick-or-treating was one of the hottest topics across social media, as the CDC deemed traditional trick-or-treating a high-risk activity. Images of cleverly crafted, socially distant candy distribution methods went viral, like the "candy chute," a tube leading from the home's front steps and right into a child's candy bag, or a "candy graveyard" with treats scattered around the lawn for children to pick without contact. All of these creative solutions shared the goal of giving kids a somewhat normal experience after a year of chaos.
"We overwhelmingly heard from residents that they didn't want Halloween to be canceled," says Chuck Watson, mayor of Medford. "Kids had months of being locked in their houses, not seeing their friends. Trick-or-treating is a chance to have something normal and safe under the guidelines provided by the Department of Health and governor."
Gov. Murphy issued those guidelines at a press conference earlier this month, which included "encouragement" to wear a mask covering the mouth and nose, even if the costume itself has a mask, and that candy should not be in a communal bowl with multiple hands reaching in. Officials also recommended limiting how many homes are visited while trick-or-treating.
Watson says towns have a duty to share these guidelines and encourage residents to be careful, just like with everything else. "One of the hardest aspects of this pandemic is that these are not mandates. We can't enforce something that's just recommended. … It comes down to, if you don't feel comfortable trick-or-treating or handing out candy, then don't," he says.
Chris Summerhayes, director of policy, planning and programs in Cherry Hill Township, says the township will offer a printer-friendly sign for residents to post on their front door. "The sign will indicate to trick-or-treaters that that residence is not participating in trick-or-treating this year," he says. Other towns have plans to do this as well, including Runnemede and Washington Township, while some are telling residents to turn off lights if they are opting out.
In Merchantville, officials are discouraging door-to-door trick-or-treating, and are spreading the word to neighboring towns whose residents venture there annually. "We have thousands of people who come here, from Philadelphia, Camden, Pennsauken—we even had people from Massachusetts come one year because their relatives told them about it," says Fitzgerald. "We can't adhere to the crowd size restrictions in our little town."
People across South Jersey are making decisions on an individual basis. Haddon Township resident Jessica DeGrecio says her family, which includes a 5-year-old son, have made alternative plans for Halloween. "We don't plan to trick-or-treat. I don't think many people will be offering candy due to concerns about COVID," she says. "My friend is having a kids Halloween party with a small group so at least if we find out later there was COVID present, we can track it and quarantine appropriately."
This time of year is typically even more festive for DeGrecio, whose son's birthday is Oct. 30. "We always had a big Halloween-themed birthday party with our relatives who would dress up and he looks forward to it every year. Our relatives are nervous coming over this year so we decided to cancel it and do a small bonfire with s'mores in lieu of a big party and cake indoors," she says.
COVID won't stop Takara Kapral from Halloween events, including haunted hay rides. On Halloween night, she's tossing around the idea of putting out a set of kitchen tongs with the candy, but the West Berlin resident says she's still undecided on how long her kids will trick-or-treat that night, whether just a few close houses or more.
"We will have our masks on when going up to doors to prevent risks to people and ourselves. … After that we are going to a friend's party where about 10 to 15 families are bringing candy and kids are going to trick-or-treat around the yard with us," Kapral says. "Halloween has to go on. Kids are losing enough as it is and it's not fair to lose Halloween, especially if people take precautions."
For Lauren Dutka of West Deptford, the No. 1 thing her kids care about is getting dressed up. Her 3 ½-year-old daughter will be Rapunzel and her 2-year-old son a Ghostbuster. Although big group trick-or-treating won't happen, a smaller version will go on. "We will most likely just trick-or-treat at a few houses on our street, people who know us and would be excited to see the kids dressed up, but the plans otherwise include going to a Halloween party at a friend's house whom we've been with during this time and just let the kids have fun in their costumes," Dutka says.

Continuing fall traditions has been important—they've gone pumpkin picking and plan to carve Jack O lanterns. "I'm hoping it's nice weather on Halloween so we can be outside—that makes me feel safer," she says. "We just have to keep the kids from hugging; it's hard and we have to be cautious, but I don't want them to lose out on the fun traditions we got to do as kids."




Click here

to subscribe to the free digital editions of South Jersey Magazine.

To read the digital edition of South Jersey Magazine, click here.

Published and copyrighted in South Jersey Magazine, Volume 17, Issue 7 (October 2020).

For more info on South Jersey Magazine,

click here

.


To subscribe to South Jersey Magazine,

click here.


To advertise in South Jersey Magazine,

click here.