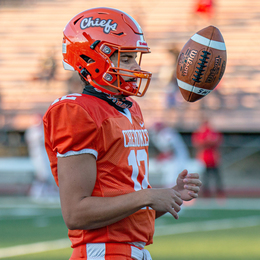 A Season to Remember
After the pandemic threatened fall sports, these standout athletes are savoring every moment they have with their teams.

Billy Osborn, Cherokee football
After missing his sophomore season with an arm injury, Osborn won the starting quarterback job last year as a junior and led the Chiefs to the South Jersey Group IV championship. He is primed for a big senior season before embarking on a college career.

SJM: Obviously, it looked like this season might never happen because of the pandemic and nobody is sure how long it will last. Are you grateful for whatever opportunity you get to play?
BO: Definitely. I'm extremely grateful. In the later parts of quarantine it was looking kind of scary. Me and my friends didn't know what we were going to do if there was no season. I'm glad that everything has worked out and everything is looking good so far. I guess it shows you can play sports at a safe level. I was saying to the guys before [our season opener] that we don't know when it can get shut down. It can be any day; if there's one case on the football team, it can get shut down and it's happened in some other towns. So you have to take every game and every practice like it's your last.

SJM: Are you trying to hold each other accountable as far as doing the right things?
BO: Definitely. We have a very close group of guys and for the great majority of us, football is the No. 1 priority. We're all focused on football.

SJM: Last year was a special season. What are your memories of making a run to the sectional championship?
BO: It was awesome. We had a great group of seniors; it wasn't as big a group as ours but there were some great leaders and players. It kind of got rough in the middle of the year and we went on a losing streak. But after the Lenape game, right before playoffs, everybody changed their mindset. The regular season didn't count [anymore] because we made the playoffs and we wanted to win every game. … We even got to play the sectional championship at home and it was really exciting.

SJM: Have you always been a quarterback?
BO: I've been playing tackle football since third grade and I've been a quarterback since fourth grade. I love when you throw a good pass and the wide receiver catches it; that's one of the most satisfying feelings ever. I feel like the quarterback position really speaks to me. I'm a pretty smart kid and football makes sense to me. … I think of it like a chess match. When I explain football to people who don't play, I tell them that a lot of it is mental. You can't just go out and play like other sports. There has to be plays on offense and defense and it goes back and forth. I love that, and the quarterback kind of has to be the coach on the field.

SJM: Are there any particular quarterbacks you like to watch in college or the NFL?
BO: I always watch Dan Marino film. I loved watching Marcus Mariota when he was at Oregon and I love watching Kenny Pickett at Pitt too.

SJM: I like how you picked two Pitt quarterbacks, since that's where your dad Bill starred in college. What kind of influence has he had on you?
BO: My dad is great. He's always helping me out and he's a huge influence on me. He's my No. 1 supporter. We go over game films together and he's super supportive.

SJM: I know your brother Trent is a freshman wide receiver at Cherokee, trying to work his way up to the varsity. Are you hoping to get a chance to play together and connect on some passes?
BO: That would be awesome. That's a dream of my parents, especially my mom. Hopefully he does what he needs to do. During quarantine we threw to each other a lot.

SJM: How is the recruiting process going for you?
BO: It's a huge goal of mine to play in college. Unfortunately with the whole COVID situation, it's made everything a lot harder. I feel like a different player than last year, but I was unable to go to camps to show that off. But that's still my goal and that's what I'm going to try to do, regardless of the level.

SJM: Did you focus on getting a lot bigger in the offseason?
BO: Yes. Last year I probably played at 165 pounds and I'm 195 now. [I got there] with a lot of lifting and a lot of eating. I finally reached my final height; I'm about 6-4 now. I guess I was a late bloomer when it comes to growing. I stopped growing last year and I was able to start filling out.

SJM: You had to battle injuries earlier in your career, right?
BO: Yes. I had a growth plate injury. I threw my arm out; my elbow popped on a pass and I had to have surgery. When I think about missing games if we had a COVID case, I know what it's like to miss games. I've been playing football my whole life, so not being out on the field my sophomore year was terrible. I don't want to go through that again, so I'm doing everything I can to stay healthy and I appreciate the game so much more.

SJM: When you're not playing football, how do you like to spend your time?
BO: I like playing pickup basketball, going to the driving range to hit some golf balls and just hanging out with my friends. I go four-wheeling sometimes, and going to the beach in the summer is a big thing, especially this year because that was one of the only things we could do. I used to go down to Wildwood all the time because that's where my dad grew up, but this summer I spent a lot of time in LBI and a little bit in Ocean City and Sea Isle.

Mike Jarvis, Shawnee football
A senior two-way lineman, Jarvis especially shines on defense and played a major role in the Renegades' march to their third straight sectional championship last fall, finishing with 80 tackles, five sacks and four forced fumbles. He will continue his career in the Big Ten at Wisconsin.

SJM: What is school like this year?
MJ: I'm all virtual and it's pretty easy. I miss being in school, but at the same time it's not even close to how it was last year, before COVID hit. There's at most 10 kids in a classroom, so it's not what it was.

SJM: How worried were you that there would be no football season?
MJ: In the beginning I was definitely a little worried, because obviously I want to have my senior season. I wanted to have another season under my belt before I go to college. When we started the preseason I realized that it was going to work out. Everyone is being smart about it so we can play.

SJM: What kind of sacrifices have you had to make to have a football season?
MJ: We've just been telling each other to be smart. It's a big sacrifice to stay in a lot of days, but we all have the goal to play some football and to win. We have to sacrifice the fun things for something bigger than one night out.

SJM: Shawnee has won the sectional championship every year since you've been there and has a proud tradition. What has it been like to wear that uniform?
MJ: It's awesome. Growing up as kid I always went to the games and Shawnee has always had a great program for as long as I've been alive. It's special being a part of it the last three years and winning championships has been incredible. It means a lot to wear this jersey, and obviously there's a lot of hard work you have to put in and a high standard that coach [Tim] Gushue and the other coaches hold us to.

SJM: What do you enjoy about playing defensive line?
MJ: I definitely like the physicality. There is constant action in the trenches; every play you're locking up with someone and have a chance to make a play.

SJM: Did you enjoy the recruiting process and why did you pick Wisconsin?
MJ: It was fun. Obviously, if COVID didn't hit it would've been a lot better because I actually could've gotten to visit some of these places. But it was good talking to coaches and building relationships with everyone. I chose Wisconsin because [head coach Paul] Chryst and [defensive line coach Inoke] Breckterfield treated me awesome. They were professional and calm, not pushy. It was a laid-back process and not stressful for me and my family. I love the tradition there and Madison is a beautiful place. Coach Breckterfield coached Aaron Donald for two years at Pitt, so he obviously knows what he's doing.

SJM: Do you know what you want to study in college?
MJ: I want to stay in the sports/exercise science world and probably study kinesiology. I'm very excited for college. I'm going in January for early enrollment, so as soon as high school football is over, I'll have a month and a half and then I'll be out there starting another career.

SJM: What do you think you'll miss most about home?
MJ: Just hanging out with family and friends. All of my family lives in Jersey.

SJM: What do you like to do when you're not playing football?
MJ: I like the Shore and I like to fish. I just started hunting recently so that's a new [hobby] for me. I think Wisconsin is a pretty big hunting area so I'm trying to get better for when I get out there. Hanging out with family and friends is probably the top thing I like to do.

SJM: Since there will be no sectional championships in football this year, what are your goals for the season?
MJ: I think there will be two extra … games at the end, so we want to win those. I don't know how it's all going to work this year, but I just want to better myself and everyone around me.

Riley Tiernan, Eastern girls soccer
Tiernan, a senior forward, has put together a remarkable career at Eastern and owns several program records, including most career assists and most assists in a season. She has also been a key piece of two sectional titles and one state championship and is poised for another memorable season before moving on to Rutgers.

SJM: Since fall sports were in jeopardy of getting canceled, are you grateful to have a chance for a senior season at Eastern?
RT: Definitely. Most people who play club know that it was taken away, so we went a good three or four months without soccer. I think that showed us how lucky we are to play soccer and how appreciative we should be. It made my love stronger for it, because you usually want something you can't have.

SJM: How did you keep busy during quarantine?
RT: I was actually training at the fields on my own and training little kids too. It was a time when I found I could fix my own things that I needed to work on, because sometimes when you're at practices with your club it's hard to focus on individual things because you're working on team stuff. I was able to improve on my weaknesses with all of that time.

SJM: Aside from working on soccer, how did you spend your time?
RT: I watched a lot of soccer. My favorite player is [Lionel] Messi so I watched a lot of his highlight videos and some of his games to learn. I also talked to my friends on the phone and stuff like that.

SJM: What is school like this year?
RT: It's a hybrid, so you can go two days a week and the rest is online. I'm staying online until soccer season is over, just to be safe. I don't want to cause anything to happen and put the season at risk. I definitely miss [school]. This virus was a wakeup call and it made you realize the little things you take for granted, like seeing your friends in school. At first, doing everything online was fine, but it gets kind of boring.

SJM: What has it meant to represent a renowned program like Eastern for the last four years?
RT: It definitely means a lot. Growing up, all I was surrounded by was soccer. I never really imagined actually being there, but once you get there you realize how cool it is and how it's a once-in-a-lifetime opportunity. A lot of times high school soccer is very serious, but you also make a lot of friends and do team bonding. I think that's all important to how you play with your team as well.

SJM: You are leaving with a few school records. What does it mean to do that for one of the best programs in the state?
RT: Getting the records is a bonus, but mostly it's all about the team. I find that if you work hard and do what's best for the team, those things will come along with it. You don't have to focus on those things; they will just happen.

SJM: Do you enjoy setting up your teammates for a goal more than scoring yourself?
RT: Most of the time, yes. I consider goals and assists to be equally important, because without the assist there would be no goal, but also without the person finishing there would be no assist. So they're both very important to the game.

SJM: How big of an influence has your older sister Madison [a former professional player] been on your career?
RT: My sister is a huge part of my success. She was always there to look up to and a lot of people don't have that so I think I was really fortunate growing up. Not only can she teach me, but just watching her in life and taking notes of what she does and wanting to be like her is the reason why I am the way I am.

SJM: Can you see yourself playing professionally one day like her?
RT: I definitely can. That is my goal right now; that's what I'm working toward. But I'm taking it step by step. You have to focus on one thing at a time.

SJM: Rutgers is the next step. What are you looking forward to about college?
RT: The high level and the high intensity, because I know college is even better than high school. I can't wait to meet new people and make friends. I think when you play a sport in college it just adds to the overall experience, because it's an easy way to be social.

Katie Marthins, Haddonfield field hockey
A three-year varsity player, Marthins is a senior center back who has helped the Bulldawgs win sectional titles each season of her career. She is once again anchoring the defense this fall before joining her sister Abby at Dickinson College.

SJM: How does it feel to be back on the field after the fall season was in danger of not happening?
KM: I'm very grateful to at least have something. I didn't want to get my hopes up too much going into it, but I'm really grateful for what we have right now. We follow all the guidelines during practice. If you're not in a drill you have to have a mask on and we stay 6 feet apart. During games, everyone on the sideline has a mask on. We want to follow all the rules so we can still have games and practices.

SJM: The program has enjoyed a lot of success recently, with five straight sectional championships and two state titles. What has it been like to be part of that?
KM: It's been really fun. Seeing all of our hard work pay off and our improvement throughout the year is really cool. I'm very lucky to be a part of it and to contribute to it.

SJM: Since there will be no state championships this year, what are your goals?
KM: Sectionals is the furthest we can go, but we like to take one game at a time and not set our goals too far ahead. We try to push each other, work hard each game and see where that takes us. Hopefully we can make it to sectionals and come out with a win, but we haven't really looked that far.

SJM: When did you start playing field hockey?
KM: I've been playing since second grade.

SJM: Have you always played defense?
KM: I was actually an attacker going into high school, but freshman year [coach Lindsay] Kocher moved me right to defense the second day of preseason. I love defense and I think that was a really good decision she made. I picked it up pretty quickly and I felt more confident on defense than attack.

SJM: Abby, your older sister [who graduated in June] was a scorer, right?
KM: Yes, she was an attacker.

SJM: Is Abby your only sister?
KM: No, I'm one of seven siblings so I have four other sisters. I'm second behind Abby, and then comes Julie, who's a sophomore on the team. I have a really good relationship with my sisters so it's really fun to have them on the team and be supportive of them.

SJM: What are the best and worst things about being one of seven?
KM: There's never a dull moment. It's pretty crazy but I love it. I'm never bored and I always have someone to be with. Abby is 18 and the youngest is a boy who's 8.

SJM: What are your hobbies away from sports?
KM: I really enjoy doing art. I do that a lot in my free time and I'm taking AP Art this year to really focus on that. I like to draw portraits, mainly focusing on faces and realism.

SJM: Are you physically in school this year?
KM: I'm doing the hybrid schedule, so I'm online for Monday, Tuesday and Wednesday and I go to school on Thursday and Friday. I've gotten used to it. I'm not too stressed and school is not as hard as it was last year.

SJM: Are you worried about certain activities being canceled due to the pandemic, like prom or graduation?
KM: I'm hoping they will be able to happen but I'm not getting my hopes up too much. I think learning from last year, we'll have some other options to honor the senior class.

SJM: Why did you decide to commit to Dickinson?
KM: I knew I wanted to play field hockey in college ever since sophomore year, when I first started playing on varsity. When my sister committed to Dickinson, I went to visit the school right after just to see what it was like. Instantly, I pictured myself on campus. From there, I've always compared other schools to Dickinson and they didn't compare, so I ultimately knew I wanted to go there.

JR Cima, Washington Township boys soccer
A three-year starter for one of the premier programs in the area, Cima is a senior center midfielder who led the Minutemen with 10 goals last year to make the all-conference first team. He is being recruited by several colleges and expects to play at the next level.

SJM: What is it like to be back on the field with your teammates after the season looked to be in jeopardy?
JC: It's awesome being back out there. In June and July, we really didn't think we were going to get the chance to play. Now that we are, you have to enjoy every moment you have because you never know when it's going to get shut down again.

SJM: How did you stay busy during quarantine?
JC: As soon as everything started calming down after the first wave, I started training again with my club team. Before that, me and a couple guys would go out and get our work in, training for a season we weren't sure was going to happen.

SJM: Now that it's here, do you have any certain goals?
JC: I want to win every single game we play this year. I want to win South Jersey, because that's the farthest we can go.

SJM: Have you grown up watching Washington Township soccer and were you looking forward to joining such a successful program?
JC: Oh yeah. Even as a kid I would go down to the high school and watch their games after school. I always had family friends on the team and I would look up to them and the success they had. It's really interesting to now be a part of it.

SJM: Are the guys on the high school team close?
JC: Yes, and it's awesome being back with them. It's pretty different this year because we're not allowed in our locker room. We find other ways to bond and get together before games to hype ourselves up.

SJM: Who is the funniest guy on the team?
JC: Bugra Kumas. He can make any guy on the team laugh, whether he's trying to or not. That's just his personality.

SJM: What is school like this year?
JC: We're doing a hybrid. Some part of me is glad we're back because it's kind of a return to normalcy. Another part of me just wants to stay home all day.

SJM: Do you know what you're doing next year?
JC: I know I'm going to play in college; I just don't know where yet. I'm talking to a couple of schools right now. It doesn't really matter to me [where I go]. With the way recruiting is going now, if you find a spot you have to take it, since all of the seniors [in college] have been granted an extra year of eligibility. I've had a bunch of really good talks with coaches and I'm looking forward to what's next.

SJM: Are there any certain players or teams you like to watch?
JC: Tottenham is my favorite team. I love watching all the American guys like Christian Pulisic, Gio Reyna and Sergino Dest, but my favorite player on Tottenham is Son Heung-min. He's their starting left wing.

SJM: Have you always lived in Washington Township?
JC: In elementary school I moved to the Middle East for a little bit. I lived in Abu Dhabi in the United Arab Emirates. My dad worked over there so we lived there for about a year. You would think it would be crazy but it was really normal. I met a lot of friends from England and the U.S.; some even from New Jersey, which was interesting. One who I'm still friends with has a Shore house that is literally half a mile away from mine in Cape May. It was a great experience.

STAR WATCH
Football
Jaden Allen, Washington Township: Allen has shifted from wide receiver to tight end but will remain a dangerous threat in the passing game. Also a contributor at defensive end, he will continue his career at Utah State.

Tommy Batson, Haddonfield: A senior, Batson is a key two-way player for the Bulldawgs at running back and linebacker. He led Haddonfield in rushing as a junior, scored six touchdowns and recorded 61 tackles.

Xavier Coleman, Lenape: One of the most talented players in South Jersey if not the entire state, Coleman is a difference-maker whether he's playing running back, wide receiver, cornerback or returning kicks. The Boston College commit had more than 1,500 all-purpose yards and 24 touchdowns last year.

Devin Kargman, Woodrow Wilson: The younger brother of former Woodrow Wilson star Nick Kargman, this Washington Township native led the state with 44 touchdown passes and 3,757 passing yards last year for the sectional champions.

Keon Sabb, Williamstown: A dynamic wide receiver and defensive back who transferred to Williamstown after two seasons at Glassboro, Sabb is one of the top prospects in the country.

Boys Soccer
Christian Ball, Haddonfield: "Chich" led the Bulldawgs with 16 points last year (seven goals, nine assists) and made the all-conference team for the second time. He is primed for a big season as a junior

Matt D'Ottavi, Moorestown Friends: A senior striker, D'Ottavi had 32 goals and eight assists as a junior to lead the Foxes in scoring for the third consecutive year.

Jason Grandizio, Kingsway: A former goalie in the Philadelphia Union Academy, Grandizio transferred to Kingsway last year and recorded 10 shutouts. He is the backbone of a stingy Dragon defense.

Andrew Kitch, Shawnee: Kitch's rookie season included 10 goals and five assists and he will look to help the Renegades repeat as Olympic Conference American Division champs as a sophomore.

Aiden Sommers, Triton: After playing a major role in the Mustangs' march to the program's first sectional title in 2019, this midfielder/back and his teammates are hungry for more.

Girls Soccer
Amanda Attanasi, Washington Township: Attanasi has enjoyed a record-breaking career at Washington Township and it will be exciting to see what the brilliant playmaker can do in her final season before heading to James Madison.

Michela Auguadro, Cherry Hill West: This senior is the reigning Goalie of the Year as named by the South Jersey Soccer Coaches Association. Shots rarely find the back of the net when she is between the pipes.

Taylor Gardner, Camden Catholic: The Irish program has made great strides in recent years and Gardner is a major reason for the resurgence. She had 20 goals and 10 assists as a junior to make the all-conference first team for the second season in a row.

Katie McCormick, Haddonfield: McCormick led the Bulldawgs with 22 goals last year and forms a potent scoring duo with fellow senior midfielder Keegan Douglas.

Natalie Schooley, Paul VI: A senior midfielder who has earned all-conference recognition every season of her career, Schooley is looking to go out with another stellar campaign before moving on to East Stroudsburg.

Brooke Steel, Shawnee: One of three Division I commits on the Shawnee roster—along with Olivia Vricella and Tori Yost—Steel is a leader in the midfield.

Ella Van Dine, Gloucester Catholic: After a solid sophomore season, Van Dine was even better as a junior, doubling her goal total to 18. She will carry the load offensively for the Rams again this fall.

Field Hockey
Olivia Bent-Cole, Camden Catholic: This sophomore midfielder will look to follow up a rookie campaign in which she recorded 23 goals and 11 assists and made the all-state third team.

Tori Griffiths, Kingsway: After making the all-conference first team and leading the Dragons in goals her first two seasons, Griffiths is again an elite scorer and distributor for Kingsway.

Ryleigh Heck, Eastern: The latest in a long line of outstanding players at Eastern, Heck is coming off a 78-goal season and is committed to North Carolina.

Margaret Lawler, Moorestown: Lawler is an important veteran on the Quakers' defense and can also contribute offensively when needed.

Allie Palumbo, Clearview: Palumbo is not only an anchor on Clearview's defense but can also put the ball in the cage, as evidenced by her 19 goals last year. She will look to lead the Pioneers to their third sectional title in four seasons.

Lauren Phillips, Moorestown Friends: Phillips registered 16 goals and 19 assists last year to help the Foxes reach the sectional final.

Alex Senior, Bishop Eustace: A junior forward, Senior led the Crusaders with 16 goals and 19 assists and should be even more dangerous as an upperclassman.

Chrissy Solomen, Shawnee: Solomen, a Monmouth commit, joins Gianna Marmo as top playmakers for the Renegades.

Cassidy Strittmatter, Seneca: A James Madison recruit, Strittmatter made the all-state second team last year thanks to her 22 goals and 12 assists.

Boys Cross Country
Anas Bensaoud, Clearview: Last year's Tri-County Conference champion also took third in the Gloucester County meet.

Seth Clevenger, Haddonfield: The Bulldawgs' renowned program has it latest star in Clevenger, who took sixth at sectionals last year with a time of 16:08.80.

Aidan Eyre, Cherry Hill East: A senior, Eyre finished 12th at sectionals and 14th at states as a junior.

Kyle Rakitis, Kingsway: This junior had top-10 showings in the Tri-County Conference, Gloucester County and sectional meets as a sophomore.

Brett Shea, Cherokee: Shea continues the tradition of standout Cherokee runners and should be a contender in several big races.

Girls Cross Country
Ashlynne Burke, Kingsway: Burke, a senior, has won two straight Gloucester County titles and finished fifth at sectionals last year.

Nicole Clifford, Cherokee: A senior, Clifford was the runner-up at the Burlington County Open last year and placed in the top 10 at the Olympic Conference and sectional races.

Kate Inglis, Moorestown: Inglis has been a top performer for the Quakers since her freshman year and is looking to end her career with another memorable campaign.

Maura Keane, Washington Township: Keane, a senior, started out high school as a field hockey player but is ending it as an elite runner.

Sarah Naticchia, Haddonfield: It's hard to pick just one runner from the Bulldawgs' loaded roster, but Naticchia is certainly worthy of recognition. She was a sectional champion last year and placed third at states.

Kate Ruona, Shawnee: As a rookie, Ruona ran 18:14.60 at sectionals to finish third and went on to claim eighth at states.

Katie Sparks, Paul VI: The Eagles' leader had top-five finishes at the Olympic Conference and sectional meets last year and placed ninth at states.

Girls Tennis
Carlee Cristella, Clearview: This junior captured her second straight Gloucester County title earlier this month and is aiming for an undefeated record for the season.

Shruti Mannan, Cherokee: The younger sister of Cherokee boys standout Arjun Mannan, this freshman has already grabbed the first singles spot for the Chiefs.

Paige O'Neil, Moorestown: O'Neil, a senior, has moved from third to first singles for one of the premier programs in the area.

Bella Pescatore, Moorestown Friends: After playing second singles in her first two years of high school, Pescatore is worthy of succeeding former start Renna Mohsen-Breen in the No. 1 spot and should be one of the best players in South Jersey.

Rhea Sethi, Lenape: Just a sophomore, Sethi is coming off a breakout rookie season in which she played first singles and won 14 times in team matches.

Samantha Tepes, Shawnee: Tepes put together a memorable freshman season in 2019, as she earned the top spot for the Renegades and claimed the Olympic Conference American Division title.


Click here to subscribe to the free digital editions of South Jersey Magazine.

To read the digital edition of South Jersey Magazine, click here.

Published and copyrighted in South Jersey Magazine, Volume 17, Issue 7 (October 2020).

For more info on South Jersey Magazine, click here.
To subscribe to South Jersey Magazine, click here.
To advertise in South Jersey Magazine, click here.