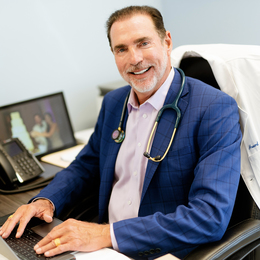 Sponsored Content: Breaking New Ground
From its two campuses in South Jersey, Hassman Research Institute has an impact all over the world by conducting a wide variety of clinical trials.
Like his father and all three of his siblings, Dr. Howard Hassman has long had a passion for medicine and improving the lives of patients. While the other members of his family are largely focused on their medical practice, however, he was drawn to clinical trial research, which he considers imperative to developing treatments that help people live longer and with less suffering.

As the chief scientific officer at the Hassman Research Institute, Dr. Hassman has been part of countless breakthroughs over the last three-plus decades that have provided hope to patients all over the world. South Jersey Magazine spoke to him to learn more about the organization's contributions to medicine, including work on a COVID-19 vaccine.
Q:
I know you come from a family of physicians, including your father. Did you know from a young age you wanted to follow his lead and enter the field of medicine?
HH:
My father, Dr. Joseph Hassman, started his medical practice over 50 years ago. Seeing the caring relationships he built with his patients sparked my interest in pursuing medicine. I also wanted to be in the forefront of developing new treatment for patients. I decided to delve into the world of clinical trials where I genuinely feel humbled to be in this industry now for over 35 years.
My father, all my siblings, and I attended Philadelphia College of Osteopathic Medicine (PCOM) to earn our medical degrees. PCOM gave my family the opportunity to all become physicians and we have been fortunate that every one of my family members has been involved in conducting clinical trials.
Q:
Can you explain how Hassman Research Institute got started, what the organization does and the primary goals of the company?
HH:
I started working in clinical trials over 35 years ago with always the goal to "improve the quality of life" for all patients that we serve. This is our official mission at Hassman Research Institute (HRI).
To get to this primary goal, any new drug must go through rigorous scientific scrutiny. Essentially, this is what we refer to as clinical trials. As you see now from COVID-19 vaccine studies, before any medicine is approved by the FDA, it must be investigated through a phase process. HRI conducts all of these phases at our two inpatient and outpatient South Jersey facilities: one in Berlin and the other in Marlton. All of our research through all of the different phases is focused on psychiatric and general medical ailments, including but not limited to schizophrenia, schizoaffective disorder, bipolar disorder, major depression (we currently are running a post-partum depression study), post-traumatic stress disorder, generalized anxiety disorder, addiction, dementia (such as mild cognitive impairment and Alzheimer's disorder), Parkinson's, insomnia, acne, diabetes, migraines, Asian-bridging (where we study the safety, absorption, metabolism and excretion of a compound targeting different Asian sub-cultures), and many other diagnoses. We also complete Phase I research, which mostly targets healthy normal volunteers to explore if the compound is safe for use among humans. We are proud to also have currently been awarded COVID-19 vaccine studies.
Regardless of the phase, HRI collaborates closely with pharmaceutical companies to ensure studies are performed flawlessly and with the highest of quality. To complete this complex work, HRI is known in the industry for spearheading various forms of cutting-edge technologies to assess the compound's efficacy, potential side effects and pharmacokinetics (that is, understanding how, where and when the medicine moves in the body). We conduct fMRIs which examine how the molecule works on the hypothesized parts of the brain. We are among the few U.S. research sites that engage in qEEG (quantitative EEG) / brain mapping, which uses modern analytic software to evaluate the dynamic changes taking place throughout the brain during cognitive processing tasks to determine which areas of the brain are engaged and processing information efficiently. Our research partnerships in these areas are far reaching, including collaborating with the University of Oxford in England and UCLA.
Furthermore, HRI added driving simulators, which are essential tools for evaluating how the research compound may impact the individual's driving performance. We also conduct Human Abuse Liability (HAL) studies where we research the extent to which a compound may be addictive. The FDA often requires such studies if there is an addictive potential to the compound, and HRI is one of a few sites in the U.S. performing these crucial investigations.
HRI is also leading the way in the industry on minimizing the placebo and nocebo responses that insidiously plague our work. Most clinical trials are randomized, double-blind placebo-controlled, which means that the study participant may receive the placebo (a "sugar" pill which is an inert, nothing substance) or the active medication being investigated for its efficacy and safety and neither the participant nor anyone at the research site know which group they are assigned (like a toss of a coin). Although pharma spends millions of dollars on research, most trials actually "fail" because study participants experience a positive effect while on the placebo (called a "placebo response") and/or report side effects while taking the inert substance (called a "nocebo response"). The good news, however, is that my esteemed colleague, Dr. Elan Cohen, and I have developed and copyrighted a tool called the Placebo-Control Reminder Script (PCRS), which we have empirically validated to help manage these devastating responses. Because of our science in this area, several pharma companies have licensed the PCRS which will ideally help bring more proven medications to those needing relief.
I could not be prouder of our scientific work as well as the passion and skills of our team members. To expand our reach and purpose, l

ast year HRI and another similar company in Southern California, CNS Network, merged to form Apex Innovative Sciences, Inc.

Apex is now the industry-leading independent operator of research sites focused on multifaceted clinical trials for central nervous system and general medical indications.
Q:
Can you tell us more about HRI's new coronavirus vaccine study and how people can contact HRI to learn about this and your other studies?
HH:
With the COVID-19 pandemic still very much impacting the way we live our everyday lives, immunization against COVID-19 is pivotal. We were honored to have recently been awarded a Phase III COVID-19 vaccine trial. The focus, as always, is to ensure the vaccine is safe while also being effective in protecting participants from COVID-19. As we do for all of our studies, participants are compensated for their time and we offer free transportation to and from our site.
If anyone is interested or knows someone who may want to participate in a clinical trial, they can easily contact one of our recruiters at 1-(866) 380-6565 to get more information. They can also visit our website at HRITrials.com.
Hassman Research Institute
175 Cross Keys Road | Berlin
401 Route 73 N., #100 | Marlton
856-566-9000 |
HRITrials.com
Click here
to subscribe to the free digital editions of South Jersey Magazine.

To read the digital edition of South Jersey Magazine,
click here.

Published and copyrighted in South Jersey Magazine, Volume 17, Issue 6 (September 2020).

For more info on South Jersey Magazine,
click here
.


To subscribe to South Jersey Magazine,
click here.


To advertise in South Jersey Magazine,
click here.