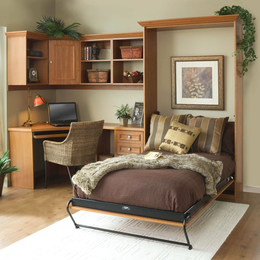 Sponsored Content: Made to Order
Customized organization solutions from Closet & Storage Concepts bring peace of mind to those spending extra time at home during the pandemic.

Although it has been three decades since he founded Closet & Storage Concepts, Bob Lewis has never grown tired of the warm feeling he gets from delivering personalized solutions to customers' home organization issues. If anything, the pursuit has become even more fulfilling during the COVID-19 pandemic, as people need a sense of order to better handle the chaos around them.
"It's always been rewarding to help people solve the problems in their home, but now even more so because people are under greater pressure than they ever have been," he says. "That is why we have followed all of the CDC protocols from the very beginning and all of our employees have been trained in coronavirus mitigation programs so we can assist people and do so safely. The peace of mind that gives to our customers is also very rewarding."
It is no surprise that homeowners are turning to Closet & Storage Concepts to help with projects throughout the house, from home offices and master closets to kitchen pantries and garages. Not only are businesses allowing employees to work from home, but most school districts in the area have shifted to remote learning, so the house is certainly more crowded. That makes organization even more crucial than ever.
Lewis believes the services of a trusted professional can have a positive impact on everyday life and bring a soothing sense of calm to the homeowner.
"Our business has always done well because it adds value to people's homes, it makes use of space more efficiently and it saves people time in being organized," he says. "Those practical benefits have always been there and are still there, and now there are emotional benefits in making the home a sanctuary. Getting the house in order is comforting to people and gives them a sense of control over their environment."
Home offices are at the top of the priority list at the moment. With both spouses and school-aged children in need of a private setting to complete their assignments, multiple work spaces are often required.
The team at Closet & Storage Concepts will work together with the homeowners to ensure the best outcome, even when space limitations exist. For example, that might mean using rooms for multiple purposes and combining an office with an exercise room, or taking a smaller section of a basement and transforming that into a work station.
"There are activities that are now taking up space in a home that didn't take up space before, so space planning and utilization are even more important," Lewis says. "All of our designers have been trained in space planning, and we have our own manufacturing facilities so we custom manufacture every single job for that unique client. It's not a one-size-fits-all approach."
Closet & Storage Concepts' line of comfortable wall beds in a variety of finishes and styles has also been in high demand. They come in handy if relatives move in for an extended period or even for younger children who need room to do homework or to play.
"We'll build a home office solution with a desk, cabinets and filing system that also has a pull-down wall bed incorporated into it," Lewis says. "You can use it as a bedroom when you need to and you can also use it as an office when you need to. The wall bed gives you flexibility as a consumer."
Of course, closets are part of the company's name and remain a vital part of the business. Designers will evaluate the entire bedroom and determine the needs for the closet, whether that be extra drawer space or options like shoe cubbies, hidden hampers, valet rods, tie racks and much more.
"People want to be organized for peace of mind and saving time," Lewis says. "Instead of running around wondering where you put a certain pair of shoes or a certain jacket, you know where to find everything. That's why our business has always been popular when it comes to closet organization and that has not changed at all."
The same can be said for pantries, since people are spending more time in their kitchens and are cooking home-cooked meals instead of going out to eat. An organized space with adjustable shelving and bins makes it easier to find and access the items they need.
Closet & Storage Concepts is also beneficial when it comes to messy garages, providing solutions such as work benches, sports racks and tool storage. Lewis expects those requests to increase in fall and winter—as usual—when homeowners will be seeking a warm space to park their cars.
Whether it's one of these spaces or all of them, the team at Closet & Storage Concepts is eager to help. From its humble beginnings in South Jersey, the company now offers franchise opportunities and has grown to 43 locations in 18 states, and all of them are well equipped to assist customers who are counting on them.
"Home improvement has taken off like a rocket since the pandemic started," Lewis says. "We are absolutely busier right now than we have ever been, and that's saying something when you're a 33-year-old company."
Closet & Storage Concepts

207 Route 73 South, Marlton Crossing Shopping Center | Marlton

856-457-6709 |
ClosetAndStorageConcepts.com
Click here
to subscribe to the free digital editions of South Jersey Magazine.

To read the digital edition of South Jersey Magazine,
click here.

Published and copyrighted in South Jersey Magazine, Volume 17, Issue 6 (September 2020).

For more info on South Jersey Magazine,
click here
.


To subscribe to South Jersey Magazine,
click here.


To advertise in South Jersey Magazine,
click here.