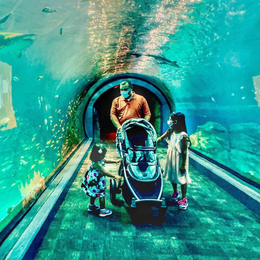 Are You Not Entertained?
During the pandemic, finding an escape from reality has come in many new forms.
With vacations scheduled for Disney World in April and Busch Gardens in August—as well as a trip in between to their hometown of Pittsburgh—2020 was shaping up to be an exciting year for Leah Pounds, her husband Neil and their three sons. Of course, it turned out to be unforgettable for all of the wrong reasons.

The COVID-19 pandemic forced the East Greenwich residents to cancel both of their vacations, and while they still did make the trek to Western Pennsylvania to see family and added a week in Ocean City, neither getaway included the usual fun-filled excursions to which the active family is accustomed.

Days at home proved to be just as challenging. When school went all-remote in March until the end of the academic year, Pounds found her children missing the stimulation and structure that in-person classes provided. On top of that, the pause button was hit on their athletic seasons and once summer came along, camp was canceled.

"It was very hard to look for things to do," she says. "The kids are acclimated to being able to do so much during the summer—going to the zoo, going to the parks, going bowling, going to the movies. They've grown up being able to do all these activities that we couldn't do anymore."

Many in South Jersey can relate to the problems Pounds and her family have been facing as entertainment options that are usually depended upon have been shuttered for long periods during the pandemic. Close proximity to the Shore is always a plus, but even those trips were not the same with restaurants limited to outdoor dining and Boardwalk amusements having restrictions.

Fortunately, local businesses, municipalities and the people themselves have gotten creative in developing new entertainment options or modifying old ones. Add in the fact that reliable standbys are starting to open again, and it becomes clear that having fun is still possible, with some extra precautions.



Finding Ways to Pass the Time


Pounds has managed to keep her 10-year-old twins and 5-year-old busy throughout the pandemic despite she and her husband continuing to work their full-time jobs. They are fortunate to have a pool in their backyard but needed to come up with other ideas as well.

In spring they visited the drive-thru tulip tour at Dalton Farms in Swedesboro and also "egged" friends' houses for Easter, leaving treat-filled plastic eggs on the front porch. They took advantage of several scenic hiking trails in South Jersey, and when the weather got hotter they had the Kona Water Ice truck pay a special visit to their neighborhood.

Another popular attraction they visited was the Great Adventure Wild Safari, which returned for drive-thru guests for the first time since 2012. "It took us about two hours to get through and there was a wide range of animals," Pounds says. "We saw everything from emus to monkeys, elephants, rhinos, ostriches, zebras, giraffes and bears. The boys loved being able to see all the different animals and it was a nice experience. We took snacks and drinks and had a little party in our car."

Pounds recently took her family to see more animals at the Philadelphia Zoo, where they are members, but needed to make a reservation. Scheduling activities—often a week or two ahead of time—is an adjustment she is still getting used to.

"It can't be the spur of the moment anymore," she says. "A lot of times that's what we would do [before the pandemic]. We'd wake up and ask the kids, 'What do you guys feel like doing today?' Now you really have to plan ahead."

Towns in South Jersey have done their part to provide entertainment, such as drive-in movie series in Evesham and Voorhees. Indoor movie theaters were given the go-ahead to reopen in early September, but before that Vineland's Delsea Drive-In was a go-to spot for a night out. Nicole Dawson of Marlton had been there many years ago and decided to visit again with her best friend and her 3-year-old daughter—who happens to be Dawson's goddaughter—for a showing of Grease.

"It was my goddaughter's first time ever at the movies and it was a really fun experience," she says. "It was really cool to see her get out of the house for the first time and see a movie. … My friend was telling me when she got home she was doing the dance moves like the hand jive. We got concession stand food and she enjoyed that. Overall it was a fun experience, especially during these times. It was nice to get out and do something in a social way that was still safe."

Another drive-in opened in Williamstown called Rhythm & Reels and has hosted movie nights, stand-up comedians and concerts. It will be available for Philadelphia Eagles' tailgates and viewing parties this fall, as will Total Turf Experience in Mantua.



Exploring the Underwater World


One of the largest aquariums in the country, Adventure Aquarium in Camden features over 15,000 aquatic species and has long been a destination for families, students and those interested in marine life. It reopened July 15 after several months of closure with new protocols in place, including mask requirements, temperature checks, a 25 percent capacity limit, one-way traffic and increased disinfection.

General admission guests now must purchase tickets for specific dates and times and members must make reservations to visit, and several areas of the aquarium where social distancing is not possible have been temporarily closed. Still, Executive Director Vince Nicoletti believes the aquarium continues to offer a memorable experience.

"I went into this saying I would be the most excited person to open this facility and our guests proved me wrong," he says. "They were really engaged and excited to get back in; particularly our members were excited to come back and see all of their favorite animals. They genuinely did miss their friends Button and Genny, our two Nile hippos; they genuinely did miss seeing our great hammerhead shark and walking the shark bridge. It's a warm and caring community and … it was heartwarming to welcome them all back."

Adventure Aquarium has announced a new back-to-school program in which participating schools can sell discounted tickets safely online and receive $5 for every ticket sold, and teachers will receive animal-specific lesson ideas to assist with remote learning. Family field trips are also being offered, and self-guided activities and challenges can be completed upon a visit to the aquarium. In addition, Nicoletti is optimistic about the pre-K pass, which is a free, one-year membership for kids between the ages of 2 and 5 that can be obtained through Oct. 31.

All of these initiatives are meant to help Adventure Aquarium stay strong during this difficult time. "I think a lot of people are wondering about institutions like ours and our stability," Nicoletti says. "The one thing I will say is that guests' paid admission means more now than ever as it helps us to continue to provide great care for the animals here at the aquarium."

Nikita Harris of Gloucester Township and her husband became members in February along with their 4-year-old daughter and 2-year-old son. They visited once before the pandemic and were eager to return, making reservations for opening weekend in July. Although Harris was nervous about safety going in, she was pleasantly surprised by the measures the aquarium has taken.

"I felt really good there," she says. "They were exceptional in what they were doing and I absolutely had no concerns because everything was amazing. Normally you're shoulder to shoulder and you can't see some of the animals, but I didn't see anybody until we got to the sharks and the hippos."

Harris and her family have also frequented Peek-a-boo Playground, an indoor recreation center in Medford, during the pandemic with positive results. As for the aquarium, she recommends it to other South Jersey residents.

"We've actually gone back since our first visit," she says. "It's a lot safer than most places I've seen."
Ready for Some Laughs
Like everyone else, Megan Shaw of Gibbsboro has struggled to find ways to entertain herself throughout the pandemic. A frequent movie-goer, she has missed the experience of sitting in a theater and has filled the void with long walks or outdoor dining.

Needless to say, she was ready for a change in late August when her sister and brother-in-law invited Shaw and her husband to see stand-up comedian Jim Gaffigan in a drive-in event in the parking lot at Citizens Bank Park.

"I had no idea what to expect," Shaw says. "The most frequently asked question I got was, 'How will you see him and hear him?' I didn't have any answers until we went, and I can't express enough how well organized it was. It felt like being at a [real] stand-up show. It was great."

Shaw's group was directed toward an assigned parking spot, where they sat in the back of a pickup truck and watched the show on a video screen, comparable to sitting on the lawn at the Susquehanna Bank Center in Camden. Other people were sitting in lawn chairs or on top of their cars, and there were food vendors walking around and port-a-potties with hands-free washing stations. Shaw stresses she didn't have to wait in line once, even when exiting the show, and was thrilled with Gaffigan's performance.

"I love him and he was really great," she says. "He had a funny line where he said, 'We're all so desperate to get out and be entertained that we're willing to recreate traffic.' That was so true. The way that you would applaud was by honking your horn and flashing your lights, so that was fun."

Citizens Bank Park and the Monmouth Park racetrack in Central Jersey have also hosted live, drive-in concerts, and Shaw adds she would not hesitate to try those in the future too.



The Healing Power of Live Music


Drive-in concerts are surely a viable option, but they are not the only one for those itching to hear live music again. The Music Barn, located at the Gloucester County 4H Fairgrounds in Mullica Hill, started hosting live events again in August and has two shows planned for October.

Washington Township resident Jake Heil, a recent Rowan University graduate, founded The Music Barn in 2019 to showcase young performers, whether local or from around the country. "Our motto is, 'Discover the undiscovered,'" he says. "Our goal is to bring in up-and-coming artists that you haven't heard of, you don't know their name and you haven't heard their songs. We think they are phenomenal artists who need to be getting to that next stage."

The Music Barn had concerts scheduled between April and June and all were canceled due to the pandemic. Heil started a virtual series on Facebook Live, and when the seven shows drew more than 11,000 viewers, he knew there was a demand for music and started laying the groundwork for a return to in-person shows. "I felt that [a drive-in concert] wasn't the same thing," he says. "I thought it was important that we got people back to something that resembled normal in the safest way possible."

Following state and local guidelines, The Music Barn had its first show Aug. 14. Since the Fairgrounds is a large space, social distancing between parties has been easy to achieve, and other protocols include mandatory masks and temperature checks.

"For the most part everyone has been really great about it," Heil says. "I don't want to wear a mask down here as much as you don't want to, but we need to do this if we want shows to happen. I think everyone realizes that this is something unique; most live shows aren't happening right now. If you want these live shows to continue, we have to follow the guidelines."

Crowds of several hundred have shown up to the first two shows and Heil is expecting that number to rise next month for the Future Stars Music Festival on Oct. 3 and Keelan Donovan on Oct. 9, a rock/country artist who has opened for The All-American Rejects.

"The artists are just as excited to get back out there," he says. "We've had bands from all over trying to get booked because there's finally somewhere they can play. We've had a ton of people inquiring to play but we can't accommodate all of them at this point. I've also heard from a lot of bands that booked with us but weren't sure whether to believe it and didn't get their hopes up. Once they see that the event didn't get canceled, they're impressed that we were able to pull it off."



Click here

to subscribe to the free digital editions of South Jersey Magazine.

To read the digital edition of South Jersey Magazine, click here.

Published and copyrighted in South Jersey Magazine, Volume 17, Issue 6 (September 2020).

For more info on South Jersey Magazine,

click here

.


To subscribe to South Jersey Magazine,

click here.


To advertise in South Jersey Magazine,

click here.