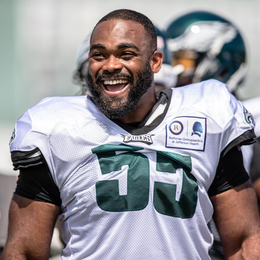 The People's Champ
Thanks to his play on the field—including one unforgettable Super Bowl moment—and his presence in the community, Brandon Graham has long been a fan favorite.
Once Brandon Graham finished his introductory news conference with the media one day after the Philadelphia Eagles selected the former University of Michigan defensive end with the 13th overall pick in the 2010 National Football League draft, he walked around the auditorium at the team's practice facility and shook hands with nearly everyone in attendance.

Graham still hasn't stopped smiling or being grateful.

"You know what, man? It's always cool whenever your dreams come true," Graham says, recalling his first day in Philadelphia. "At that moment, that's what I felt was the proper thing. I felt in my mind that I was going to be here for a long time and so that's what made me go around and shake everybody's hand. That was just me being me and wanting everybody to know that I'm a cool guy and I'm just here to do my job. That was my introduction."

A decade later, the 32-year-old Graham is entering his 11th season as the longest-tenured player on the Eagles. He's one of the most beloved guys who has ever stepped into that locker room.

"Brandon is kind of the heart and soul of this football team," Eagles coach Doug Pederson says. "With his energy every single day and what he brings to the defense, what he brings from a leadership standpoint to our team, it's pretty impressive that he's played this long.

"His career might have started off a little shaky, but I'll tell you what, he has come on. The way he trains, the way he works, he's got everything in perspective. And that's important for players, especially at that age. Obviously, his family is huge and a big part of his life and keeping all that in perspective, but also coming to work every day, trying to improve and helping the young guys to improve. It's a credit, and I love having him around."

Graham always seems to be laughing, joking around and having a good time whether he's on the field or away from it. Defensive tackle Fletcher Cox, who lines up next to Graham on most downs, says he's the biggest trash talker on the team. But, Graham is simply the biggest talker, trash or otherwise.

His gregarious personality is infectious. Teammates gravitate to him and reporters always surround his locker looking for sound bites or comments on any topic.

Graham has always been this way. He was so hyper as a kid that his kindergarten teacher told his mother he would be a discipline problem even though he did well as a student. His dad figured football would give him an opportunity to use his energy. It turned out to be so much more.

Raised by a single mom, Tasha Graham, in a rough neighborhood in Detroit, football became a way out for Graham. He drew inspiration from his mother, who overcame leukemia at a young age and worked for years at a Chrysler auto plant to support her children.

"Just growing up seeing my mom struggle and knowing that it was just us—me, my sisters and my mom—that put something in me that drove me to want to be better for myself and for her," Graham says. "Just how she did it herself, what she dealt with on a daily basis to get her routine. She's the hardest-working woman I know. And that's where I get this drive that I have, it's because of her."

Graham's path to success in the NFL hasn't been easy. He tore a knee ligament in December of his rookie season and missed 13 games the next year. Graham started only six games in his third season when the Eagles went 4-12 under Andy Reid and fans were becoming more critical. They lamented the fact the Eagles traded up to draft Graham instead of taking safety Earl Thomas, who went one pick later to Seattle, or defensive end Jason Pierre-Paul, who went to the New York Giants at No. 15. Pierre-Paul had 16 ½ sacks in 2011 while Graham had 8 ½ in his first three seasons combined.

Despite the criticism and the vitriol he received on social media, Graham didn't fire back. His mother raised him better.

"My mom always talked about how you represent your name, and that's what I think about; how people will remember me. That stuck with me. Treat people right even if they don't treat you right. Always try to be the bigger person within reason and stand for something," he says.

Graham moved to outside linebacker after Chip Kelly replaced Reid and new defensive coordinator Billy Davis installed a 3-4 defense.

"I'm surprised I'm still here because of some of the stuff I went through but I felt like if I was done, it wasn't gonna be because of how I work, it would be because it was somebody else's decision," Graham says. "When Chip came in, I thought I was gone because he ran a different scheme, he wanted somebody bigger, somebody that played that position before. But I kept working and I got better at it. I developed that trust, that belief in me and luckily I was still here when Doug came. I'm thankful to be here and thankful for (general manager) Howie Roseman because we have a good relationship. I give my all every day and I'm just very appreciative. I'm just trying to end it on a great note by getting another ring before I get out of here."



A Play for the Ages


With 2:16 remaining in Super Bowl 52, the Eagles led the New England Patriots 38-33 but a lead is never safe when Tom Brady has the ball in his hands. Then on second down from New England's 33-yard line, Graham made one of the greatest defensive plays in team history.

As Brady dropped back, Graham got a strong push off the line of scrimmage from his inside spot at defensive tackle. He drove right guard Shaq Mason back toward Brady, reached in with his left arm and knocked the ball loose. Rookie Derek Barnett picked it up for the Eagles and the turnover gave the Birds a chance to seal the win. Jake Elliott kicked a field goal to extend the lead to 41-33 and Brady's desperation pass in final seconds fell incomplete, giving Philadelphia its first Super Bowl title. Graham will forever be remembered for his strip-sack of Brady at one of the game's most critical moments. He's reminded of it by Eagles fans wherever he goes.

"It comes up all the time, which is cool because I will never get tired of it," he says. "I'm very happy because I've been through a lot in Philly and to have a play that helped win a Super Bowl, it was the best feeling. The fans, the real love that they show, you could feel that. The people that I've met, the stories I heard, what a Super Bowl meant to certain people, when you see how deep it really is, you have a little more appreciation of the situation. Over the years, I'm thankful to be able to hear some of the stories that came out of this. I know that the Eagles definitely mean something to this city."



Giving Back


Graham met his wife, Carlyne, in 2002 when they attended Crockett Technical High School in Detroit. While he was at the University of Michigan, Carlyne went to Lane College and graduated cum laude with dual degrees in criminal justice and sociology. She continued her education at Loyola University, earning dual degrees in social work and child and family law. They married in 2014 and have a son (Bryson) and daughter (Emerson).

Looking to give back, the couple started the Team Graham charity with a mission to "develop our communities by investing in our youth." Team Graham has programs for boys and girls in Michigan and Philadelphia, including summer camps for high school students.

"To be in this position, I always try to remind myself that somebody is ready to soak up the information you are willing to give," Graham says. "My wife and I always talk about teamwork. You always need a good team of people that can help you navigate through life. So, we have the camps and the kids can come out and enjoy some time together, get some knowledge about everyday life that will help them moving forward. We team up with other organizations to help different causes that are dear to our hearts. We are happy to be in this position, help develop these students and keep some kids off the streets."

Rob Maaddi has covered Philadelphia sports for the Associated Press since 2000. He is an on-air personality at 97.5 The Fanatic and hosts the Faith on the Field show, a syndicated, Christian-based sports talk program. He has also written and co-written eight books.



Click here

to subscribe to the free digital editions of South Jersey Magazine.

To read the digital edition of South Jersey Magazine, click here.

Published and copyrighted in South Jersey Magazine, Volume 17, Issue 6 (September 2020).

For more info on South Jersey Magazine,

click here

.


To subscribe to South Jersey Magazine,

click here.


To advertise in South Jersey Magazine,

click here.